Test Verbatim Executive USB Stick 32 GB
By: Tobias Winkler, 07/16/2010
Data exchange the easy way.
USB sticks owe their popularity to their small size and easy handling. The Executive Stick from Verbatim wants to build on these factors with a fast data transfer rate and abundant capacity.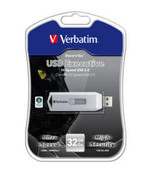 Verbatims Store'n'go Executive Sticks are currently available with capacities between 4 and 32 GB. The prices are in the range from 14 to 64 Euros (retail price inc. postage). Our tested model is the top model in the series and has a capacity of 32 GB (29.7 GB effective), which currently comes to 2 Euros per GB (inc. postage), and hence represents the best value for money in terms of the price-to-memory ratio in the Executive Series.
Case
The case comes in an edgy and not very colorful aluminium look, but is made of plastic, and is very light with a weight of 11g. An OCZ ATV stick for example weights almost twice that much. The dimensions of 62 x 21 x 10 mm are within the usual size range. The special thing about this is the retractable USB-port, which can be pulled in and out with a sliding controller.

As a safety feature this stick contains the security software Carry it easy, with which data can be synchronized and encrypted using a 128-bit AES password key.
Transfer Rates
Verbatim claims to achieve transfer rates of up to 30 MB/s when reading, and 12 MB/s when writing. We tested this using HD Tune and CrystalDiskMark, and could at least confirm the write rates, which even reached 14 MB/s when writing sequentially hence surpassing the rates quoted by the manufacturer. When reading we were only able to reach a maximum rate of 17 MB/s. This is far less than the promised 30 MB/s and disappointed us as a result. On the bright side are the fast access times of 1.6 ms, which are especially noticeable when using portable apps or an operating system. Our OCZ ATV stick, which however also only had a capacity of 4 GB, achieved a comparably good 27.8 MB/s when reading and also provided access times of 0.8 ms.
We installed the operating system Linux Mint as a test and could immediately boot our HP Probook 6540b without any problems. An emergency operating system on the stick, with sufficient remaining storage capacity, should hence not be a problem.
Verdict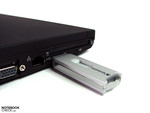 The Verbatim Executive Stick doesn't quite provide what it promises. Especially high capacity USB sticks require fast transfer rates and access times, so that the large data transfer doesn't turn into an endless test of patience. A maximum 17 MB/s read rate is significantly less than promised and negates one of the hoped for arguments in favor of buying this product. Otherwise the small stick manages to impress with a light weight, an operating system suited 32 GB storage capacity, and a good price / GB ratio.