Review Seagate Momentus XT ST93205620AS 320GB
SSD+HDD=Win? After the unsuccessful attempts to combine hard drives with flash memory in 2007, Seagate is now trying again with the Momentus XT series. This time, a substantially larger and faster memory in combination with its own controller should help the concept make a breakthrough. Whether and in what ways the XT is appealing, you'll find out in the following review.
Working For Notebookcheck
Are you a loyal reader of notebookcheck? Are you a techie who knows how to write? Then join our Team!
Especially wanted:
English-Swedish-Translator - Details here
Review Editor - Details here
News Editor - Details here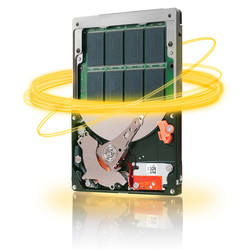 Old hybrid hard drives from 2007 only offered 128MB or 256MB of flash memory for cache. This was however used directly by the operating system (like Ready Boost in Windows Vista, for example) and produced no measurable benefits in Benchmarks or during start-up (Samsung HM16HJI).
The new Momentus XT 2.5-inch hard drives are supposed to do everything better and offer two substantial differences: first, more flash memory is used, which is noticeably faster. Seagate is currently focused on 4GB single-level-cell (SLC) NAND chips. These chips are at the moment in place only in enterprise SSDs (like the Intel X25-E) and are appealing because of their high speed and longer lifespan as compared to the multi-level-cell (MLC) NAND chips of conventional SSDs (like the OCZ Vertex 2Review OCZ Vertex 2 Extended 120GB SSD). The second improvement comes in the form of a controller built onto the disk drive itself for deciding which data to write onto and read from the SSD. In other words, the SSD part of the drive acts as a huge and fast cache. Seagate calls this technique "adaptive memory" and states that the controller decides which particularly frequently requested data should be stored in the quick-acting flash memory. The Momentus XT should therefore noticeably increase system performance and is still less expensive than a solid state drive (SSD) of similar storage capacity.
Technical Specifications
(given by manufacturer)
500, 320 und 250 GB Volumes available
3Gbit/s Interface with NCQ
4 GB SLC NAND Memory
32 MB Cache
1.554 Watts While Searching, 0.8 Watts While Idle
Designed for Use in Temperatures 0-60ºC
System Noise: 23dB While Idle, 25dB While Searching
Test Computers
We tested the Seagate Momentus XT in two different computers. To find out the maximum performance power of the hybrid-HDD, we used a current desktop computer with the following specifications:
Intel P55 Chipset
Intel Core i5-750 2.66 GHz Quadcore (Speedstep, Turbo und C6 partially deactivated)
AMD ATI Radeon HD 4850
4096 MB DDR3 RAM
Our Seagate test drive is attached to the internal SATA port as an auxilliary hard disk.
To test the performance power of the drive as a main hard disk in a current notebook, we installed Windows 7 on it and used it in an Asus UL50VF (with activated Speedstep):
Synthetic Benchmarks - A Fast Notebook Hard Drive
After the first test run, the performance of the Seagate XT series appears typical of your average notebook hard drive. The fast SSD cache is in still inactive since there have been no repeated attempts to retrieve the same data. As far as 2.5-inch notebook hard drives go, the test results are nevertheless very good and comparable to those of fast laptop hard drives.
After several test runs of the HDTune Benchmark, we first see the advantage of flash memory. The transfer rate remains the same, but access times drop almost to the level of SSDs.
The SLC flash memory also doesn't seem to come into use in the ATTO Benchmark. The transfer rates are similar to those of a fast 2.5-inch HDD and do not change by much after the eighth run through.
PCM Vantage - Noticeable Effects of the SSD Portion
PCMark Vantage measures the overall system performance of all components. We analyze in particular the overall score as well as the HDD score. In the first test run, the Seagate XT reaches a value typical of 2.5-inch HDDs. The second run already shows a twofold increase in HDD performance with the SSD memory showing its potential. The overall score also rises during the second test run noticeably and remains at the same level afterwards. The HDD score continues, however, to slightly increase up until the 11th test run.
Practical Benchmarks
We begin the practical benchmarks with the Copy Test of the AS SSD Benchmark. Here, three individual tests are carried out with application files, game files and ISO files. Since caching plays no role in these tests, the SLC NAND memory cannot yield any benefit. Compared to high-end SSDs, the Seagate only functions at about half their speed at most. The more filled up the hard drive is (UL50VF e.g. 1/3 full), the longer it takes to copy files.
When starting up Windows 7, an improvement is noticeable already by the second start-up with the Momentus XT. After multiple start-ups, the start-up time is cut nearly in half. Since everyday use includes more than just starting-up the computer, such start-up times won't last. Classic SSDs, however, remain excellent in this regard.
When opening an OpenOffice Writer file (a reference file for OpenOffice), repeatedly opening the file yielded a noticeable effect. Since this is such a small file, though, a traditional 2.5-inch HDD should show the same effect, considering HDDs have a small Cache.