Review Seagate FreeAgent GoFlex 1 TB Ultra-portable Drive
By: Tobias Winkler, 08/21/2010
Port master

Seagate has overhauled its range of external 2.5-inch hard drives, and at the same time developed a new system for connecting up ports. It gives you a great number of options, with USB 3.0, eSATA, FireWire 800, USB 2.0 and LAN adaptors. We took a closer look at how it works.
Traditionally, when you buy an external hard drive you are limited to one or more specific ports which are built in. You have to decide what type of connection best suits your needs, or pay a higher price to have several different ports in one device. But Seagate has now come up with a new approach, which starts off with the lowest common denominator. The cases will now feature a power supply and Sata port, as you would get on an internal hard drive; this means that you could theoretically use them inside a desktop computer. For external use, Seagate has designed a sophisticated system of adaptors, based on the ports mentioned above.
A USB 2.0 adaptor cable is included in the standard boxed set, and you add to this as required by purchasing adaptors for eSATA (power eSATA with a power supply via USB), FireWire 800, USB 3.0, USB 2.0 auto-backup version or a Gigabit LAN dock. So you can get just the specific ports that you need, and use them on any FreeAgent GoFlex Ultra-portable hard drive. Depending on your needs, this system could be a bit more expensive than a conventional solution; but if you have several hard drives the system would quickly become more economical. The main disadvantage: with this system you are tied to only using Seagate hard drives.
General
The drives are available in four different colours, black, red, blue and silver. Only the 500 GB version is currently available in all the colours, while the 320 GB version is available in silver, and the 750 GB and 1 TB models are currently only available in a high-gloss black like our review model. The disadvantage of this finish is that it quickly gets covered in fingerprints, dust and tiny scratches even if you try to be very careful with it. We were also unhappy with the lack of rubber feet on the roughened underside of the drive casing. They would have done a much better job of preventing slippage on smooth surfaces. Seagate lists a weight of 280g for our 1 TB test model (hard drive only), while we measured 300g including the adaptor cable. The 1 TB model is slightly taller than the others (with a 12.5mm tall hard drive), but its dimensions are within the usual range at 134 mm (L) x 89 mm (W) x 22 mm (H).
We like the fundamentals of the GoFlex series. Firstly the ports on the back are relatively well protected, and secondly the adaptor cables are very robust and provide a secure grip. This gives you confidence in the longevity of the product and allows you to plug and unplug things very easily from the case. A firm connection is made by the port itself and the shape of the adaptor, with no need for slides or buttons. Two embedded status LEDs indicate hard drive activity and connectivity. The cable are around 43 cm in length which is about standard for mobile 2.5-inch hard drives.
We had all types of adaptor cable available for our testing except for FireWire 800. However, we will examine the USB 2.0 auto-backup function in our test of the 320 GB version which is shortly to follow, and the Gigabit LAN docking station will also be covered in a separate report.
We tested the ports on different notebooks (HP ProBook 6545b, HP Mini 5101, Lenovo Thinkpad W701) and a desktop computer with an MSI 880GMA-E45 motherboard (only USB 2.0 and USB 3.0). We also used a USB 3.0 ExpressCard/34 from Raidsonic.
As you would expect, Seagate has used one of its own-brand drives in the 2.5-inch FreeAgent GoFlex Ultra-portable case. We identified it as the ST91000430AS, which cannot be bought separately yet in this country. So we could not establish any exact specifications for it other than its 16 MB cache.
Performance
USB 2.0
With the USB 2.0 cable, which comes with every 2.5-inch GoFlex, we measured a maximum data transfer rate of 30.8 MB/s and an average transfer rate of 29.3 MB/s. These are normal levels for USB 2.0, which however are rarely reached by notebooks. The power supply was very reliable here, both with the laptops and the desktop PC.
USB 3.0
With a USB 3.0 adaptor attached, we could fully utilize the power of the Seagate ST91000430AS with the MSI motherboard, achieving a maximum transfer rate of 87 MB/s and an average of 67.7 MB/s. This is a respectable result given the size and memory capacity of the drive. Many 320 GB hard drives found in current laptops are considerably slower. See our comprehensive HDD benchmark list for more information. On a Raidsonic ExpressCard USB 3.0 expansion the Seagate achieved a maximum of 87.7 MB/s and an average of 67.9 MB/s, almost identical results. On the Thinkpad W701 Workstation the USB 3.0 port limited the maximum transfer rate to 76.9 MB/s; however the average of 65.2 MB/s was not so different.
In terms of the power supply, we have often found with USB 3.0 that the hard drives do not function reliably, depending on the port. The USB 3.0 ExpressCard from Raidsonic only delivered enough energy with a USB 2.0 power supply. On the other hand, the hard drive worked without a problem on USB 2.0 ports (which according to specifications should deliver significantly less energy) even with a USB 3.0 cable. We have seen some drives where this is not the case, for example the Verbatim Store`n`go 500 GB USB 3.0. We also found that the drive worked perfectly on the USB 3.0 port of the Lenovo Thinkpad W701.
eSATA
We then turned our attentions to the eSATA port. The GoFlex eSATA adaptor is actually a powered eSATA adaptor. This means that it only works on USB/ eSATA combi ports, since the USB takes over the power supply here. So nothing will happen if you use a conventional eSATA port. We only had the Lenovo Thinkpad W701 available to us for this test, as the Celsius H700 was lacking a USB power supply and so the hard drive could not be put into use. On the Thinkpad we achieved 78.9 MB/s as a maximum and 66.1 MB/s as an average, not far from the USB 3.0 levels. Here you can also see, with the help of the chart below and the comparison readings, that the actual hard drive performance is limited by one of the eSATA controllers. Whether this is because of the Thinkpad itself, as we saw with the USB 3.0, or the Seagate controller, we were not able to establish, due to a lack of opportunity for comparison.
Verdict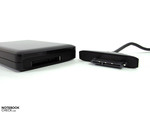 Seagate's GoFlex system is not cheap to start with, but if you get a second or third hard drive as part of the same system it becomes better value. The system of port connections is well executed, appearing to be very robust. The connections we used barely limited the actual performance of the internally built-in hard drives, doing a good job of relaying the performance of the drive without losses. Our review model with its very generous 1000 GB capacity delivers good speeds, while still being compact and working flawlessly on all the ports we tested.
We were not so appreciative of the lack of rubber feet on the underside of the casing, which could have prevented a constant slipping, particularly during mobile use. We also did not like the vulnerable high-gloss surface which is quickly covered in fingerprints and other marks.
Looking beyond these minor issues, this Seagate FreeAgent GoFlex offers the maximum storage capacity available at the moment in a 2.5-inch format whilst still being very portable; its system of port adaptors is very innovative and its performance attractive.