Review Raidsonic RAID solution for two 2.5" HDDs ICY BOX IB-RD2262USEb
A Raid system to go has its appeal. You can back up your data on the go, achieve the fastest performance from the hard discs you have or make use of the greatest amount of data storage space within a single case. Raidsonic's convenient solution is easy to load with HDDs, offers a wide variety of ports and even comes with its own bag. It, however, doesn't exactly come cheap at a price of 120 Euro, especially considering the hard drives to be inserted also have to be purchased separately.
The light 260-gram case is composed of aluminum and plastic, available only in the white-and-silver color scheme. Considering that the HDD slots inside are placed side by side, it would have been possible to make a very thin case. Nevertheless, there's enough room on the inside for hard disc drives up to 12.5 mm in height, that is, very powerful HDDs. This currently allows for a maximum capacity of 2 TB overall (2x 1 TB 2.5" hard drives), although 1.5 TB hard drives are indeed available, they are not yet individually sold.
The sturdy case profits greatly from its aluminum base plate. No imperfections in craftsmanship or parts poorly fitting together were noticeable. The white, plastic top is held in place with 4 screws located at the corners of the base plate. The white plastic is just as prone to showing small scratches and fingerprint marks as other colors might, albeit only in particularly unfavorable lighting. Little rubber feet on the base plate keep the case in place even on a smooth, slippery surface.
Inside we find the circuit board with two well-spaced SATA slots next to each other. The necessary ports are placed at the back of the device toward the outside and include a power connector, 2x FireWire 800 (daisy-chaining supported), 1x eSata and 1x Mini USB. At the very left you'll first find a power switch and at the very right three LEDs informing you about the power connection, connection to a computer via ports, access to HDDs within, data recovery and hard drive errors.
Raidsonic systems are capable of simultaneously using hard drives of varying types, storage capacities or rotational speeds. With RAID 0 and 1, the usable storage space of the larger HDD is limited by the capacity of the smaller HDD. Likewise, the faster HDD may only function as fast as the slower one. It's therefore better to use structurally identical hard drives to get optimal results.
Case
To test out our Raidsonic system, we have a double dose of a whisper-soft Toshiba 2.5" HDD. The MK3265GSX has capacity of 320 GB, 8MB cache and spins at 5400 RPM. Despite the low rotational speed and very low system noise, it still manages a good max read rate of 93 MB/s. For lack of time, we did not have the chance to do a run-through on Mac OS X.
Performance and Transfer Rates
RAID
The system is configured via the software RAID Master, which may not present you with a great array of features but does a fine job of covering the basics. We have the two RAID modes: RAID 0 (acceleration without redundancy), RAID 1 (mirroring), SPAN (concatenation of two or more physical hard drives to make one logical drive) and JBOD (multiple hard drives accessed individually). It even supports HDDs totaling over 2 TB in capacity, although this statement should come with an asterisk, considering 1.5 TB HDDs are not yet sold individually. The system is preset to JBOD mode and displays the HDDs attached as separate drives. To change the mode of concatenation, just choose your preferred mode and click "create RAID". After a few seconds, the new configuration shows up and is ready for use. We shortly tested all 4 modes and were able to use each without a hitch.
Performance
We measured the maximum transfer rates using the brisk RAID 0 configuration, in which data is alternately saved on one disk, then the other. This comes with the benefit that data can theoretically pass twice as fast to or from the HDDs, not to mention that the entire combined capacity (640 GB) is usable. The downside is that if one HDD breaks down, it renders all the data on both drives completely inaccessible.
Using the FireWire 800 port of a Digitus PCI adapter, we measured an average read rate of 62 MB/s, typical for a Windows computer. The Toshiba hard drives' maximum transfer speed is by no means reached here, rather the performance is limited by the port itself. Connecting the system via eSATA proved much faster, averaging 102 MB/s and reaching as high as 122 MB/s, while only during the last fifth of HD Tune Benchmark's run-through did the performance curve start to drop. For comparison we tested the system with the Dell Precision M4500 and the HP Probook 6540b via a Digitus eSATA ExpressCard, resulting in the difference of a mere 7 MB/s between the two computers. Even here it turns out that the eSATA port was at fault for not being able to harness the full power of the RAID configuration. Faster eSATA ports on desktop computers would be able rake in even faster transfer rates.
In the RAID 1 configuration—which serves primarily to back up data in case one of the HDDs goes out—only 320 GB of the total 640 GB can be used because all data saved on one HDD is mirrored on the other. So, if one HDD is experiencing problems or no longer functioning, all data is still available via the other HDD. Here there's no need to worry about a complete loss of data like with RAID 0. The max read rate here comes to 93 MB/s and averages out at 72 MB/s—just about an even 30 MB/s slower than with RAID 0, and therefore on par with the performance of a single HDD. In RAID 1, the write rate peaks at 82 MB/s and comes to an average of 68 MB/s. On average, the RAID 0 configuration managed about 10 MB/s more on average, that is:78 MB/s and a max of 86 MB/s.
Hot Plugging our the HDD system via eSATA proved itself very unreliable, but in our experience this is a typical problem with eSATA. The port doesn't quite work the way you'd want it to here 100% of the time.
Verdict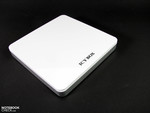 Raidsonic's "RAID to go" is as unusual as it is interesting. The variety of ports allows for convenient use on both Macs and PCs. The two HDD slots placed alongside each other enable its compact design and the case proves itself to be of very good quality.
The type of HDDs and their combination is unlimited and even HDDs 12.5 mm in height and adding to a capacity over 2 TB are no problem for the ICY BOX. The broad scope of hardware complemented by its easy-to-handle design and simple software makes this unique device a winner across the board. Small imperfections like inconsistently recognizing the connection via eSATA has often been observed with many other external devices and is no unique flaw of the device here.
Unfortunately, the case and its great array of ports come at quite a lofty price. Currently costing at least 120 Euro, it's not exactly a penny-pincher deal, although we haven't yet found a suitable alternative with similar qualities and test results. Maybe there'll be a similar gadget with USB 3.0 coming out soon, offering a good alternative to Windows users at least.