Review Matrox DualHead2Go DP (DisplayPort) Edition
If your notebook or PC has a digital video interface (DVI or DisplayPort), you can use the DualHead2Go DP Edition for using two monitors on this single port. DisplayPort and Dual-Link DVI connections have an advantage because they can transmit up to 2x 1920x1200. There is also the DualHead2Go with a VGA input and output for laptops with a VGA port. However, it principally has a poorer signal quality and isn't the object of this review, anyway.
Technical Data
Maximum resolution of 2x 1600x1200 or 2x 1920x1200 pixels
Different resolutions on both monitors not possible
2 year warranty
PC, Linus and Mac compatible
1 display port input – 2 display port outputs
USB and display port for power supply
In order to find out if your system is compatible with DualHead2Go, Matrox provides a compatibility tool for downloading on their website.
If you have 2 digital outputs on your PC, you can even connect 4 monitors via expansion modules.
Hardware
The elegant black DualHead2Go box makes a high-end impression. The metal case made in China is manufactured flawlessly and the rounded design looks nice. The stability is very good due to the metal case. The four ports have been fitted cleanly into the case and are screwed into the case and not only soldered on the mainboard.
Apparently, the whole case also serves as a cooling unit during use because of the cavity on the bottom. Due to this, Matrox could waive on a fan and you are rewarded with silent use.
An LED on the monitor distributor indicates the current state (in red or green).
Technology
Technically, the graphics eXpansion module splits the connected monitor signal on both monitor outputs. Interlaced sound signals are likely not transmitted. Thus, the computer recognizes the box as a single monitor that provides the fed in resolution. The function is therefore not dependant on Matrox and can also supply a certain amount of future security. Nevertheless, the maximum resolution is limited by the graphic card output. DisplayPort and Dual Link DVI (via adapter) can, e.g. output a maximum of 3840x1200 and thus make 2x 1920x1200 possible. A comprehensive list of possible resolutions can be found here on Matrox.com.
Drivers / Software
The drivers principally provide a possibility of feeding four resolutions into the DualHead2Go box. They are automatically transmitted as available resolutions to the operating systems, as if to a single monitor. Thus you can, e.g. upload 2x1920x1080 @ 60 Hz into the expansion module. The computer then receives the information that a monitor with 3840x1080 @ 60 Hz is connected. The DualHead2Go divides this signal onto both monitors (either horizontally or vertically, depending on the settings) and routes them to the outputs.
Another feature of the drivers are a few Windows management options, such as maximizing a window to only one external monitor. Menu and tooltip spanning can e.g. also be prevented in the Windows drivers.
In comparison to the Windows' drivers, the driver for Mac OS X is limited to the most necessary functions. It makes it possible to change the resolutions stored in DualHead2Go and also the set resolution. Aside from that, you can also maximize the currently active window on a display via Hotkey Tool.
Performance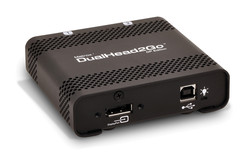 To test the DualHead2Go's performance, we used it with a new 15" MBP and 17" MBP under Windows 7 and Mac OS X 10.6.3. A performance decrease couldn't be established in comparison to a singly connected monitor under Windows or under Mac OS X. XBench and CineBench 11 always produced comparable results and we couldn't establish any losses even while working on the extended desktop. HD videos and games also ran on the extended desktop in our tests without a noticeable difference.
Test Impressions and Experiences
To get a somewhat more detailed impression of the DualHead2Go DP Edition, we worked with two external monitors (2x 1920x1080) under Mac OS X and Windows 7 for a few hours. It was especially awkward to set it up under Windows for the first time and was connected to a few reboots. As soon as you understand the Matrox tool, the configuration is quick and easy.
The image quality was without flaw due to the digital connection. Focus and color representation couldn't be discerned from a monitor connected directly.
You quickly come to appreciate the additional external monitor, which you receive with DualHead2Go. You can also practically only maximize the windows on one external monitor under Windows. There is a keyboard shortcut under Mac OS X, but there isn't a dedicated button for maximizing windows to full in Apples operating system. The green "+" of every window is actually only supposed to enlarge every window as far as necessary.
The biggerst drawback is the missing option of rendering videos in full screen mode on only one external monitor (without clone mode setting). In particular, YouTube videos can't be rendered in full screen (except for on the internal notebook display). Furthermore, the windows (Windows 7 + Mac OS X) and resolutions (Max OS X) were wrong after removing and reconnecting the box. But this is likely due to the operating system.
A large cable mess was produced since we needed a large amount of adapters for our MacBook test devices and external monitors (MacBook: Mini display port -> DisplayPort; DisplayPort -> DVI; DisplayPort -> DVI -> HDMI). This can only be prevented when you have two monitors with a DisplayPort socket.
Games were either presented distributed over both displays (when the game supported the resolution or in window mode), or on both external displays at the same time (clone mode). Due to the missing bezel management (frames are exempted), the DualHead2Go isn't as suitable for this as e.g. AMDs Eyefinity
Verdict
The DualHead2Go DP Edition isn't exactly a bargain with 176.72 – 223.92 euro (e.g. 204.14 at Amazon), but for many notebook owners it's the only possibility to use two additional monitors. In comparison to USB monitors, the performance is significantly better and doesn't differ from a directly connected display. Compared to still very expensive 30" monitors, the combination of two 24" monitors and the DualHead2Go is cheaper and offers more screen space.
Merely upcoming Eyefinity notebooks (with a DisplayPort socket) and possibly the upcoming GeForce 4.0M graphic cards can offer similar features. Thus this solution will be especially interesting for upgraders.
+ No performance loss
+ Additional external monitor
+ Box's good workmanship

- Different resolutions on each monitor not possible
- Full screen video is always divided on both monitors
- Windows' drivers often require rebooting
- Only average haptic
- Narrow functionality under Mac OS X
- Windows / resolutions are often mixed up after removing and reconnecting