Notebooks versus Desktop PCs
Desktop replacement notebooks (DTRs) have come a long way in the past couple years. Once crippled by abysmal battery life and serious heat issues, DTRs are becoming increasingly appealing. While they'll never offer graphics performance quite at the level of a high-end desktop, they do occasionally offer desktop-class processors – and the speed penalty for mobile chips shrinks with every generation.
Likewise, entry-level notebooks are not the embarrassingly slow and clunky hulks that they used to be. Starting at around $400, you can pick up a machine based on Intel's Pentium G950 or G960 - a somewhat slower version of the Core i3 that's more than fast enough for any basic tasks from Microsoft Office to 1080p movies to pretty much anything except gaming. Just avoid anything based on Intel's Atom and AMD's E-series – these are netbook-class processors that really have no business in a full-size notebook, and aren't significantly cheaper anyway.
Processor

Mobile processors based on the Intel Core i-series architecture (Core i3/i5/i7) are plenty fast for current games on a laptop screen (generally 768p – occasionally 900p or 1080p). If you're concerned about gaming performance, grab any Core i-series processor (preferably with a four-digit number, as this differentiates current-generation Sandy Bridge chips from last-gen Nehalem chips) and be happy. It's the graphics card you'll need to pay close attention to.
Whatever the specifics, you will want to avoid IGPs (Integrated Graphics Processors). They're not completely useless for tasks beyond word processing anymore, but none except high-end AMD A8 Llano-based IGPs are fit for anything more than very casual gaming.
Likewise, AMD processors such as the Athlon II, Turion II, and Phenom II will run acceptably, but are generally undesirable due to heat issues and inferior price/performance ratio. However, AMD does have a winner on its hands with its A6 and A8 processors. These integrate entry-level discrete-class GPUs onto the processor die, and can be a good buy for budget gamers interested in price and battery life as much as performance. Their GPUs will never be as fast as a good midrange Radeon or GeForce, and their CPUs are considerably slower than the Core i-series and even the Pentium G950/960, but both are good enough for some modest gaming on the go.
More information about notebook processors can be found in our comparison of processors and in our sortable benchmark list of mobile CPUs.
Video Cards
Video cards are the last area where notebooks lag seriously behind desktops. Most high-end notebook graphics cards are simply midrange desktop parts binned for low voltage, and often crippled. This isn't as bad as it sounds – notebooks generally run at much lower resolutions and thus require less horsepower to run at medium to high detail levels. Furthermore, the current crop of midrange desktop cards is very fast by comparison to current game requirements, such that they're capable of running many current titles at max detail even at 1080p.
So, given that standard notebook resolution is 768p, things are looking up. As much as we'd like to see higher resolutions become mainstream (and they will, eventually), in the short term the upside is that it takes a relatively modest graphics processor to give a good mobile gaming experience.
A few high-end laptops ship with dual video cards – called SLI by nVidia or Crossfire by AMD. These machines are of course fast performers, but come at a hefty price premium.
Working For Notebookcheck
Are you a loyal reader of notebookcheck? Are you a techie who knows how to write? Then join our Team!
Especially wanted:
German-English-Translator - Details here
Review Editor - Details here
News Editor - Details here
RAM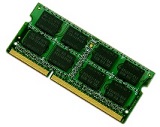 Notebooks used to be troubled by low maximum memory capacity because they have only two RAM slots rather than the four offered in most desktops, but thanks to plummeting RAM prices and wide availability of high density DIMMs, this is no longer an issue for any but the most demanding users. A pair of 4GB sticks currently runs about $40 and provides more than enough space for almost everyone. If that isn't enough, 8GB modules are becoming increasingly common, and they can be bought in pairs for under $100.
Hard Drives and Solid State Drives
Hard drives are another area where laptops are at a disadvantage, though it's less of an issue these days. Notebook drives cost more and provide smaller capacities than their desktop cousins. However, with even laptop drives offering up to a terabyte of space (320-500GB being mainstream), and massive external storage cheap and easy to find, there will be few users for whom the loss of capacity is a problem.
For those users requiring more speed than space, solid-state drives (SSDs) offer an order of magnitude faster performance than even the fastest mechanical hard drives. They don't come cheap, but prices are falling and they're no longer out of reach of the common buyer. Expect to spend $140-180 on a 128GB drive - less than performance hard drives like the Seagate Momentus XT, but at a cost to capacity.
Some laptops (particularly larger and higher-end models like the new Razer Blade) offer dual hard drive bays so you can install both an SSD and a hard drive (or two hard drives or SSDs, for that matter). Failing that, it's possible to remove your optical drive and replace it with a caddy in which you can mount a second hard drive or SSD. Given that optical drives are rapidly becoming the new floppy disks, this may be a great option depending on your workload.
Verdict
Mobility is never free. The good news is that it gets less expensive with every generation in terms of both price and performance. Laptops now sell better than desktops worldwide, and with those economies of scale come lower prices and more innovation. Current machines have a lot to offer if you do your research, and a with variety of new technologies on the horizon or already here, the future looks bright.
Specifically, here are three things to keep an eye on:
Solid-state drives. Current drives are an excellent buy for performance-oriented users, and the next generation is already being teased to the press. Prices are dropping rapidly, capacities are increasing, and the unfortunate issues that plagued early SSDs are becoming rarer and rarer. It goes without saying that the already incredible performance of SSDs is also increasing, and some new drives can already saturate the ubiquitous SATA 6Gbps interface. Among other exciting improvements, expect to see PCIe drives becoming more mainstream and gradually supplanting SATA. This will enable smaller form factors, more efficient cooling, and easy access to massive bandwidth.

Windows 8. It promises a variety of much-needed optimizations for SSDs, a lower RAM footprint than Win7, and a raft of workflow and control improvements. Don't forget to download the Consumer Preview from Microsoft if you're curious!

Ultrabooks, and AMD's Ultrabook-like Thinbooks (read: Ultrabooks on a budget). These should show up in a few months with AMD's new Trinity processors (an evolution of the current Llano-based A-series) and should offer excellent onboard graphics and acceptable CPU performance at around $400-600.