Gocycle G4 review: the cool folding e-bike with turbo boost
Folding bikes are currently popular in cities as well as for camping holidays and the like. You can easily fold them, for instance, to take with you on public transport or load them into a car boot. However, folding bikes have a certain image that is associated with retirees.
The Gocycle G4 is a premium e-bike that wants to put an end to that image. It not only has a stylish and modern design, but also cleverly conceals its power in its front hub motor and a battery that is integrated in the frame. We have taken a detailed look at the Gocycle G4 to see how well this snazzy e-bike performs in day-to day use.
Comfortable e-bike that folds to a compact size
We are going to start this review by looking at perhaps the most important characteristic of the Gocycle G4. And we are not even talking about its e-drive (more on that later), but rather the folding mechanism. The Gocycle G4 is shipped in a box that is remarkably compact for e-bikes. Once taken out of box, the bike immediately shows off its very compact dimensions (L x W x H) measuring approx. 84 x 40 x 75 cm (33 x 16 x 30") in its folded state.
The Gocycle G4 must be unfolded before (first) use. Unfolding the bike is an easy process - you won't need to attend an origami class to do it. First, unfold the frame, which has a hinge in the middle and is held together by a rubber strap. Then engage the easy-to-use locking mechanism below the (not yet installed) saddle. You can use the small red latch to release the locking mechanism later.
The next step involves folding up the handlebars, which works using the same locking mechanism. Then unfold the pedals, insert the saddle into the seat tube and tighten it. The Allen key for adjusting the saddle height initially can be conveniently stored underneath the saddle so that you can always carry it with you. The seatpost can be pulled out quite far, meaning the compact e-bike is also able to accommodate tall riders.
In the end, it took barely one minute to get the e-bike ready to ride. It is also just as quick to fold up again (see pictures above) if you want to, for instance, transport it or keep it compact when storing it in a small city apartment. Overall, the bike weighs about 17.5 kg (39 lb), making it quite a lightweight option amongst e-bikes. It can be carried up a flight of stairs or loaded into the back of a car without too much effort. Many other e-bikes available right now are significantly heavier.
E-bike with three speeds and premium build quality
As shown by our test rides, the e-bike is just as sturdy as a normal bike without a middle fold even when the rider's weight is approaching the specified limit of 100 kg (220 lb). You can rest easy if you are concerned or have memories of older folding bikes that rattled a little too much for your liking. Considering this is a premium product with a price tag to match, anything other than that would be a disappointment.
The Gocycle G4 is equipped with a Shimano Nexus 3-speed gear hub, 20-inch wheels with thick tyres (406-60, 20 x 2.25), and integrated front and rear disc brakes that are hardly visible. One striking feature is the double-leg kickstand that props up the e-bike and ensures it is parked stably. Whilst mudguards are included, the bike unfortunately doesn't come with a luggage rack. You can purchase one separately, but it will set you back another 240 Euro (US$280). The USB-C port on the handlebars is a convenient feature that allows you to charge a smartphone, for example.
Of course, we also have to briefly touch on the exceptional and dynamic design that doesn't quite fit the outdated image of a folding bike. The stylish front and rear wheels, each with five XXL spokes, are only connected to the frame on the right side via the single-sided front fork and the rear wheel mount along with the Cleandrive, giving the bike a rather unconventional look. Overall, the Gocycle G4 is definitely one of the most stylish folding e-bikes on the market. And it also manages to hide most of its technical components, including the chain (no risk of grease stains), cables and so on. The manufacturer also chose to use high-end materials on the bike, including magnesium, aluminium and - if you are willing pay more - carbon fibre.
The G4drive motor offers 70 Nm of torque and turbo boost
Let us talk about the drive system and our experience riding the Gocycle G4. Once you start pedalling, you will very quickly notice how the 250-watt G4drive front hub motor performs. Unlike a rear hub motor, the G4drive more or less pulls the bike behind it instead of pushing.
In standard mode, the first pedal stroke will immediately bring a big smile to your face. This is because the motor will really kick in and start "pulling" the bike (instead of pushing). The Gocycle G4 is also capable of accelerating up to cruising speed quickly thanks to the generous torque of 70 Nm. It can quite easily hit 25 km/h - the maximum speed above which an e-bike motor is prohibited from providing assistance in Europe. You will only notice how well the motor assists you during a ride when you exceed the 25 km/h speed limit or when the e-bike is turned off. The motor is hardly audible and adjusts the level of assistance based on the pedalling force with the help of a sensor.
You can use the small red boost button on the left handlebar to make the Gocycle G4 extra-fun to ride. Pressing the button will unlock "additional power" and cause the motor to pull with even greater force - something you will definitely feel on your buttocks. This is a useful function not just for climbing hills, but also for starting from a stop and overtaking. That said, using the boost function a lot will, of course, impact the bike's range.
60 km on a single charge is realistic
On a related note, we have arrived at one of the most important topics in an e-bike review: the range. The 300 Wh battery is fully concealed in the frame but can be removed for maintenance purposes. You can charge the battery through the charger port located on the side of the frame. The on/off switch is situated on the opposite side.
According to the manufacturer, the Gocycle G4 has a range of up to 65 km (40 mi) - which naturally depends on usage. Our test rides were admittedly quite demanding due to the load, sometimes slightly hilly terrain and high riding speeds (but they mostly had few stop-starts). Even so, the bike can realistically manage 50 to 60 km (31 to 37 mi) under these conditions. Unfortunately, the battery level is displayed in steps of 20 per cent, which makes it somewhat difficult to determine how much range is left. The battery takes around three hours to charge using the included charger, which barely weighs 900 g (2 lb).
Ultimately, this range should be enough for most users looking at a folding e-bike. The Gocycle G4 is definitely not designed for very long rides, even though it can comfortably last quite a few kilometres. Despite the fairly small 20-inch wheels, the thick tyres make riding the bike a rather comfortable experience. The rear wheel mount with 25 mm (1") of suspension travel also helps with riding comfort. There is unfortunately no front suspension.
The app is (almost) essential
The Gocycle G4 comes with its own app. This is nowadays no longer an exception, but the rule. Whilst the GocycleConnect app was able to establish an initial connection to the e-bike without any issues, it certainly still has room for improvement.
Besides a customisable overview with a lot of information about your rides today or during the week, the app also offers many options in the settings and more. This can be somewhat overwhelming in the beginning. The app is only partly localised for non-English-speaking regions; in the iOS version, some things are still only available in English (we did not test the Android app). It is also missing a save function for trips as well as a tracking feature to record your rides.
The app has a very useful feature. Under "mode selection", you are able to not only choose from four different modes (City, Eco, Sport and Custom) but also customise the level of motor assistance in relation to the pedal effort based on your preference. For example, this lets you enjoy the motor's full power while pedalling with minimal effort (similar to the City mode preset) or activate the pedal assist only when you start to pedal very hard.
In our opinion, it is annoying and impractical that you can't do much without the app. On the e-bike itself, there isn't any way to configure or change the assist level during a ride. This means you will always be riding in the same mode that you have selected via the app until you change it on your smartphone. It would be much more convenient if you could toggle through several default or customised modes using a switch on the bike.
The Gocycle G4 also doesn't have a display. Without the smartphone mount and the app, you can't really view much information about your ride. Instead of a screen, there are five LEDs in the middle of the handlebars to indicate the battery level (decreases with battery level) and the current assist level of the motor (increases with assist level). And while we are here: it would also be nice to have one or two more speeds in order to get slightly finer gradation and the ability to pedal slower with the help of a higher gear. This would make the Gocycle G4 better suited for longer rides.

One more thing: once you switch off the e-bike, the data from the previous ride will be practically gone. The app will only show the average speed and cumulative distance travelled for the day, but none of the many other types of data. We find this annoying.
Verdict on the Gocycle G4: We had expected slightly more for it price...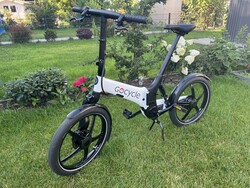 The Gocycle G4 is certainly not cheap at its recommended retail price of 3,799 Euro (US$3,999). For its price, it impresses with its premium build quality, sturdy construction and stylish design. Nevertheless, we had expected a little more from it in some technical aspects.
Yes, the front hub motor pulls the bike with great power, even more so when you press the boost button. The compact e-bike is comfortable to ride despite its small wheels and can also be used on longer trips.

Besides the app connectivity (which has opened up many possibilities but also left some potential untapped), we think that the bike would be not just beautiful but also suitable for daily use if there were to be a display and a mode selector on the handlebars so that the user wouldn't have to constantly fish for their smartphone. Whilst app connectivity is great, it shouldn't be forced upon the user. Having said that, the bike is still pleasant to ride with just one mode, which can be configured as necessary.
All things considered, there are many things we like about the Gocycle G4 during our review. But the manufacturer also charges a handsome amount for the bike's quality and powerful motor - even though its range is rather average compared with "large" e-bikes.
Price and availability
The Gocycle G4 is available at an RRP of 3,799 Euro (US$3,999) directly from the manufacturer. It comes in the colours White, Matte Black and Blue.
Alternatively, there is a carbon variant that costs around 200 Euro (US$200) more but isn't any lighter. Gocycle also offers the G4i, a model that likewise uses carbon and weighs half a kilogram less despite having a larger battery. But expect to pay a steep price of 5,499 Euro (US$4,999) for this model.
I have been fascinated by technology for around 25 years – especially technology that makes life easier rather than more complicated. Mobile devices such as laptops, smartphones, tablets, and smartwatches are particularly close to my heart as is the booming subject of smart homes. I have been working in these areas for several years now as a news and reviews editor. I have been active with various websites, including the smart home blogs homee, Nuki, and siio, as well as tech portals such as Giga and TechRadar. I have been writing news and laptop reviews for Notebookcheck since 2020.
After graduating with a bachelor's degree in environmental engineering, I moved from Singapore to Cologne in 2014 and began pursuing a career as a freelance translator. Much of my translation work focuses on science, engineering and technology. My fascination with computers and mobile electronics began when I was young. And I have fond memories reading countless tech and gaming magazines. Working with Notebookcheck gives me the opportunity to incorporate my personal interests into my professional work.