Gaming Performance of contemporary Graphic Cards

Have you ever asked yourself if your notebook can play GTA 4 smoothly? Or if Crysis runs in high details? We've tested top up-to-date games with contemporary graphic cards so that you can evaluate the strength of your GPU or rather which graphic card you should buy.
We combined the results of our tests in the following visualization. You will find a detailed explanation below.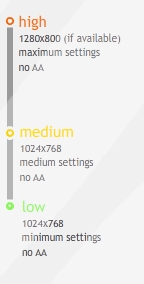 FPS (Frames per second)?
In fact, in fast action games you should reach approx. 40-50 fps in order to achieve a smooth gaming display. Many PC gamers have already gotten used to a lower frame rate (they had to). That's why we limited our graphic to an absolute minimum of 20 fps and tested it with different settings.
How did we test?
The following games were tested:
GTA IV, FarCry2, Crysis, Prince of Persia, COD: World at War, Dead Space, Track Mania, Nations Forever, NFS: Undercover, Left 4 Dead

on the following graphic cards:
HD3870, 9650M GT, 9600M GT, 9600M GS, HD 3650, 8600M GT, HD 3450, 9300M GS, HD 3200, 8400M GS, 4500MHD, X3100
in three different settings: high, medium, and low.
We noted a vertical line for every game in the diagram. The y-axis (height) shows the various graphic cards – sorted by performance (further up – quicker, see our Benchmark List about this, as well). The different circles indicate the setting levels as of the 20 fps were reached (low = green, medium = yellow, high = red).
How do you interpret the visualization?
The minimal settings for Far Cry 2 are, for instance, in the area of the ATI Mobility Radeon HD 3200. That means you can't play Far Cry 2 smoothly with a slower graphic card. Hence you can judge how good a game runs with a graphic card and evaluate even not listed graphic cards (with a peek in our Benchmark test). If you find your GPU, for example, lined in between high and medium details, than you can play the game with more than 20 fps in medium details. Besides that you can see how well a game scaled by means of the length of the bar. The further these reach down the better.
Note: If your graphic card is located above a bar, you should reach considerably more than 20 fps in high details.
Verdict

The enthusiastic gamer should take at least a 9600 M GT graphic card in order to play sophisticated games smoothly on a notebook.
During the test we noticed a definite difference between the GMA 950 and a 9600 GT, too. The Intel graphic solution showed a much poorer presentation quality at the same detail settings.
Apropos presentation quality, many up-to-date games look in lower detail settings like an old geezer. For instance Crysis and Far Cry 2 look like games from 2001 in a minimum detail setting. Gaming comrades should regard this, as well.
Note: The measured performance can diverge somewhat depending on the used processor, memory device, and Windows version. We still used Windows XP SP2 for our tests.