Exclusive Hands-on - EFO Remote keypad
Author
by Pallab Jyotee Hazarika 02/27/2010
Introduction

I have been pretty busy these days at office in all those crazy two-hour meetings that more often than not involve giving long presentations. Now if you are like me, you'd always want the easy and possibly stylish way out – which brings me to you introducing a very useful gadget tailor-made for these kind of situations. You can get these at a very good deal from efo.buy-lowest.com, but we will talk more about that later.
I know we've seen a lot of those but trust me when I say these are different. They come in both wired and wireless modes. I got my hands on both of these remote keyboards and will explain keeping in mind the comparison.
Overview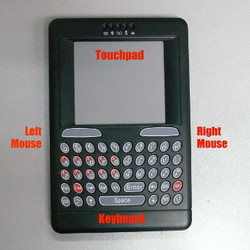 Both wired and wireless remote keypads are 3-in-1 devices consisting of the touchpad, mouse-buttons and keypad – one below another. They also act as HTPC, IPTV and CARPC remote control. Each is of the size of 85 x 125 x 10 mm (about double the size of your credit card when increased in landscape mode), which is the biggest advantage you'll have over full-size keyboards. These keypads are supposed to be compatible with Win, Mac, Linux, PS3, Xbox 360 and also Wii – I have tested with Win and Mac and they work just fine with both.
Form factor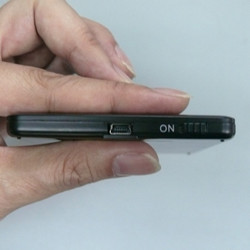 Apart from being really small, it's also extremely thin as you can see in the picture. Both the keypads (W and WL) have identical shape and size, so much so that you'll have to place them carefully with their accessories to keep them from mixing up.
The wired one comes with a wire of course and the wireless one with an USB dongle and recharging cable. Once you switch them on from the bottom, they are ready to work. The touchpads respond fine, although I found a little delay in the cursor movement compared to the default pad on my Thinkpad. The responses from both the devices are similar. The keys are well spaced out and has a rubbery feeling while tapping, which will prevent the fingertips from slipping. The only problem I found with typing is that the keys could've been a little more elevated, which would've made gliding the fingers all the more easier.
Performance
The typing speed on both wired and wireless models are same, which is considerably less than the actual keyboard. Of course you must have been quite used to your laptop keyboard by now, and as a matter of fact we are not looking to use the remote keypad as primary. But when you are away from your computer, like during a presentation, you'll know how admirably the keys perform. The wired one does not need recharging as it is already connected to the machine. Although the 2M wire helps, this is no match for the wireless one, which I found is pretty responsive even at a distance of about 10 feet. No battery is required for the wired keypad. The Li-ion batteries inside the wireless one lasted for…well I stopped counting after a week and a half.
Verdict
If you are a person who frequently needs to give presentations, or a couch potato – you'll love this device. It does not need much attention, and at $22 for the wired and $40 for the wireless, it is not expensive. But I suggest you get the wireless one. In fact you now have option of getting a Bluetooth wireless keypad too (the one I got runs on RF).