Dell to make changes to their OLED screens over health concerns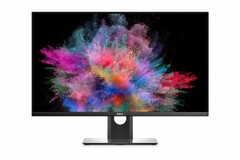 Dell is taking new study on permanent dangers of blue light seriously and will make changes to their portfolio. VP says company is concerned about the damage done to the eyes of users of OLED screens after new report by French health agency raises fresh concerns over the health risks of such screens.
Dell has announced that it is investing in a hardware solution that will reduce the intensity of dangerous blue light emitting from its LED and OLED screens. The revelation by Frank Azor, VP and General Manager, Alienware, Gaming & XPS at Dell comes on the back of a study conducted by France's state health body that suggested "exposure to an intense and powerful LED light is photo-toxic and [could] lead to irreversible loss of retinal cells and diminished sharpness and vision".
Azor told Forbes that, while the science on the dangers of blue light (in LEDs) is quite new, the company is taking the risks seriously and want to "reduce the risks" and will roll out changes to its portfolio soon. Azor wants the solution to be hardware rather than software focused as he believes this is the best way to ensure blue light is reduced to "un-harmful levels without compromising the display quality, or color gamut."
The fact that blue light can be damaging to the sleeping patterns of users is well documented. Manufacturers and developers have responded to this by creating apps to change the color balance at certain times while some devices come pre-installed with a 'Night Light' that acts in the same way. There are also additional solutions such as sunglasses that block out blue light, though these can cost a considerable amount of money. Previous research has focused on how blue light prevents the body from creating melatonin, a hormone that is associated with sleep onset. The latest research is focused much more on the physical damage such light can do to eyes, and is therefore much more likely to be of concern to manufacturers wary of poor publicity relating to health.
Although Azor didn't specify which of Dell's devices across the portfolio will be affected first, or indeed what the hardware changes will be, it could signal a change that spreads across the industry as the scientific debate grows.