Column: the Lenovo Thinkpad W510 at Work
By J. Simon Leitner / H-P Hagmüller, 07/19/2010
(Never)ending story?
The possibility to have a notebook for the long-term isn't always one afforded to us, though this was exactly the case with the Thinkpad W510. What follows was the account of a motivated entry-level user's experiences working with the high-end W510 notebook.

Working For Notebookcheck
Are you a loyal reader of notebookcheck? Are you a techie who knows how to write? Then join our Team!
Especially wanted:
German-English-Translator - Details here
Review Editor - Details here
News Editor - Details here
For years the Thinkpad brand, under the control of IBM, has defined the upper business-class for notebooks. As is well known, the Chinese manufacturer Lenovo took the helm several years ago and the rest is history. Since then, many have questioned whether the high standards of quality would come through intact or if measures to cut costs would be evident in their new models--models which form the top brand within Lenovo's product range.
What follows is an account of a Thinkpad-beginner and his range of experiences during the first months with the performance-oriented W510 notebook.
How everything started
An appropriately powerful 15-inch workstation was sought at the beginning of the year, one which would be able to handle specialized video-analysis software used to monitor movement sequences as well as complex calculations of geometrical relations. When the deadline for purchase came closer, possible alternatives from Dell and HP were a bit farther away and Lenovo came through with their new Thinkpad W510.
When it came to customization, an Intel Core i7 820QM quad-core CPU paired up with an Nvidia Quadro FX880M graphics card followed in the footsteps of the motto "Go big or go home". The notebook was ordered in the first few weeks, as it was available from a few different distributors.
Get connected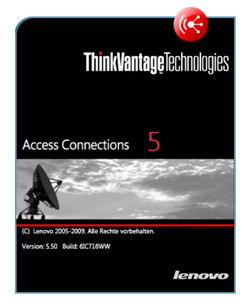 Naturally, the excitement over the 2000-Euro fireball was high at first. It wasn't too hard for the W510 to assert its dominance over its predecessor, an Inspiron 6400. Despite this, little by little it seemed that components on both the hardware and software side would no longer function as they had before.
The primary suspect responsible for these antics was finally discovered: Access Connection, an intelligent and helpful tool included with the Lenovo ThinkVantage software packet. Out of the blue, the network's automatic location change would no longer function until it came to a point where the location in question could no longer even be recognized. Within our company's network, the notebook further showed its weaknesses whereupon both LAN and WLAN could not maintain a usable connection with the internet. This was the point where my nice colleagues with their cynical remarks about my oh-so-beautiful machine finally lost it. Their old Windows XP machines functioned without any fuss. Was Windows 7 responsible for the entire fiasco? In fact, tests confirmed my suspicions. Crappy as it may be, but I passed early judgment on my 2000 Euro notebook well in advance, as it functions well under Windows networks of previous generations but only sporadically with Windows 7 64-bit.
For safety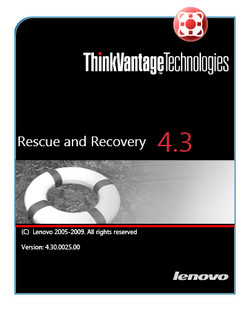 As previously explained, the new (expensive) software is able to be utilized without an internet connection, which was a fortunate turn of events. Data not to be neglected was quickly collected together with various software for the purposes of safety.
Who, if not on the part of the manufacturer, should set up the highly praised Lenovo Recovery Tools quickly and easily? Error! When first calling up the program to create a recovery disk, a pop-up appears to tell us that "the process can not be executed bla bla bla" and then promptly quits.
After a later restore of the system to default specifications, the backup with Lenovo recovery worked, though there was a small asterisk to all of this--the backup had to be written to the integrated system disk and not on an external drive! This is equivalent to being in the machine room of the Titanic and donning a life vest to escape the oncoming flood waters. Why, how and most importantly, what the hell?
Finally, the Windows function to create a backup to an external device serves as proof, which fortunately also worked out. Embarrassing, no?
For Safety II, or 0900 6969 – Call Me!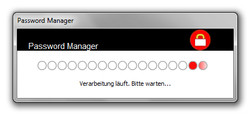 It seems as though somewhere in the mix another few cents were trimmed off, resulting in the loss of the fingerprint reader--in a business notebook of the same class as the W510, this is simply obligatory. Not only does it enable a secure login when starting the computer, but it should also be able to input passwords and login-data when visiting various websites.
Since Internet Explorer isn't exactly the first choice anymore for professional users, the Lenovo developers should take this sort of preference into account. Firefox, as used on the W510 warns one in the add-on menu that the Lenovo Software is not supported. Do we smell a case for Lenovo support? After everything that we already went through with the notebook, we were probably long overdue, hoping that they could help us with an entire range of questions that we had. Add to this the pretty price tag, which communicates to the buyer that they have also invested in a decent service and support system when they need it.
Looking for help directly at Lenovo was somewhat hard. In the ThinkVantage Tools this information was nowhere to be found; we first encountered the address that we needed on Lenovo's homepage ([email protected]). Short answer:
Please contact Software Support (30 day up and running support), which you may reach at 01-2492-5901 from Monday to Friday 9-3:30.
In order to provide you the fastest possible support, please have the following information at hand.

- Type number
- Model number
- Serial number
This information can be found on the sticker located on the underside/back of your system.
Well, a quick uncomplicated answer would have been too much to ask for. Interesting are also the "operating hours" of the hotline, which reminded me of those for many banks and post offices.
I called the number on Thursday 05.25.2010 and was somehow directed to the appropriate person by the automated directory. Before I was to be connected with a person, a friendly tone chimed in to remind me to have a credit card handy if my 30-day support window was expired. Speechless, I hung up...
How can this be? As I pinched myself sitting in front of my computer (at home, as I still did not have internet at the office) I leafed through the various web pages from Lenovo support.
A surprise: I found an 800-number which was free of charge! The disillusionment followed, but I was able to get a live technician on the other end of the line. His information was less exciting: the password manager functions exclusively with Internet Explorer from Microsoft and not with Firefox, Chrome or other browsers. The cooperation from Lenovo and Microsoft when implementing the software in Windows 7 left no doors open for other browsers...thanks Lenovo, thanks Microsoft.
What else?
There were also a few other things to mention. It was observed that the webcam required for use with the previously-mentioned software, a Logitech 9000 Pro, is incompatible with both USB 3.0 ports and doesn't support backwards compatibility.
Not among the easiest of exercises was the setup for the mobile broadband internet with the integrated modem. Lenovo Access Connections once again took over by itself:
"The activation of this service-provider is currently not supported. Please contact your service provider for further information."
Activation? The SIM card was just previously in a UMTS-stick and functioned without any issues. In spite of this, I turned to Windows: input the SIM-code, connect, and your finished. Simple.
Conclusion
It is thoroughly clear to me that these problematic areas are not indicative of the quality of the notebook itself, rather that my disappointment lies with Lenovo ThinkVantage Tools. Theoretically, this software should make life with the Thinkpad easier, more secure and more efficient, a conclusion with which I do not agree with in the least.
Updates, dearest readers! I long for the appearance of new tool and driver updates from Lenovo. Coming in week to week on a mostly regular schedule, they did not improve my situation with any of the aforementioned issues.
Do I have to be satisfied with my "early adopter" woes? A good question, though one can only hope at the least that all of these bugs will be patched via updates. All in all, an early purchase of such a notebook will be something that I will have to think hard about in the future, especially when one could have gotten along better with a comparable model that was already put through its paces.