Working For Notebookcheck
Are you a loyal reader of notebookcheck? Are you a techie who knows how to write? Then join our Team!
Especially wanted:
German-English-Translator - Details here
Review Editor - Details here
News Editor - Details here
Big Expectations for a small Sports Car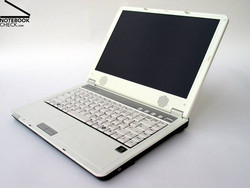 In February 2008 we acquired a new editorial staff notebook with the name Zepto Znote 6324W, which our test department extensively examined right away (http://www.notebookcheck.com/Test-Zepto-Znote-6324W-Notebook.7860.0.html). Primarily, the notebook was intended for working, but the mobile box was to be used for gaming in between, too (this, of course, solely for testing purposes – in case the tax office reads this article). For this reason the fully configurable Zepto was not only seen with an (at least then) efficient graphic card (nVIDIA GeForce 8600 GT) but with the at most powerful processor. Back then, the largest possible alternative was an Intel Core 2 Duo T9300. With that, the small 14-incher was armed to a maximum with the best available technology according to the motto of an old sitcom "We need more power!"
The Big Awakening
In the first heavy battles (Supreme Commander) it already turned out, however, that of all the notebooks involved in the game, the Zepto Znote was always the brakeman. Even if slow motion is used in films for dramatically theatrical effects, it simply got exasperating that the game permanently only ran at a tiresome half speed. Missiles that fly around in walking pace barely ever provides adrenalin thrusts. An explanation had to be found, a scapegoat. The first thought, the first suspect: Windows Vista.
In Case of Doubt: Vista is always fault!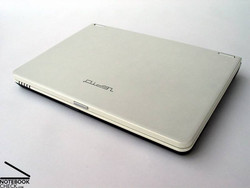 The reasons are just as captivating as plausible: Vista is generally to be blamed for almost everything, then why not in this case, as well? It is well known that Vista is very performance hungry. Irritating was that my comrade-in-arms sometimes used Vista-notebooks and they kept up with the galactic battles considerably better.
Therefore I deactivated every resident program and services that were in any way dispensable and identifiable in the hope that the performance eater would be put to an end – nil return, the game dragged on.
Then I started the benchmark program 3DMark06 and obtained a shattering result. The processor performance value reached only 60% of that what had been measured in the original test report, the value which would have been in accordance to this performance configuration. Even a deactivation of almost all resident programs only brought a few percent more in the benchmarking. There was really no energy eating program. The patient was definitely ill.
The Diagnosis
The only explanations left were a hardware defect or overheating. I started 3DMark06 right after a cold start of the Zepto Znote 6434W and tore open the window. And see there, I reached the original value right away. With that it was clear that the processor of the Zepto notebook overheated under heavy duty and paced down automatically. That is a necessary security measure, thinking of those spectacular pictures of burning notebooks. When the heat in the processor area gets to high, the performance runs down, like in an atomic power plant short before a nuclear fusion. Now the puzzle was solved, but how could it be avoided?
Therapeutic attempt

One possibility would have been to send the notebook in to Zepto. After all, that kind of thing shouldn't happen. But I didn't want to trouble myself with the inconveniences connected to that (no laptop available for weeks, filling in forms, calling around).
Therefore, I played the next LAN games at an open window (hoping for bad weather) and set my laptop on pens and erasers so that the distance to the surface was elongated and making more place for vacuuming air (the vents are on the bottom side). It did improve the situation and I could achieve approx. 70 – 90% of the intended processor performance. That wasn't enough though. Besides that, sometimes my hands were as cold as those of Frozen-Fritz, the ice-mummy. The Danish notebook had to be reanimated. The little Viking would only be able to bring optimal performance on its own in the arctic or trying for one more allegory: This notebook is like a Penguin wrapped in bacon in a tropical region, which can't get rid of its body heat.
Reanimation
For this, a notebook fan out of an older Notebookcheck test came into play. Powerful vents blew strong wind directly into the vents of the breathless Danish patient. With that the problem was solved, the Zepto didn't drag any more than other notebooks even in the gigantic Supreme Commander massacres. By gigantic maps it destabilizes, but other gaming laptops with a similar configuration don't give their best performance, either. Even the 3DMark06 brought the original value of the test. The processor obviously didn't derate anymore. The processor could now be sufficiently cooled in every game to deliver a maximum performance. An external fan will always have to be a part of every game, but that's something one can live with.
Who's to blame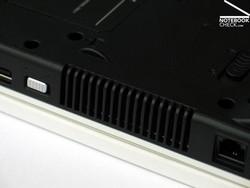 As in Austrian politics, the quest for a scapegoat is a central concern with a big tradition. Zepto won't like to read this paragraph very much: If one excludes that the loudly gasping Zepto Znote aspirated some rubbish, blocking an aorta or something else, then a construction deficiency would be obvious – to formulate it carefully. I assume the following: The Zepto Znote 6324W is fully configurable and just at the beginning of the year, a new and in comparison, strong Intel processer series came out (which doesn't necessarily emit more heat than their forerunners). These processors had to be offered right away in order to enliven trade. For time and cost optimization reasons it might be possible that every configuration option maybe wasn't tried out abundantly (or at least no long term tests). And maybe because of this (…always stay diplomatic) the case construction and the built in fan simply wasn't compatible with the most efficient performance variation. Maybe the fan was simply too weak and the quality inspection didn't notice this or maybe it wasn't too weak to start with, rather it became too weak through light pollution which occurs in the course of time.
A Solitary Fate
Now a few might be thinking that this is definitely a Zepto-typical problem and that it happens, at best, only in certain odd cases and maybe only in an older series. But can it be expelled that other configurable notebook models from various manufacturers or even equipped pre-configured mobile computers suffer under just this problem? If it's a problem that a customer rarely thinks of then there aren't any complaints going in at the companies and no negative criticism that ring the alarm bells in the quality control departments.
Most notebook consumers don't use benchmark programs. Many gamers play at home alone or over internet without really knowing which computer their gaming colleagues use. And barely a team has always resort to the newest devices like a notebook magazine. The operators of an online magazine also have to pursue such problems particularly obstinate. Who else runs benchmark test under different conditions 10 times? In short, it is thinkable that it is not a solitary fate; instead it might be the tip of a gigantic iceberg which tears at the performance of unfortunate Titanic processors. This comparison only then fits when no one notices that the Titanic has gone astray.
What do we learn from this?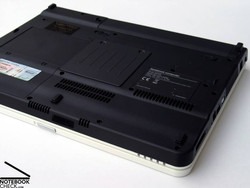 If we were Austrian politicians, we'd say: We don't have to take any lessons from this and are basically consultation resistant. But being normal people, we can note following: Even if seldom, notebook-fans were tested at Notebookcheck and I always asked myself, what one needs them for other than maybe as a port replicate for people who want to attach a lot of peripheral knick-knacks. For noble pianists hands which shouldn't start sweating on the warm notebook surfaces in the summertime? Now I know better. These things are advisable not only for over-clocking freaks, where the notebooks crash repeatedly on hot summer days (please, I've seen that at a LAN party already). It is also advisable to give the laptops a health check with a benchmark program not only right after purchase but a few months afterwards as well – and that after a massive load, when the device has run itself really hot. Besides this we learn that the Danish are optimized for the cool north, not for nothing does Greenland belong to Denmark. Maybe Zepto has a quality control department there…