Review Quirky Cordie and PowerCurl (MacBook and MacBook Pro) cable organiser
By: Tobias Winkler 07/08/2010
Flexible cable organiser.
Chaos in the cable drawer or in the laptop bag? Quirky offers two smart solutions to get the problem under control.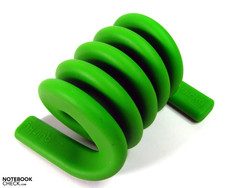 Cordie
Not only laptop reviewers have oodles of cables stashed in every draw, box or fridge. Thus all too often the problem arises: "where is the HDMI cable?", "hmm I thought I had a FireWire 800 to FireWire 400 4-pin," or "the USB extension must be around here somewhere". In order to overcome the problem, there are the Cordies from Quirky, which should bring order out of chaos.
Basically it's a rubbery spiral with metal weights in the feet, in which you store your "most favourite cables". Placed on the table, the non-slip rubber material holds four cables firmly. Its ends simply dangle down alongside the table. If you have quite a few cables that all weigh about the same, then several Cordies can be connected together in order to increase the capacity. In Germany the colours pastel green, grey and cyan blue are currently available. The cost, at around 20 Euro each, isn't insignificant, but there's no doubt that tidiness is priceless.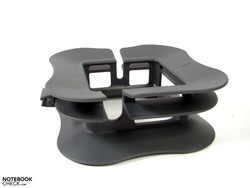 PowerCurl (MacBook and MacBook Pro)
Notebook power bricks are often annoying with their difficult-to-control cables. MacBook and MacBook Pro users have the opportunity to fight back against this annoyance with the PowerCurl from Quirky. The cable organisers are made from a flexible yet rigid plastic, which nestles perfectly around the power supply. Available in five lively colours, each person's aesthetic taste should be accommodated.
The PowerCurls are available for 60 Watt and 85 Watt power supplies of the MacBook and MacBook Pro series, which only differentiate themselves in the dimensions of the recess. Both have an overall size of around 130 x 130 x 48 mm and make transportation in the concisely tailored MacBook bags seem almost impossible. Therefore the main area of use is likely to be where the laptop is stationary.
Two tracks take care of the cables, which are managed by the relevant notches. These are neatly coiled up with care and make a good impression on the desk. The obligatory use of the power pack itself seems awkward, as the plug can't be fitted perfectly and so doesn't fit into the wall outlet anymore. For a good air supply the open design with large slits works well as does the position of the power brick, withdrawn from below.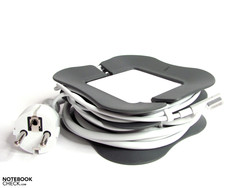 Whether you want a cable organiser as a designer piece is the question when you consider the PowerCurl. Whilst it's thoroughly convincing when used in a stationary environment, mobile use is almost completely ruled out due to its dimensions. Additionally you're forced to carry around the otherwise expendable power brick, which would mean a further weight increase and a loss of storage space. The PowerCurl cable organiser is available amongst other places directly from QuirkyDesign for just 25 Euro.