Intel Core i5-11600K vs Intel Core i5-11400T
Intel Core i5-11600K
► remove from comparison

The Intel Core i5-11600K is a high-end desktop CPU based on the Rocket Lake architecture. The CPU offers 6 cores and 12 threads clocked at 3.9 - 4.9 GHz (Turbo Boost 2.0 only). Using all cores, the CPU can clock up to 4.6 GHz.
The TDP is rated at 125 Watt (PL1, power limit sustained load) but the PL2 is set to around 250 Watt for short term boosts (up to 56 seconds).
The Sunny Cove processor cores (known from the Ice Lake mobile CPUs) offer larger caches and an improved IPC (up to 19%). Furthermore, the chip also includes (partly) integrated WiFi 6E and Thunderbolt 4. The platform supports PCIe 4.0 and Intel DL Boost for AI acceleration.
Thanks to the faster core architecture, the 11600K can beat the old i5-10600K by around 20 percent. Therefore, the i5-11600K is a good mid range choice for gaming.
The faster Rocket Lake-S CPUs also integrate a new Intel UHD Graphics 750 that is based on the current Intel Xe architecture (e.g. mobile Tiger Lake) and offers 32 EUs. In the 11600K, the GPU is clocked from 350 - 1300 MHz.
The CPU is manufactured in the old 14nm process like the Comet Lake predecessors. The power consumption is not as high, as the Core i9-11900K, but can't come close to the power efficient Ryzen 5 5600X.
Intel Core i5-11400T
► remove from comparison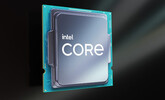 The Intel Core i5-11400T is a power-efficient six-core desktop processor based on the new Rocket Lake architecture, which was introduced in March 2021. The processor clocks with a base clock of only 1.3 GHz and reaches an all-core boost of 3.7 GHz under load. Intel also gives the Rocket Lake processors the Hyperthreading feature, which allows the i5-11400T to process up to 12 threads simultaneously. As known, the Intel Core i5-11400F is manufactured in the 14 nm process. Nevertheless, many changes have been made with the Rocket Lake architecture, which is also reflected in the performance compared to the Comet Lake.
Compared to the Intel Core i5-10400T, the Core i5-11400T offers a significantly better IPC. This can be seen clearly in the single-core benchmarks. The multi-core performance also benefits from the better IPC compared to Comet-Lake. A performance increase of up to 20 percent can be expected.
The processors integrates a Intel UHD Graphics 730 iGPU that features 24 EUs clocked at 350 - 1200 MHz.
The TDP turns out relatively low with 35 watts. This is the PL1 value. For Turbo, the Intel Core i5-11400T offers a higher TDP of up to 84 watts with PL2. However, this may only be applied for a maximum of 28 seconds (dew).
| | | |
| --- | --- | --- |
| Model | Intel Core i5-11600K | Intel Core i5-11400T |
| Series | Intel Rocket Lake | Intel Rocket Lake |
| Codename | Rocket Lake-S | Rocket Lake-S |
| Series: Rocket Lake Rocket Lake-S | | |
| Clock | 3900 - 4900 MHz | 1300 - 3700 MHz |
| L1 Cache | 480 KB | 480 KB |
| L2 Cache | 3 MB | 3 MB |
| L3 Cache | 12 MB | 12 MB |
| Cores / Threads | 6 / 12 | 6 / 12 |
| TDP | 125 Watt | 35 Watt |
| Technology | 14 nm | 14 nm |
| max. Temp. | 100 °C | 100 °C |
| Socket | 1200 | Intel Socket 1200 |
| Features | TVB, HyperThreading, AVX, AVX2, FMA3, Quick Sync, Virtualization | TVB, HyperThreading, AVX, AVX2, FMA3, Quick Sync, Virtualization |
| iGPU | Intel UHD Graphics Xe 750 32EUs (Rocket Lake) (350 - 1300 MHz) | Intel UHD Graphics 730 (Rocket Lake) (350 - 1200 MHz) |
| | | |
| Architecture | x86 | x86 |
| Announced | | |
| Manufacturer | Intel Rocket Lake i5-11600K | |
| Die Size | | 276 mm2 |
| | | $182 U.S. |
Benchmarks
Performance Rating
- CB R15 + R20 + 7-Zip + X265 + Blender + 3DM11 CPU
- i5-11600K