AMD Radeon RX Vega 6 (Ryzen 4000/5000) vs AMD Radeon RX Vega M GH
AMD Radeon RX Vega 6 (Ryzen 4000/5000)
► remove from comparison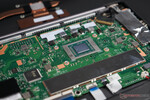 The AMD Radeon RX Vega 6 is an integrated GPU for notebooks. It is used in certain Ryzen 5 APUs of the Renoir generation (Ryzen 4000 Mobile), which were launched in early 2020. The iGPU is based on the Vega architecture (5th generation GCN) and has 6 CUs (= 384 of the 512 shaders) clocked at up to 1,500 MHz. Compared to the similar Radeon RX Vega 6 in the Raven Ridge generation (Ryzen 2000 Mobile), the GPU is clocked significantly higher (1.500 versus 1.100 MHz Boost).
The performance depends on the configured TDP (12-54 W at launch), the clocks, the cooling, and the memory configuration). The GPU should benefit from fast dual-channel DDR4-3200 RAM (contrary to DDR4-2133 single-channel, which is also possible).
The Vega architecture offers some improvements over the Polaris generation and now supports DirectX 12 Feature Level 12_1. More information is available in our dedicated article about the Raven Ridge architecture.
The performance is clearly faster than the old RX Vega 6 thanks to the higher clock speed and faster main memory (if used). In first synthetic benchmarks, the Vega 6 was able to reach the performance of a dedicated GeForce MX150. In games it should be somewhere between a GeForce MX230 and MX150.
Thanks to the modern 7nm process and clever power-saving features, the power consumption is comparatively low (according to AMD), so the graphics adapter can also be used for slim and light notebooks.
AMD Radeon RX Vega M GH
► remove from comparison

The AMD Radeon RX Vega M GH is an integrated GPU in the fastest Intel Kaby-Lake-G SoC. It combines a Kaby-Lake processor, a Vega graphics card and 4 GB HBM2 memory on a single package. The graphics card offers 24 CUs (1536 shaders) and is clocked from 1063 - 1190 MHz.
Currently it looks like the GPU is a mixture of Polaris (Shaders?) and Vega (HBM memory controller at least). E.g. the graphics card is called Polaris 22 internally. Detailed information on the Vega architecture can be found in our dedicated article about the Raven Ridge architecture.
The performance of the Vega M GH should be slightly slower than a dedicated Nvidia GeForce GTX 1060 for laptops according to benchmarks from Intel. Therefore, it should be well suited for 1080p and high resolution gaming.
The power consumption should be quite similar to a dedicated Vega Mobile GPU, but due to the small form factor, smaller laptops can be built with the Kaby-Lake-G SoC. The TDP is specified at 65 Watt for the whole package including GPU, CPU and HBM2 memory.
| | | |
| --- | --- | --- |
| | AMD Radeon RX Vega 6 (Ryzen 4000/5000) | AMD Radeon RX Vega M GH |
| AMD Radeon RX Vega Series | | |
| Codename | Vega Renoir | Vega Kaby Lake-G |
| Architecture | Vega | Vega |
| Pipelines | 384 - unified | 1536 - unified |
| TMUs | 24 | |
| ROPs | 8 | |
| Core Speed | 400 - 1500 (Boost) MHz | 1063 - 1190 (Boost) MHz |
| Shared Memory | yes | no |
| API | DirectX 12_1, OpenGL 4.6, OpenCL 1.2, Vulkan 1.2 | DirectX 12_1 |
| Power Consumption | 15 Watt | 100 Watt |
| technology | 7 nm | 14 nm |
| Features | Tiled Rasterization, Shared Memory (up to Dual-Channel DDR4-2400) | Tiled Rasterization, Shared Memory (up to Dual-Channel DDR4-2400) |
| Date of Announcement | 07.01.2020 | 07.01.2018 |
| Predecessor | Vega 6 | |
| Memory Type | | HBM2 |
| Max. Amount of Memory | | 4 GB |
| Notebook Size | | medium sized |
CPU in Vega M GH
GPU Base Speed
GPU Boost / Turbo
Intel Core i7-8809G
4 x 3100 MHz, 100 W
1063 MHz
1190 MHz
Intel Core i7-8709G
4 x 3100 MHz, 100 W
1063 MHz
1190 MHz
min. - max.
1063 - ? MHz
1190 - 1600 MHz
Benchmarks
Performance Rating
- 3DMark 11 + Fire Strike + Time Spy
- Vega 6