AMD Radeon RX Vega 10 vs NVIDIA GeForce MX230 vs AMD Radeon RX Vega M GL / 870
AMD Radeon RX Vega 10
► remove
The AMD Radeon RX Vega 10 is an integrated GPU for notebooks. It is used for the Ryzen 7 APUs, which were launched in the end of 2017. The GPU is based on the Vega architecture (5th generation GCN) and has 10 CUs (=640 shaders) clocked at up to 1300 MHz (Ryzen 7 2700U). The performance depends on the configured TDP (9-25 W at launch), the clocks, the cooling, and the memory configuration). The GPU should benefit from fast dual-channel DDR4-2400 RAM (contrary to DDR4-2133 single-channel, which is also possible).
The Vega architecture offers some improvements over the Polaris generation and now supports DirectX 12 Feature Level 12_1. More information is available in our dedicated article about the Raven Ridge architecture.
AMD's reference design GPU is sitting between the GeForce 940MX / Radeon Pro 450 and GeForce MX150 / Radeon Pro 555. It can handle smooth gameplay in simple titles like League of Legends (med), Dota 2 (low), Overwatch (low), CS:GO (med), and Quake Champions (high) in 720p up to 1080p according to AMD.
Thanks to the 14nm process and clever power-saving features, the power consumption is comparatively low (according to AMD), so the graphics card can also be used for slim and light notebooks.
NVIDIA GeForce MX230
► remove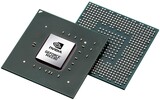 The Nvidia GeForce MX230 is an entry-level dedicated laptop graphics card with DirectX 12 support (FL 12_1) based (most likely) on the Pascal architecture (and not Maxwell as the older MX130). Similar to the faster MX250, the MX230 is based on the GP108 chip.
Features
The GP108 chip is manufactured in a 14 nm FinFET process at Samsung (LPP) and offers a number of new features, including support for DisplayPort 1.4 (ready), HDMI 2.0b, HDR and improved H.265 video de- and encoding (PlayReady 3.0). 4K HDR with Netflix, however, wont run due to the minimum 3 GB graphics memory that is required. Compared to the bigger Pascal chips, the small GP108 does not support Simultaneous Multi-Projection (SMP) for VR and G-Sync. A full list of improvements and the new Pascal desktop GPUs is available in our dedicated Pascal architecture article.
Performance
Thanks to the newer Pascal architecture, the MX230 is significantly faster than the old GeForce MX130 (Maxwell based). Demanding games of 2019 run only in lowest resolution and detail settings and may stutter (e.g. Anno 1800 or Rage 2 ran with under 30fps in our benchmarks). Less demanding games like Overwatch, Fifa 19 or Rocket League, however, can be played in higher detail and resolution settings without stuttering (see benchmarks below).
Power Consumption
The MX230 is manufactured in 14nm at Samsung and due to the low shader count and 64 Bit memory bus, the power consumption is rather low. Therefore, the chip can be also used for small and thin laptops. In our power tests, the faster MX250 needed 22% more power (Furmark load) and the old MX130 even 38% more. The integrated UHD Graphics 620 needed on average only 17% less power at a much lower performance.
AMD Radeon RX Vega M GL / 870
► remove

The AMD Radeon RX Vega M GL or Radeon RX Vega 870 (according to Dell) is an integrated GPU in the slower Intel Kaby-Lake-G SoC. It combines a Kaby-Lake processor, a Vega graphics card and 4 GB HBM2 memory on a single package. The graphics card offers 20 CUs (1280 shaders) and is clocked from 931 - 1011 MHz.
Currently it looks like the GPU is a mixture of Polaris (Shaders?) and Vega (HBM memory controller at least). E.g. the graphics card is called Polaris 22 internally. Detailed information on the Vega architecture can be found in our dedicated article about the Raven Ridge architecture.
The performance of the Vega M GL should be between the Nvidia GeForce GTX 1050 and 1050 Ti according to benchmarks from Intel. Therefore, it should be well suited for 1080p and high resolution gaming.
The power consumption should be quite similar to a dedicated Vega Mobile GPU, but due to the small form factor, smaller laptops can be built with the Kaby-Lake-G SoC. The TDP is specified at 65 Watt for the whole package including GPU, CPU and HBM2 memory.
AMD Radeon RX Vega 10

NVIDIA GeForce MX230

AMD Radeon RX Vega M GL / 870

Manufacturer
AMD
NVIDIA
AMD
AMD Radeon RX Vega Series

| | | |
| --- | --- | --- |
| GeForce MX250 | 384 @ 1.52 - 1.58 GHz | 64 Bit @ 7000 MHz |
| GeForce MX230 | 256 @ 1.52 - 1.53 GHz | 64 Bit @ 7000 MHz |

Codename
Vega Raven Ridge
N17S-G0
Vega Kaby Lake-G
Architecture
Vega
Pascal
Vega
Cores
640 - unified
256 - unified
1280 - unified
Core
1300 (Boost) MHz
1519 - 1531 (Boost) MHz
931 - 1011 (Boost) MHz
Shared Memory
no
no
no
DirectX
DirectX 12_1
DirectX 12_1, 5.0
DirectX 12_1
Transistors
4500 Million
1800 Million
Technology
14 nm
14 nm
14 nm
Features
Tiled Rasterization, Shared Memory (up to Dual-Channel DDR4-2400)
Vulcan 1.1, GPU Boost 3.0, Optimus, PhysX, CUDA, GeForce Experience, GameWorks
Tiled Rasterization, Shared Memory (up to Dual-Channel DDR4-2400)
Introduced
26.10.2017
20.02.2019
07.01.2018
Memory
7000 MHz
Bus
64 Bit
Memory
GDDR5
HBM2
Max. Memory
4096 MB
4096 MB
Size
1/3
1/3
Manufacturer
https://www.geforce.com/hardware/noteboo...
Performance Rating
- 3DMark 11 + Fire Strike + Time Spy