Intel UHD Graphics 620 vs NVIDIA GeForce MX250 vs Intel Iris Plus Graphics 645
Intel UHD Graphics 620
► remove

The Intel UHD Graphics 620 (GT2) is an integrated graphics unit, which can be found in various ULV (Ultra Low Voltage) processors of the Kaby Lake Refresh generation (8th generation Core). Compared to the similar named Intel HD Graphics 620 in the 2016 Kaby Lake CPUs, only the name changed from HD to UHD. It is clocked with up to 1.150 MHz and therefore 100 MHz higher than the old HD Graphics 620 (max. 1.050 MHz) and offer a comparable performance. Due to its lack of dedicated graphics memory or eDRAM cache, the HD 620 has to access the main memory (2x 64bit DDR3/DDR4).
Performance
The exact performance of the UHD Graphics 620 depends on various factors like L3 cache size, memory configuration (DDR3/DDR4) and maximum clock rate of the specific model and as is similar to the Intel HD Graphics 620 and Intel HD Graphics 630. Compared to the average HD Graphics 620, the UHD graphics profits from the quad-core CPU a bit in our gaming benchmarks. Therefore, should be positioned between a GeForce 910M and 920M dedicated graphics card from Nvidia. For games, the drivers however are not that fast updated and tested as with GeForce graphics cards. In our tests, the UHD 620 is most suited for casual games like Team Fortress 2, Rocket League or Farming Simulator 17. See below for a list of modern games tested with various models.
Features
The revised video engine now supports H.265/HEVC Main10 profile in hardware with 10 bit colors. Furthermore, Googles VP9 codec can also be hardware decoded. The first models do not support HDCP 2.2 and therefore Netflix 4K. This was added with the new models in 2017 and beginning of May 2017 also the older CPU models like the i3-7100U are now shipped with a new S-Spec Code that supports HDCP 2.2. HDMI 2.0 however is still only supported with an external converter chip (LSPCon).
Power Consumption
The UHD Graphics 620 can be found in mobile processors specified at 15 W TDP and is therefore suited for compact laptops and ultrabooks. The power consumption during playing The Witcher 3 (with an external monitor) was comparable to a Intel HD Graphics 620 based laptop and on the lowest end of all of our measurements. Dedicated GPUs, like the GeForce 940MX, needed a lot more power.
NVIDIA GeForce MX250
► remove

The Nvidia GeForce MX250 is a dedicated entry-level mobile graphics card for laptops. It is based on the same Pascal GP108 chip as the predecessor, the GeForce MX150 / desktop GeForce GT 1030 but features increased clock speeds. As with the MX150, the MX250 is available in two versions, the normal 25 Watt version (1D13 device ID) and a low power version with 10 Watt TDP (1D25 device ID) and reduced performance (The MX150 with 10W had a 32% lower clock speed). The GDDR5 memory interface now also supports speeds up to 3.5 GHz = 7 GHz effective (up from 3 GHz).
The GP108 chip is manufactured in a 14 nm FinFET process at Samsung (LPP) and offers a number of new features, including support for DisplayPort 1.4 (ready), HDMI 2.0b, HDR and improved H.265 video de- and encoding (PlayReady 3.0). 4K HDR with Netflix however wont run due to the minimum 3 GB graphics memory that is required. Compared to the bigger Pascal chips, the small GP108 does not support Simultaneous Multi-Projection (SMP) for VR and G-Sync. A full list of improvements and the new Pascal desktop GPUs is available in our dedicated Pascal architecture article.
Thanks to the increased core speeds (up to +3% in Boost for the 25 Watt version, and faster memory speeds), the new MX250 should be slightly faster than the older MX150. First benchmarks indicate a 5% increase. Still modern should only run fluent in low settings (see the page of the MX150 for games and benchmarks).
Intel Iris Plus Graphics 645
► remove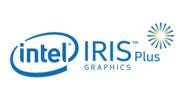 The Intel Iris Plus Graphics 645 (GT3e) is a processor graphics card that was first seen in the Apple MacBook Pro 13 (Entry, 2019) in mid 2019. It is similar to the Iris Plus Graphics 655 in the 28 Watt CPUs.
The so called GT3e version of the Coffee-Lake GPU still has 48 Execution Units (EUs), which can reach up to 1150 MHz depending on the model. Besides eDRAM cache, the Iris 645 can also access the system memory (2x 64 Bit DDR3L-2133/DDR4-2400) via processor interface.
The exact performance of the Iris Plus Graphics 645 depends on the CPU model, because maximum clock as well as the size of the L3 cache can differ a bit. The system memory (DDR3/DDR4) will influence the performance as well.
The fastest chips are high-clocked Core i7 models like the Core i7-8557U. Depending on the game, the Iris Plus 655 will probably be on par with a dedicated GeForce 930M or GeForce 940MX and can handle smooth gameplay in modern titles in low up to medium settings.
The reworked video engine now fully supports hardware decoding of H.265/HEVC videos. Contrary to Skylake, however, Kaby Lake can now also decode H.265/HEVC Main 10 with a 10-bit color depth as well as Google's VP9 codec. The video output is possible via DP 1.2/eDP 1.3 (up to 3840 x 2160 @60 Hz), whereas HDMI is also supported in the older 1.4a standard. An HDMI 2.0 output can be added via converter from DisplayPort. The GPU can drive up to three displays simultaneously.
The Iris Plus Graphics 645 is used for 15-Watt processor and therefore small-sized notebooks.
Intel UHD Graphics 620

NVIDIA GeForce MX250

Intel Iris Plus Graphics 645

Manufacturer
Intel
NVIDIA
Intel
Gen. 9.5 Series

| | | |
| --- | --- | --- |
| GeForce MX250 | 384 @ 1.52 - 1.58 GHz | 64 Bit @ 7000 MHz |
| GeForce MX230 | 256 @ 1.52 - 1.53 GHz | 64 Bit @ 7000 MHz |

Codename
Kaby-Lake-Refresh GT2
N17S-G2
Kaby Lake GT3e
Architecture
Gen. 9.5
Pascal
Gen. 9.5 Coffee Lake
Cores
24 - unified
384 - unified
48 - unified
Core
300? - 1150 (Boost) MHz
1518 - 1582 (Boost) MHz
300 - 1150 (Boost) MHz
Bus
64/128 Bit
64 Bit
Memory
DDR3/DDR4
GDDR5
DDR3/DDR4
Shared Memory
yes
no
yes
DirectX
DirectX 12_1
DirectX 12_1
DirectX 12_1
Technology
14 nm
14 nm
14 nm
Features
QuickSync
Vulkan 1.1, OpenGL 4.6, OpenCL 1.2, GPU Boost 3.0, Multi Monitor
QuickSync
Introduced
01.09.2017
20.02.2019
10.07.2019
Memory
7000 MHz
Max. Memory
4096 MB
Manufacturer
https://www.geforce.com/hardware/noteboo...
CPU in Iris Plus Graphics 645
GPU Base Speed
GPU Boost / Turbo
Intel Core i7-8557U
4 x 1700 MHz, 28 W
300 MHz
1150 MHz
Intel Core i5-8257U
4 x 1400 MHz, 15 W
300 MHz
1050 MHz
min. - max.
300 MHz
900 - 1150 MHz
Performance Rating
- 3DMark 11 + Fire Strike + Time Spy