NVIDIA T500 Laptop GPU vs NVIDIA Quadro RTX 3000 (Laptop) vs NVIDIA T600
NVIDIA T500 Laptop GPU
► remove from comparison

The Nvidia T500 Mobile (formerly known as Quadro T500) for laptops is a professional mobile graphics card that is based on the Turing architecture (TU117 chip). It is based on the consumer GeForce MX450 and features the same 896 cores and a 64 Bit memory bus. Currently it is available with 2 or 4 GB graphics RAM (GDDR5 or GDDR6). The TDP ranges between 18 - 25 Watt depending on the variant. As the MX450, the T500 also supports PCIe 4.0. The chip is manufactured in 12nm FinFET at TSMC.
The Turing generation did not only introduce raytracing for the RTX cards, but also optimized the architecture of the cores and caches. According to Nvidia the CUDA cores offer now a concurrent execution of floating point and integer operations for increased performance in compute-heavy workloads of modern games. Furthermore, the caches were reworked (new unified memory architecture with twice the cache compared to Pascal). This leads to up to 50% more instructions per clock and a 40% more power efficient usage compared to Pascal. In contrary to the faster Quadro RTX cards, the T500 does not feature raytracing and Tensor cores.
NVIDIA Quadro RTX 3000 (Laptop)
► remove from comparison
The Nvidia Quadro RTX 3000 for laptops is a professional high-end graphics card for big and powerful laptops and mobile workstations. It is based on the same TU106 chip as the consumer GeForce RTX 2070 (mobile) but with reduced shaders, clock speeds and memory bandwidth.
The Quadro GPUs offer certified drivers, which are optimized for stability and performance in professional applications (CAD, DCC, medical, prospection, and visualizing applications). The performance in these areas is therefore much better compared to corresponding consumer GPUs.
NVIDIA manufacturers the TU106 chip on a 12 nm FinFET process and includes features like Deep Learning Super Sampling (DLSS) and Real-Time Ray Tracing (RTRT), which should combine to create more realistic lighting effects than older GPUs based on the company's Pascal architecture (if the games support it). The Quadro RTX 3000 is also DisplayPort 1.4 ready, while there is also support for HDMI 2.0b, HDR, Simultaneous Multi-Projection (SMP) and H.265 video en/decoding (PlayReady 3.0).
Performance
In professional applications, the Quadro RTX 3000 can be faster GeForce RTX 2070 due to the optimized drivers and bigger VRAM.
The high power consumption of the RTX3000 makes the card most suited for big and heavy laptops. The slower Max-Q variant is intended for thinner laptops.
NVIDIA T600
► remove from comparison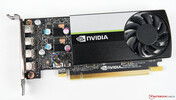 Die Nvidia T600 Mobile ist eine professionelle Grafikkarte für kleine Workstations der Einstiegsklasse. Sie basiert auf dem selben TU117 Turing-Chip wie die Consumer GeForce GTX1650. Jedoch kommt der TU 117 nur mit 640 Shadern und einem 128 Bit Speicherbus daher. Beim verbauten Speicher muss man sich mit den 4-GB-GDDR6 arrangieren Die TDP ist 40 Watt spezifiziert.
Die professionellen Grafikkarten bieten zertifizierte Treiber, welche auf Stabiltität und Performance bei professionellen Anwendungen (CAD-, DCC-, Medizin-, Prospektions-, Visualisierungsanwendungen) optimiert sind. Dadurch ist die Performance im Vergleich zu den Consumergrafikkarten mit gleichem Chip in diesen Bereichen deutlich besser.
Die kleineren Chips der Turing Serie bietet im Unterschied zu den stärkeren RTX Karten (z.B. Quadro RTX 3000) keine Raytracing und Tensor Kerne. Bei der Turing Architektur gab es auch auf der Ebene der CUDA-Kerne deutliche Verbesserungen. Float und INT Operationen können nun gleichzeitig ausgeführt werden, der Cache wurde vereinheitlicht und verbessert und Adaptive Shading eingeführt. Nvidia spricht dadurch von einer bis zu 50% höheren Leistung pro Kern im Vergleich zu Pascal.
| | | | |
| --- | --- | --- | --- |
| | NVIDIA T500 Laptop GPU | NVIDIA Quadro RTX 3000 (Laptop) | NVIDIA T600 |
| Quadro Turing Series | | | |
| Architecture | Turing | Turing | Turing |
| Pipelines | 896 - unified | 1920 - unified | 640 - unified |
| Core Speed | 1365 - 1695 (Boost) MHz | 945 - 1380 (Boost) MHz | 735 - 1335 (Boost) MHz |
| Memory Speed | 10000 MHz | 14000 MHz | 10000 effective = 1250 MHz |
| Memory Bus Width | 64 Bit | 192 Bit | 128 Bit |
| Memory Type | GDDR5/GDDR6 | GDDR6 | GDDR6 |
| Max. Amount of Memory | 4 GB | 6 GB | 4 GB |
| Shared Memory | no | no | no |
| API | DirectX 12_1, OpenGL 4.6 | DirectX 12_1, OpenGL 4.6 | DirectX 12_1, Shader 6.6, OpenGL 4.6, OpenCL 3.0, Vulkan 1.3 |
| Power Consumption | 25 Watt | 80 Watt | 40 Watt |
| technology | 12 nm | 12 nm | 12 nm |
| Notebook Size | medium sized | large | |
| Date of Announcement | 27.05.2019 | 27.05.2019 | 12.04.2021 |
| Codename | | N19E-Q1 | |
| Transistors | | 10.8 Billion | 4.7 Billion |
| Features | | DLSS, Raytraycing, VR Ready, G-SYNC, Vulkan, Multi Monitor | |
| TMUs | | | 40 |
| ROPs | | | 32 |
| Memory Bandwidth | | | 160 GB/s |
| Die Size | | | 200 mm² |
| PCIe | | | 3.0 x16 |
| Displays | | | 4 Displays (max.), DisplayPort 4x mini-DisplayPort 1.4a |
Benchmarks
Performance Rating
- 3DMark 11 + Fire Strike + Time Spy
- T500 Laptop GPU