NVIDIA T500 Laptop GPU vs NVIDIA GeForce GTX 1050 (Desktop) vs NVIDIA GeForce GTX 1080 SLI (Laptop)
NVIDIA T500 Laptop GPU
► remove from comparison

The Nvidia T500 Mobile (formerly known as Quadro T500) for laptops is a professional mobile graphics card that is based on the Turing architecture (TU117 chip). It is based on the consumer GeForce MX450 and features the same 896 cores and a 64 Bit memory bus. Currently it is available with 2 or 4 GB graphics RAM (GDDR5 or GDDR6). The TDP ranges between 18 - 25 Watt depending on the variant. As the MX450, the T500 also supports PCIe 4.0. The chip is manufactured in 12nm FinFET at TSMC.
The Turing generation did not only introduce raytracing for the RTX cards, but also optimized the architecture of the cores and caches. According to Nvidia the CUDA cores offer now a concurrent execution of floating point and integer operations for increased performance in compute-heavy workloads of modern games. Furthermore, the caches were reworked (new unified memory architecture with twice the cache compared to Pascal). This leads to up to 50% more instructions per clock and a 40% more power efficient usage compared to Pascal. In contrary to the faster Quadro RTX cards, the T500 does not feature raytracing and Tensor cores.
NVIDIA GeForce GTX 1050 (Desktop)
► remove from comparison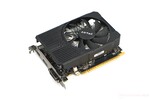 The Nvidia GeForce GTX 1050 is an entry level graphics card for desktops based on the Pascal architecture. It uses the same GP107 chip as the GTX 1050 Ti, but with only 640 instead of 768 shaders. The chip is manufactured at Samsung in 14 nm (opposed to the 16 nm TSCM based Pascal chips of the 1060 and up). The performance and specs should be similar to the GTX 1050 laptop version, that will be released later (early 2017). Compared to the faster GTX 1050 Ti, the 1050 offers less shaders (640 instead of 768) and only 2 GB of GDDR5 (instead of the 4 GB of the 1050 Ti).
Gaming benchmarks by Nvidia state that the GTX 1050 is about 30% faster on average than the Radeon RX 460 with 2 GB VRAM. The 4 GB version of the RX 460 should be about 10% slower and the older GTX 950 should reach a similar performance level as the new GTX 1050. Therefore, the GTX 1050 should be ideal for 1080p gaming with high detail settings (but not max settings).
NVIDIA GeForce GTX 1080 SLI (Laptop)
► remove from comparison
The Nvidia GeForce GTX 1080 SLI for laptops is a combination of two GTX 1080 graphics cards in SLI mode. Each card renders one frame at a time (AFR mode) but depends for most games on a good profile in the driver. Therefore, the performance can range from no gains over a single GTX 1080 to up to 90% faster performance. Sometimes, the combination may also suffer from micro-stuttering. The technical details of the card are identical to a single GTX 1080 (see for more information) and the power consumption is doubled. Therefore, the 1080 SLI combination is only found in huge clunky laptops.
| | | | |
| --- | --- | --- | --- |
| | NVIDIA T500 Laptop GPU | NVIDIA GeForce GTX 1050 (Desktop) | NVIDIA GeForce GTX 1080 SLI (Laptop) |
| GeForce GTX 1000 Series | | | |
| Architecture | Turing | Pascal | Pascal |
| Pipelines | 896 - unified | 640 - unified | 5120 - unified |
| Core Speed | 1365 - 1695 (Boost) MHz | 1354 - 1455 (Boost) MHz | 1556 - 1733 (Boost) MHz |
| Memory Speed | 10000 MHz | 7008 MHz | 10000 MHz |
| Memory Bus Width | 64 Bit | 128 Bit | 256 Bit |
| Memory Type | GDDR5, GDDR6 | GDDR5 | GDDR5 |
| Max. Amount of Memory | 4 GB | 2048 MB | 2x 8192 MB |
| Shared Memory | no | no | no |
| API | DirectX 12_1, OpenGL 4.6 | DirectX 12_1, OpenGL 4.5 | DirectX 12_1, OpenGL 4.5 |
| Power Consumption | 25 Watt | | |
| technology | 12 nm | 14 nm | 16 nm |
| Notebook Size | medium sized | | large |
| Date of Announcement | 27.05.2019 | 25.10.2016 | 16.08.2016 |
| Codename | | N17P-G1 | Pascal GP104 SLI |
| Features | | Multi-Projection, VR Ready, G-SYNC, Vulkan, Multi Monitor | Multi-Projection, VR Ready, G-SYNC, Vulkan, Multi Monitor, CUDA, 3D Vision, PhysX, GeForce Experience, Surround, GameStream, GPU Boost 2.0, Adaptive Vertical Sync, SLI |
| Transistors | | | 14.4 Billion |
| Link to Manufacturer Page | | | http://www.geforce.com/hardware/10series... |
Benchmarks
Performance Rating
- 3DMark 11 + Fire Strike + Time Spy
- T500 Laptop GPU