Sony confirms PS5 won't launch in next 12 months, 2020 holiday season likely launch window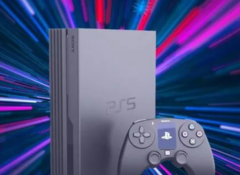 Sony has told reporters that its eagerly awaited next-generation PlayStation 5 console won't be launched within the next 12 months. The news leaves the likely launch of the PS5 until either mid-next year or more likely the 2020 holiday season. Time to start saving!
If you've been getting your hopes up for a Sony PlayStation 5 launch within the next year, Sony has some bad news for you. Its vaunted next-gen console won't go on sale within the next 12 months leaving a launch in the middle of next year a possibility; but more likely, it will launch in time for the holiday season in 2020. When the PS4 launched in 2013, it was announced in February before going on sale in America and Europe November that year.
News of Sony's plans for the PS5 came via Wall Street Journal reporter Takashi Mochizuki who tweeted that there won't be PS5 launch over the next 12 months. Sony also informed Mochizuki that the Japanese tech giant is investing heavily in the console which will feature some pretty heavy hitting specs. As with the PS4, Sony will partner with AMD to give the console both its processing power and graphics performance that will smoke the current gen.
The PS4 delivers peak performance of 1.84 teraflops while the PS4 Pro hits its ceiling at 4.2 teraflops. However, courtesy of AMDs next-gen 7nm Zen 2 and Navi-based architecture, the PS5 is expected to launch with 14 teraflops of performance. This will be good for delivering real-time ray tracing as well as supporting resolutions up to 8K. For what it's worth, its next-gen Xbox competition is said to be more powerful still although Sony has far and away won this generation's console war.