Qualcomm Snapdragon 665 vs Qualcomm Snapdragon 430 (MSM8937) vs Qualcomm Snapdragon 425 (MSM8917)
Qualcomm Snapdragon 665
► remove from comparison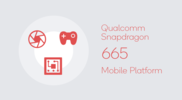 The Qualcomm Snapdragon 665 (SM6125) is a fast mid-range ARM-based SoC largely found on Android tablets and smartphones. It features 8 Kryo 260 cores (custom design, 64-Bit capable) that are divided in two clusters. A fast cluster of four cores with up to 2 GHz (Kryo 260 Gold - Cortex-A73 derivate) and a power saving efficiency cluster with up to 1.8 GHz (Kryo 260 Silver - Cortex A53 derivate). Both clusters can also be used together.
In addition to the 8 CPU cores, the SoC integrates a mid range Adreno 610 GPU with a LPDDR4 memory controller (dual-channel) and supports Wi-Fi (802.11ac + MIMO, max. 867 Mbps), Bluetooth 5, and LTE (X12 LTE modem with up to 600 Mbps download and 150 Mbps upload).
Power Consumption
Thanks to the new 11 nm LPP process, the energy efficiency should be quite good.
Qualcomm Snapdragon 430 (MSM8937)
► remove from comparison

The Qualcomm Snapdragon 430 (SD430) is a lower mainstream SoC for (Android based) smartphones and tablets. Contrary to the Snapdragon 630, it is still manufactured in a 28-nm process and also consists of an octa-core CPU part with ARM Cortex-A53 cores. However, they are only clocked at up to 1.4 GHz. The integrated X6 LTE modem supports Cat. 4 with maximum transfer rates of 150 Mbps (downstream) and 75 Mbps (upstream). The SoC also includes an Adreno 505 GPU with support for Vulkan and OpenGL ES 3.1. WiFi 802.11ac and Bluetooth 4.1 are supported as well. The memory controller supports LPDDR3 clocked at 800 MHz (so probably dual-channel DDRL-1600).
Qualcomm Snapdragon 425 (MSM8917)
► remove from comparison

The Qualcomm Snapdragon 425 (8917) is an ARM-based entry level SoC for tablets and smartphones (mostly Android based). It was announced in February 2016 and integrates four 64-Bit Cortex-A53 CPU cores (quad-core) that clock with up to 1.4 GHz. Furthermore, there is a Adreno 308 graphics card, a LPDDR3 memory controller (max. 667 MHz) and wireless radios for WiFi and 4G/LTE included in the chip.
The Cortex-A53 is the successor of the entry level Cortex-A7 CPU cores. The A53 is now capable of 64 Bit (ARMv8-ISA) and adressing more than 4 GB RAM. According to ARM the performance per MHz is a lot better and even surpasses a Cortex-A9 core.
The integrated Adreno 308 ist the integrated graphics card that supports OpenGL ES 3.0.
The integrated wireless radios support WiFi 802.11ac Wave 2, Bluetooth 4.1, GPS/GLONASS/Baidou, 2G, 3G and 4G (LTE Cat.4) standards. Futhermore, the SoC is able to decode 1080p videos in H.265 (encode only in H.264) and cameras with up to 13 MP.
The power consumption of the chip is ranging in the lower range, and therefore it is also suited for smaller smartphones. It is manufactured in 28 nm LP at TSMC.
| | | | |
| --- | --- | --- | --- |
| Model | Qualcomm Snapdragon 665 | Qualcomm Snapdragon 430 (MSM8937) | Qualcomm Snapdragon 425 (MSM8917) |
| Series | Qualcomm Snapdragon | Qualcomm Snapdragon | Qualcomm Snapdragon |
| Codename | Kryo 260 | Cortex-A53 | Cortex-A53 |
| Series: Snapdragon Cortex-A53 | | | |
| Clock | 2200 MHz | 1400 MHz | 1400 MHz |
| Cores / Threads | 8 / 8 | 8 / 8 | 4 / 4 |
| Technology | 11 nm | 28 nm | 28 nm |
| Features | Adreno 610 GPU, X12 LTE Modem, Hexagon 686 DSP, Specra 165 ISP | Adreno 505 GPU, 802.11ac WLAN, Bluetooth 4.1, LTE Cat. 4, Dual-Channel LPDDR3-1600 Memory Controller | WLAN 802.11ac, Bluetooth 4.1, GSM/EDGE, WCDMA, UMTS/HSPA, LTE Cat. 7 (max. 300 Mbps), GPS (Qualcomm IZat Gen8C Lite), LPDDR3-1866 Memory Controller, eMMC 5.1 |
| iGPU | Qualcomm Adreno 610 | Qualcomm Adreno 505 | Qualcomm Adreno 308 |
| | | | |
| Architecture | ARM | ARM | ARM |
| Announced | | | |
| | | | |
| Manufacturer | Qualcomm Snapdragon SD 665 | Qualcomm Snapdragon 430 | Qualcomm Snapdragon 425 |
Benchmarks
Performance Rating
- Geekbench 5.1, PCM Work, Sling Shot Physics, Antutu v8 CPU
- SD 665