AMD Radeon RX 6600S vs AMD Radeon PRO W6600M
AMD Radeon RX 6600S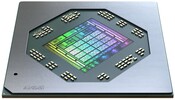 The AMD Radeon RX 6600S is a mobile mid-range graphics card based on the Navi 23 chip (RDNA 2 architecture) manufactured in the modern 7nm process. It features 1,792 cores (28 CUs - compute units) and 8 GB of fast GDDR6 graphics memory connected with a 128 Bit memory bus. The chip also includes 32 MB Infinity Cache. The RAdeon RX 6600S is the power saving variant of the RX 6600M with reduced core speed of 1.88 GHz versus 2.2 GHz.
AMD compares the gaming performance to a low power RTX 3060 for laptops (80W, former known as Max-Q). When Raytracing effects are activated, it falls behind the GeForce GPUs.
The Navi 21 chip is manufactured at TSMC in the modern 7nm process. Thanks to the reduced TDP of up to 80W, the RX 6600S is well suited for thin gaming laptops.
AMD Radeon PRO W6600M
► remove from comparison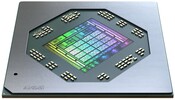 Die AMD Radeon PRO W6600M ist eine professionelle Notebook-GPU der Mittelklasse und basiert auf den Navi 23 mit RDNA 2 Architektur. Sie basiert auf die Radeon RX 6600M und bietet 1.792 Shader (28 CUs), einen 128 Bit Speicherbus für 16 GBit GDDR6 (8 GB) und 32 MB Infinity Cache. Die theoretische Rechenleistung wird von AMD mit 7,8 TFLOPS FP32 angegeben und damit deutlich unter den 10,6 bzw 11,8 der RX 6700M und 6800M. Diese Performance wird bei 100 Watt TDP und 2177 MHz erreicht. Von den Notebookherstellern, kann der TDP aber bis auf 50 Watt abgesenkt werden.
Die Spieleleistung wird von AMD mit einer RTX 3060 für Notebooks verglichen und sollte daher für 1080p Gaming in hohen Details ausreichen. Bei Nutzung von Raytracing-Effekting, verliert die RX 6600M jedoch stärker als die RTX Pendants.
Der Navi 23 Chip wird bei TSMC in 7nm gefertigt und sollte daher eine gute Energieeffizienz aufweisen (auch gegen die 12nm RTX Chips von Nvidia).
| | | |
| --- | --- | --- |
| | AMD Radeon RX 6600S | AMD Radeon PRO W6600M |
| Radeon RX 6000M Series | | |
| Architecture | RDNA 2 | RDNA 2 |
| Pipelines | 1792 - unified | 1792 - unified |
| Core Speed | 1881 (Boost) MHz | |
| Memory Speed | 16000 MHz | 14000 MHz |
| Memory Bus Width | 128 Bit | 128 Bit |
| Memory Type | GDDR6 | GDDR6 |
| Max. Amount of Memory | 8 GB | 8 GB |
| Shared Memory | no | no |
| API | DirectX 12, Shader 6.4, OpenGL 4.6 | DirectX 12, Shader 6.4, OpenGL 4.6 |
| Power Consumption | 80 Watt | 100 Watt |
| Transistors | 11.1 Billion | 11.1 Billion |
| technology | 7 nm | 7 nm |
| Features | DisplayPort 1.4 w/DFSC, HDMI 2.0b, Radeon Media Engine (H.264 4K150 decode, 4K90 encode / H.265 4K90 decode, 4K60 encode / VP9 4K90 decode) | DisplayPort 1.4 w/DFSC, HDMI 2.0b, Radeon Media Engine (H.264 4K150 decode, 4K90 encode / H.265 4K90 decode, 4K60 encode / VP9 4K90 decode) |
| Notebook Size | medium sized | medium sized |
| Date of Announcement | 04.01.2022 | 08.06.2021 |
| Link to Manufacturer Page | https://www.amd.com/en/products/graphics... | |
Benchmarks
- Range of benchmark values for this graphics card

- Average benchmark values for this graphics card
* Smaller numbers mean a higher performance
1
This benchmark is not used for the average calculation
For more games that might be playable and a list of all games and graphics cards visit our Gaming List
v1.17
log 27. 19:02:53
#0 checking url part for id 11142 +0s ... 0s
#1 checking url part for id 10700 +0s ... 0s
#2 not redirecting to Ajax server +0s ... 0s
#3 did not recreate cache, as it is less than 5 days old! Created at Fri, 24 Jun 2022 17:25:51 +0200 +0s ... 0.001s
#4 linkCache_getLink no uid found +0.001s ... 0.002s
#5 linkCache_getLink no uid found +0.042s ... 0.043s
#6 linkCache_getLink using $NBC_LINKCACHE +0.001s ... 0.044s
#7 linkCache_getLink using $NBC_LINKCACHE +0s ... 0.044s
#8 linkCache_getLink using $NBC_LINKCACHE +0s ... 0.044s
#9 linkCache_getLink using $NBC_LINKCACHE +0s ... 0.044s
#10 linkCache_getLink using $NBC_LINKCACHE +0s ... 0.044s
#11 linkCache_getLink using $NBC_LINKCACHE +0s ... 0.044s
#12 linkCache_getLink using $NBC_LINKCACHE +0s ... 0.044s
#13 linkCache_getLink using $NBC_LINKCACHE +0s ... 0.044s
#14 linkCache_getLink using $NBC_LINKCACHE +0s ... 0.044s
#15 linkCache_getLink using $NBC_LINKCACHE +0s ... 0.044s
#16 linkCache_getLink using $NBC_LINKCACHE +0s ... 0.044s
#17 composed specs +0s ... 0.044s
#18 did output specs +0s ... 0.044s
#19 start showIntegratedCPUs +0s ... 0.044s
#20 getting avg benchmarks for device 11142 +0.027s ... 0.072s
#21 got single benchmarks 11142 +0s ... 0.072s
#22 getting avg benchmarks for device 10700 +0s ... 0.072s
#23 got single benchmarks 10700 +0s ... 0.072s
#24 got avg benchmarks for devices +0s ... 0.072s
#25 min, max, avg, median took s +0s ... 0.072s
#26 before gaming benchmark output +0s ... 0.072s
#27 Got 0 rows for game benchmarks. +0.001s ... 0.073s
#28 linkCache_getLink using $NBC_LINKCACHE +0.001s ... 0.074s
#29 return log +0.002s ... 0.076s