AMD Radeon RX 580 (Laptop) vs AMD Radeon RX 540
AMD Radeon RX 580 (Laptop)
► remove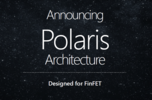 The AMD Radeon RX 580 is a high-end graphics card for laptops. It is based on the Polaris 20 chip. Compared to the Polaris 10 in the similar RX 480, the Polaris 20 is manufacted in an improved 14nm process (LPP+) for higher clock speeds and some power efficiency improvements in idle. The performance in laptops depends on the used clock speeds and should be similar to the desktop RX 470 (see for gaming benchmarks) or even RX 480.
More information on the Polaris architecture and its features can be found here.
AMD Radeon RX 540
► remove

The AMD Radeon RX 540 is mobile mid-range graphics card for laptops based on the Polaris 12 chip (most likely). It is manufactured in an improved 14 nm FinFET process at Globalfoundries. The performance should be between the Radeon Pro 450 and 455 in the MacBook Pro 2016 range that is also based on the Polaris architecture. AMD specifies the RX 450 at 1.2 TFLOPS (Pro 450 1 TFLOP, Pro 455 1.3 TFLOPs). Compared to Nvidia graphics cards, the gaming performance should be between the GeForce GTX 950M and GTX 960M.
The features of the Radeon RX 540 are identical to the faster RX 460 and all other Polaris chips. See more details on the Polaris architecture here.
The power envelope of the faster Radeon Pro 460 is rated at 35 Watt according to the AMD blog post. Due to the slower specs, the Radeon RX 540 use slightly less.
AMD Radeon RX 580 (Laptop)

AMD Radeon RX 540

Manufacturer
AMD
AMD
Radeon RX 500 Series
Codename
Polaris
Polaris 12
Architecture
Polaris
Polaris
2304 -
512 -
Core
1077 MHz
1219 (Boost) MHz
Memory
GDDR5
GDDR5
no
no
DirectX
DirectX 12
DirectX 12
Technology
14 nm
14 nm
Size
Introduced
18.04.2017
21.03.2017
Memory
6000 MHz
Bus
128 Bit
Max. Memory
4096 MB
Features
DisplayPort 1.3 HBR / 1.4 HDR Ready, HDMI 2.0, AMD FreeSync
Manufacturer
http://www.amd.com/en/products/graphics/...
3DMark - Time Spy Score 2560x1440

min: 3696 avg: 3707 median:
3707 (26%)
max: 3718 Points