AMD Ryzen 9 5900HX vs Intel Core i9-12900H
AMD Ryzen 9 5900HX
► remove from comparison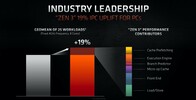 The AMD Ryzen 9 5900HX is a processor for big (gaming) laptops based on the Cezanne generation. The R9 5900H integrates all eight cores based on the Zen 3 microarchitecture. They are clocked at 3.3 (guaranteed base clock) to 4.6 GHz (Turbo) and support SMT for a total of 16 threads. The chip is manufactured on the modern 7 nm TSMC process. The "X" in the name indicates the overclocking capabilities of the CPU.
The new Zen 3 microarchitecture offers a significantly higher IPC (instructions per clock) compared to Zen 2. For desktop processors AMD claims 19 percent on average and in applications reviews showed around 12% gains at the same clock speed.
In addition to the eight CPU cores, the APU also integrates a Radeon RX Vega 8 integrated graphics adapter with 8 CUs and up to 2100 MHz. The dual channel memory controller supports DDR4-3200 and energy efficient LPDDR4-4266 RAM. Furthermore, 16 MB level 3 cache can be found on the chip.
Performance
The average 5900HX in our database trades blows with Intel's Core i9-11980HK, as far as multi-thread performance is concerned. While not much faster than the less power-hungry Ryzen 9 5900HS, this is still a great CPU for quality gaming laptops as well as DTRs and high-performance mini-PCs.
Power consumption
This Ryzen 9 has a default TDP of 45 W (also known as the long-term power limit), a value that laptop manufacturers are allowed to change to anything between 35 W and 54 W with clock speeds and performance changing accordingly. Either way, a high-performance cooling solutions is a must for a CPU like this.
Ryzen 9 5900HX is built with the relatively modern 7 nm TSMC process resulting in very decent, as of late 2022, energy efficiency.
Intel Core i9-12900H
► remove from comparison

The Intel Core i9-12900H is a high-end mobile CPU for laptops based on the Alder Lake architecture. It was announced in early 2022 and offers 6 performance cores (P-cores, Golden Cove architecture) and 8 efficient cores (E-cores, Gracemont architecture). The P-cores support HyperThreading leading to 20 supported threads when combined with the E-cores. The clock rate ranges from 2.5 to 5 GHz on the performance cluster and 1.8 to 3.8 GHz on the efficient cluster. The performance of the E-cores should be similar to old Skylake cores (compare to the Core i7-6920HQ). All cores can use up to 24 MB L3 cache. Compared to the 12900HK, the 12900H does not offer the open multiplicator (for overclocking) but the full "Enterprise" set of vPro features (for remote management).
Performance
The average 12900H in our database proves to be an outrageously fast CPU, ripping AMD Ryzen 9 6900HX to pieces as far as multi-thread performance is concerned. Perhaps surprisingly, the Core i9's multi-thread benchmark scores are not that much higher than those of Core i7-12700H, suggesting the latter might be a much better bang for the buck overall.
Features
The integrated memory controller supports various memory types up to DDR5-4800, DDR4-3200, LPDDR5-5200, and LPDDR4x-4267. The Thread Director (in hardware) can support the operating system to decide which thread to use on the performance or efficient cores for the best performance. For AI tasks, the CPU also integrates GNA 3.0 and DL Boost (via AVX2). Quick Sync in version 8 is the same as in the Rocket Lake CPUs and supports MPEG-2, AVC, VC-1 decode, JPEG, VP8 decode, VP9, HEVC, and AV1 decode in hardware. The CPU only supports PCIe 4.0 (x8 for a GPU and two x4 for SSDs).
The integrated graphics card is based on the Xe-architecture and offers 96 EUs (Execution Units) operating at up to 1.45 GHz.
The CPU is rated at 45 W base power (115 W PL2) but most laptops will use a PL1 of around 60 Watt. The SoC is manufactured in a 10nm process at Intel, which is known as Intel 7.
| | | |
| --- | --- | --- |
| Model | AMD Ryzen 9 5900HX | Intel Core i9-12900H |
| Series | AMD Cezanne (Zen 3, Ryzen 5000) | Intel Alder Lake-P |
| Codename | Cezanne-H (Zen 3) | Alder Lake-P |
| Series: Alder Lake-P Alder Lake-P | | |
| Clock | 3300 - 4600 MHz | 1800 - 5000 MHz |
| L1 Cache | 512 KB | 1.2 MB |
| L2 Cache | 4 MB | 11.5 MB |
| L3 Cache | 16 MB | 24 MB |
| Cores / Threads | 8 / 16 | 14 / 20 |
| TDP | 45 Watt | 45 Watt |
| Technology | 7 nm | 10 nm |
| Die Size | 180 mm2 | |
| max. Temp. | 105 °C | 100 °C |
| Socket | FP6 | FCBGA1744 |
| Features | XFR, FMA3, SSE 4.2, AVX2, SMT | Thread Director |
| iGPU | AMD Radeon RX Vega 8 (Ryzen 4000/5000) ( - 2100 MHz) | Intel Iris Xe Graphics G7 96EUs ( - 1450 MHz) |
| | | |
| Architecture | x86 | x86 |
| Announced | | |
| Manufacturer | AMD Cezanne (Zen 3, Ryzen 5000) R9 5900HX | |
Benchmarks
Performance Rating
- CB R15 + R20 + 7-Zip + X265 + Blender + 3DM11 CPU
- R9 5900HX