AMD Ryzen 7 5700U vs Apple M1 vs AMD Ryzen 3 5300U
AMD Ryzen 7 5700U
► remove from comparison

The AMD Ryzen 7 5700U is an APU of the Lucienne product family designed for leaner laptops. The Ryzen features eight Zen 2 cores clocked at 1.8 GHz (base clock speed) to 4.3 GHz (Boost) as well as a Vega 8 iGPU. Thread-doubling SMT tech is enabled in this CPU for up to 16 concurrent processing threads.
Architecture
In spite of what its name may suggest, Ryzen 7 5700U is not a Zen 3 part, meaning this is a Ryzen 4000 series mobile processor in disguise. Nevertheless, the CPU is manufactured on the modern 7 nm TSMC process and its performance as well as energy efficiency figures are very strong compared to what Intel currently has to offer in this segment.
The Ryzen 7 features 8 MB of Level 3 cache. Its built-in memory controller is designed to work with dual-channel DDR4-3200 or quad-channel LPDDR4-4266 RAM. Unlike the desktop Ryzen 5000 processors, Ryzen 7 5700U does not support PCI-Express 4.0, meaning those speedy NVMe SSDs will be limited to read/write rates of 3.9 GB/s.
The Ryzen gets soldered directly to the motherboard (FP6 socket) and is thus not user-replaceable.
Performance
Long-term performance sustainability of a mobile CPU tends to depend heavily on cooling system performance as well as TDP settings of a laptop. That said, Ryzen 7 5700U is one of the fastest U-class CPUs of 2021. As such, a 5700U will outshine any U-class Intel CPU, beating certain H-class Intel processors such as the Intel Core i5-11400H in the process. AMD Zen 2 is a fairly mature architecture, and eight Zen 2 cores are a force to be reckoned with, even at a 15 W TDP.
Graphics
In addition to its eight CPU cores, Ryzen 7 5700U features the Radeon RX Vega series graphics adapter with 8 CUs (= 512 shaders) running at up to 1,900 MHz. This iGPU trails behind the 96 EU Intel Iris Xe Graphics G7 in synthetic benchmarks, yet its real-world performance is good enough for many games released in 2020 and 2021 at reasonable resolutions (up to Full HD 1080p) and low to medium quality. As the Vega has no VRAM of its own, it is paramount that fast system RAM is used.
The graphics adapter definitely supports UHD 2160p monitors at 60 Hz, and will gladly HW-decode AVC, HEVC and VP9-encoded videos. There is no AV1 support here though.
Power Consumption
This Ryzen is manufactured on the 7 nm TSMC process for a very decent energy efficiency. Ryzen 7 5700U has a default TDP of 15 W that can be changed to anywhere between 10 W and 25 W by and OEM. The chip won't look out of place in super-slim laptops of all sizes (with an active cooling solution, if possible) as well as mini-PCs and portable gaming consoles and other fancy things.
Apple M1
► remove from comparison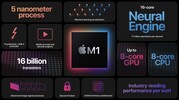 The Apple M1 is a System on a Chip (SoC) from Apple that is found in the late 2020 MacBook Air, MacBook Pro 13, and Mac Mini. It offers 8 cores divided in four performance cores and four power-efficiency cores. The big cores offer 192 KB instruction cache, 128 KB data cache, and 12 MB shared L2 cache. According to Apple the performance of these cores should be better than anything on the market (in late 2020). The four efficiency cores are a lot smaller and offer only 128 KB instruction cache, 64 KB data cache, and 4 MB shared cache. The efficiency cores (E cluster) clock with 600 - 2064 MHz, the performance cores (P cluster) with 600 - 3204 MHz.
The M1 is available in two TDP variants, a passive cooled 10 Watt variant for the MacBook Air and an active cooled faster variant for the MacBook Pro 13 and Mac Mini. Those should offer a better-sustained performance according to Apple.
The integrated graphics card in the M1 offers 8 cores (7 cores in the entry MacBook Air) and a peak performance of 2.6 teraflops. Apple claims that it is faster than any other iGPU at the time of announcement.
Furthermore, the SoC integrates a fast 16 core neural engine with a peak performance of 11 TOPS (for AI hardware acceleration), a secure enclave (e.g., for encryption), a unified memory architecture, Thunderbolt / USB 4 controller, an ISP, and media de- and encoders.
The Apple M1 includes 16 billion transistors (up from the 10 billion of the A12Z Bionic and therefore double the amount of a Tiger Lake-U chip like the i7-1185G7) and is manufactured in 5nm at TSMC.
AMD Ryzen 3 5300U
► remove from comparison

The AMD Ryzen 3 5300U (not to be confused with the A4-5300 from 2012) is a processor for thin and light laptops based on the Lucienne generation. The R3 5300U integrates four cores (quad core) based on the Zen 2 microarchitecture. They are clocked at 2.6 (guaranteed base clock) to 3.8 GHz (Turbo) and support SMT for a total of 8 threads. The chip is manufactured on the modern 7 nm TSMC process. Compared to the older and similar Ryzen 3 4300U (Renoir), the Ryzen 3 5300U offers SMT and slightly higher clock speeds. The faster Ryzen 3 5400U is based on the newer Zen 3 architecture. See our hub page on the Renoir Processors for more information on the Lucienne / Renoir architecture.
The performance should be slightly higher than the old Ryzen 3 4300U (thanks to SMT support and higher clock speeds) and well suited for every day tasks.
In addition to the four CPU cores, the APU also integrates a Radeon RX Vega 6 integrated graphics adapter with 6 CUs at up to 1500 MHz. The dual channel memory controller supports DDR4-3200 and energy efficient LPDDR4-4266 RAM. Furthermore, 4 MB level 3 cache can be found on the chip.
The TDP of the APU is specified at 15 Watt (default) and can be configured from 10 to 25 Watt by the laptop vendor (most chips are configured higher than 15 Watt). That means the chip is intended for thin and light laptops (but with fans).
| | | | |
| --- | --- | --- | --- |
| Model | AMD Ryzen 7 5700U | Apple M1 | AMD Ryzen 3 5300U |
| Series | AMD Lucienne (Zen 2, Ryzen 5000) | Apple Apple M-Series | AMD Lucienne (Zen 2, Ryzen 5000) |
| Codename | Lucienne U (Zen 2) | | Lucienne U (Zen 2) |
| Series: Lucienne (Zen 2, Ryzen 5000) Lucienne U (Zen 2) | | | |
| Clock | 1800 - 4300 MHz | 2064 - 3200 MHz | 2600 - 3800 MHz |
| L1 Cache | 512 KB | 2 MB | 256 KB |
| L2 Cache | 4 MB | 16 MB | 2 MB |
| L3 Cache | 8 MB | 16 MB | 4 MB |
| Cores / Threads | 8 / 16 | 8 / 8 | 4 / 8 |
| TDP | 25 Watt | | 25 Watt |
| Technology | 7 nm | 5 nm | 7 nm |
| max. Temp. | 105 °C | | 105 °C |
| Socket | FP6 | | FP6 |
| Features | XFR, FMA3, SSE 4.2, AVX2, SMT | ARMv8 Instruction Set | XFR, FMA3, SSE 4.2, AVX2, SMT |
| iGPU | AMD Radeon RX Vega 8 (Ryzen 4000) ( - 1900 MHz) | Apple M1 8-Core GPU | AMD Radeon RX Vega 6 (Ryzen 4000/5000) ( - 1500 MHz) |
| | | | |
| Architecture | x86 | ARM | x86 |
| Announced | | | |
| | | | |
| Manufacturer | AMD Lucienne (Zen 2, Ryzen 5000) R7 5700U | | AMD Lucienne (Zen 2, Ryzen 5000) R3 5300U |
| Transistors | | 16000 Million | |
Benchmarks
Performance Rating
- CB R15 + R20 + 7-Zip + X265 + Blender + 3DM11 CPU
- R7 5700U