AMD Ryzen 3 PRO 2200U vs AMD Ryzen 7 2800H
AMD Ryzen 3 PRO 2200U
► remove from comparison
The AMD Ryzen 3 2200U is a mobile APU for thin and light laptops that was announced in Early 2018. Compared to the consumer Ryzen 3 2200U, the PRO versions offer additional security features. It includes two Zen cores clocked at 2.5 to 3.4 GHz and offers SMT (four threads at once) and 4 MB L3-Cache. The integrated graphics card is called Radeon RX Vega 3 and offers only 3 CUs (192 Shaders) clocked at up to 1000 MHz. The TDP is configurable between 12 and 25 Watt (15 Watt nominal).
More information on Raven Ridge can be found in our launch article.
AMD Ryzen 7 2800H
► remove from comparison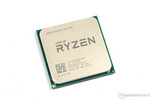 The AMD Ryzen 7 2800H is a mobile SoC that was announced late 2018. It is intended for mid-sized to big laptops and combines four Zen cores (8 threads) clocked at 3.3 (base) - 3.8 GHz (boost) with a Radeon RX Vega 11 Mobile graphics card with 11 CUs (704 Shaders). The integrated dual-channel memory controller supports up to DDR4-3200 memory.
Compared to the older Ryzen 7 2700U for slim and light laptops, the 2800H offers a higher TDP (45 Watt versus 15 Watt), higher clocked memory, a higher base clock (3.4 versus 2.2 GHz), and a faster integrated GPU.
More information on Raven Ridge can be found in our launch article.
The performance should be slightly better than the Ryzen 7 2700U due to the higher TDP and base clock speed. Especially longer loads should profit from this. Due to the high TDP (configurable from 35 - 54 Watt), the Ryzen 7 2800H is best suited for bigger laptops.
Power consumption
This Ryzen 7 has a default TDP (also known as the long-term power limit) of 45 W, a value that laptop manufacturers are free to change to anything between 35 W and 54 W with clock speeds and performance changing correspondingly. All the values are rather high, making a high-performance cooling solution with two or three fans pretty much a necessity.
The CPU is built on an old, as of late 2022, 14 nm process for subpar energy efficiency.
| | | |
| --- | --- | --- |
| Model | AMD Ryzen 3 PRO 2200U | AMD Ryzen 7 2800H |
| Series | AMD Raven Ridge (Ryzen 2000 APU) | AMD Raven Ridge (Ryzen 2000 APU) |
| Codename | Zen | Zen |
| Series: Raven Ridge (Ryzen 2000 APU) Zen | | |
| Clock | 2500 - 3400 MHz | 3300 - 3800 MHz |
| L1 Cache | 192 KB | 384 KB |
| L2 Cache | 1 MB | 2 MB |
| L3 Cache | 4 MB | 4 MB |
| Cores / Threads | 2 / 4 | 4 / 8 |
| TDP | 15 Watt | 35 Watt |
| Transistors | 4500 Million | 4500 Million |
| Technology | 14 nm | 14 nm |
| Socket | AM4 | AM4 |
| Features | XFR, FMA3, SSE 4.2, AVX2, SMT | XFR, FMA3, SSE 4.2, AVX2, SMT |
| iGPU | AMD Radeon RX Vega 3 ( - 1000 MHz) | AMD Radeon RX Vega 11 ( - 1300 MHz) |
| | | |
| Architecture | x86 | x86 |
| Announced | | |
Benchmarks
- Range of benchmark values for this graphics card

- Average benchmark values for this graphics card
* Smaller numbers mean a higher performance
1
This benchmark is not used for the average calculation
v1.22
log 27. 06:01:05
#0 checking url part for id 10134 +0s ... 0s
#1 checking url part for id 10144 +0s ... 0s
#2 not redirecting to Ajax server +0s ... 0s
#3 did not recreate cache, as it is less than 5 days old! Created at Sat, 25 Mar 2023 14:08:33 +0100 +0.001s ... 0.001s
#4 composed specs +0.028s ... 0.029s
#5 did output specs +0s ... 0.029s
#6 getting avg benchmarks for device 10134 +0.002s ... 0.031s
#7 got single benchmarks 10134 +0s ... 0.032s
#8 getting avg benchmarks for device 10144 +0.002s ... 0.033s
#9 got single benchmarks 10144 +0s ... 0.034s
#10 got avg benchmarks for devices +0s ... 0.034s
#11 min, max, avg, median took s +0s ... 0.034s
#12 return log +0.027s ... 0.061s