NVIDIA Titan RTX vs NVIDIA GeForce RTX 2080 Ti (Desktop)
NVIDIA Titan RTX
► remove from comparison
Die Nvidia Titan RTX bietet mit dem Vollausbau des TU102-Grafikprozessors nochmals mehr Leistung als das bisherige Topmodell Nvidia GeForce RTX 2080 Ti. Dieses Topmodell für High-End-Consumer auf Basis der aktuellen Turing-Grafikkarten für Desktop-PCs wurde im Dezember 2018 vorgestellt. Die GPU verfügt über die 4.608 Shadereinheiten, sowie 24 GB GDDR6-Speicher an einem 384-Bit-Interface (14 GHz, 672 GB/s). Zusätzlich integriert die 2080 Ti 576 Tensor-Kerne und 72 Raytracing-Kerne.
Features
Der TU102-Chip wird in 12nm gefertigt und bietet eine Reihe neuer Features, wie DLSS (Deep Learning Super Sampling) und Real Time Ray Tracing. Dadurch lassen sich vor allem Bleuchtungseffekte sehr viel realistischer darstellen. Weiterhin gibt es Support für DisplayPort 1.4 (ready), HDMI 2.0b, HDR, Simultaneous Multi-Projection (SMP) sowie H.265 Video De- und Encoding (PlayReady 3.0). Im Vollausbau bietet der TU102 4.608 Shader, 576 Tensor Kerne und 72 Raytracing Kerne. Damit bietet die Nvidia Titan RTX die gleichen Spezifikationen wie die Nvidia Quadro RTX 8000. Leider bleiben die vielen Quadro-Features weiterhin nur der teureren Quadro-Familie erhalten.
Performance
Die Performance der Titan RTX liegt in 4K zwar vor der GeForce RTX 2080 ti, jedoch ist dieser mit wenigen Prozent schon fast zu vernachlässigen. Eine übertaktete RTX 2080 ti sollte somit einer Titan RTX wieder überlegen sein. Im Gegen die Titan X auf Pascal-Basis kann sich das Turing-Modell einen Vorsprung von bis zu 30 % erzielen. Mit dieser Leistung ordnet sich die Titan RTX zweifelsohne im High-End-Segment ein und kann die meisten Spiele des Jahres 2018 in hohen Einstellungen und 4K-Auflösung flüssig darstellen.
Leistungsaufnahme
Die Leistungsaufnahme der Nvidia Titan RTX wird vom Hersteller mit 280 Watt beziffert. Im Vergleich zur Titan X (Pascal) benötigt das neue Spitzenmodell bei voller Auslastung 30 Watt mehr.
NVIDIA GeForce RTX 2080 Ti (Desktop)
► remove from comparison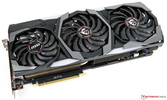 The NVIDIA GeForce RTX 2080 Ti is the fastest consumer desktop graphics card in 2018 and the fastest Turing RTX card at launch. It offers 4,352 shaders, 11 GB GDDR6 with a 352 bit interface (14 GHz, 616 GB/s for the Founders Edition). Furthermore, the 2080Ti includes 544 Tensor cores and 68 raytracing cores.
NVIDIA manufacturers the TU102 chip on a 12 nm FinFET process and includes features like Deep Learning Super Sampling (DLSS) and Real-Time Ray Tracing (RTRT), which should combine to create more realistic lighting effects than older GPUs based on the company's Pascal architecture (if the games supports it). The RTX 2080 Ti is also DisplayPort 1.4 ready, while there is also support for HDMI 2.0b, HDR, Simultaneous Multi-Projection (SMP) and H.265 video en/decoding (PlayReady 3.0).
Performance
The gaming performance of the 2080 Ti is around 27% faster than a RTX 2080 in 4K and around 35% faster than a GTX 1080 Ti. Therefore, the 2080 Ti is capable of max settings in 4K for all current AAA games. Adding raytracing may however reduce the performance below 60 fps.
NVIDIA estimates that the RTX 2080 Ti should consume a maximum of 250 W or 260 W for the Founders Edition, which is on a level with the GTX 1080 Ti (250 Watt).
| | | |
| --- | --- | --- |
| | NVIDIA Titan RTX | NVIDIA GeForce RTX 2080 Ti (Desktop) |
| Manufacturer | NVIDIA | NVIDIA |
| GeForce RTX 2000 Series | | |
| Codename | Turing TU102 | Turing TU102 |
| Architecture | Turing | Turing |
| Pipelines | 4608 - unified | 4352 - unified |
| Core Speed | 1350 - 1770 (Boost) MHz | 1350 - 1545 (Boost) MHz |
| Memory Speed | 14000 MHz | 14000 MHz |
| Memory Bus Width | 384 Bit | 352 Bit |
| Memory Type | GDDR6 | GDDR6 |
| Max. Amount of Memory | 24576 MB | 11264 MB |
| Shared Memory | no | no |
| DirectX | DirectX 12_1, Shader 6.4 | DirectX 12_1, Shader 6.4 |
| Transistors | 18600 Million | 18600 Million |
| technology | 12 nm | 12 nm |
| Features | NVLink, DLSS, Raytraycing, VR Ready, G-SYNC, Vulkan, Multi Monitor, 650 Watt system power recommended | NVLink, DLSS, Raytraycing, VR Ready, G-SYNC, Vulkan, Multi Monitor, 650 Watt system power recommended |
| Date of Announcement | 03.12.2018 | 27.08.2018 |
Benchmarks
Performance Rating
- 3DMark 11 + Fire Strike + Time Spy