Apple M1 vs Intel Core i7-10750H vs Intel Core i5-10300H
Apple M1
► remove from comparison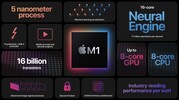 The Apple M1 is a System on a Chip (SoC) from Apple that is found in the late 2020 MacBook Air, MacBook Pro 13, and Mac Mini. It offers 8 cores divided in four performance cores and four power-efficiency cores. The big cores offer 192 KB instruction cache, 128 KB data cache, and 12 MB shared L2 cache. According to Apple the performance of these cores should be better than anything on the market (in late 2020). The four efficiency cores are a lot smaller and offer only 128 KB instruction cache, 64 KB data cache, and 4 MB shared cache. The efficiency cores (E cluster) clock with 600 - 2064 MHz, the performance cores (P cluster) with 600 - 3204 MHz.
The M1 is available in two TDP variants, a passive cooled 10 Watt variant for the MacBook Air and an active cooled faster variant for the MacBook Pro 13 and Mac Mini. Those should offer a better-sustained performance according to Apple.
The integrated graphics card in the M1 offers 8 cores (7 cores in the entry MacBook Air) and a peak performance of 2.6 teraflops. Apple claims that it is faster than any other iGPU at the time of announcement.
Furthermore, the SoC integrates a fast 16 core neural engine with a peak performance of 11 TOPS (for AI hardware acceleration), a secure enclave (e.g., for encryption), a unified memory architecture, Thunderbolt / USB 4 controller, an ISP, and media de- and encoders.
The Apple M1 includes 16 billion transistors (up from the 10 billion of the A12Z Bionic and therefore double the amount of a Tiger Lake-U chip like the i7-1185G7) and is manufactured in 5nm at TSMC.
Intel Core i7-10750H
► remove from comparison

The Intel Core i7-10750H is a fast 45 W processor designed for the beefier laptops. The Comet Lake-H CPU was launched in mid-2020. It features six cores (twelve threads) running at 2.6 GHz Boosting up to 5 GHz (single-core Boost). The likely all-core Boost frequency is 4.3 GHz. Most of the specs are the same as the 10750H's direct predecessor, the i7-9750H. The newer model has two advantages over its predecessor, in that its Boost frequency is higher and the memory controller can now officially host memory clocked at 2,933 MHz, an upgrade over the 2,666 MHz limitation of the outgoing model.
Architecture
Comet Lake is a yet another revision of the dated Skylake architecture not unlike the previous Coffee Lake, Whiskey Lake, Kaby Lake families for similar feature set and performance-per-MHz between the five. Core i7-10750H is manufactured on the third-gen 14 nm Intel process that is no longer cutting-edge as AMD's Ryzen 4000 series mobile processors are manufactured on a 7 nm TSMC process.
The hexa-core CPU is compatible with dual-channel DDR4-2933 RAM and has support for PCI-Express 3.0 and Thunderbolt 3 but not the professional features (vPro, TXT, SIPP) supported by the costlier Core i7-10850H. Both the CPU cores and the iGPU have access to 12 MB of L3 cache. Intel 10750H gets soldered to the motherboard (BGA1440 socket) and is pretty much impossible to replace.
Please go to this page for more information on Comet Lake processor family.
Performance
Long-term performance sustainability of a mobile CPU tends to depend heavily on the cooling system performance as well as TDP settings of a laptop. That said, the average 10750H in our database is as fast as the Core i7-8559U and Ryzen 7 3700X in single-core benchmarks, while multi-core testing reveals the CPU to be similar to the Ryzen 5 5500U and Ryzen 5 5600H. As of mid-2021, the i7 is fast enough for any task, gaming included.
Graphics
We've known the Intel UHD Graphics 630 iGPU for a while. This is the same iGPU the Core i7-9750H and Core i7-8750H processors had. In this i7, the 24 EU iGPU is clocked at 350 MHz to 1,150 MHz. Intel UHD Graphics 630 supports up to 3 monitors with resolutions of up to [email protected] and the built-in video decoder can handle AVC, HEVC, VP9-encoded videos (AV1 is not supported). This is not a gaming GPU as it is not fast enough to handle most AAA titles released in 2020. At 720p resolution, Escape from Tarkov runs at just 17 fps (low quality preset), to give you an example. As the iGPU has no VRAM of its own, it is paramount that fast system RAM is used.
Power Consumption
Energy efficiency is not great here as the 14 nm manufacturing process is very old by now. While the default TDP value of the i7 is 45 watts, the actual consumption when under load will be significantly higher than this. Core i7-10750H is destined to be used in chunky, hard to carry around laptops, since a high-performance cooling system is a must. OEMs are free to set the TDP to 35 watts instead of 45 watts for leaner designs but the base as well as the Boost clock speeds would take a hit as a result.
Intel Core i5-10300H
► remove from comparison

The Intel Core i5-10300H is a fast processor for laptops with four cores based on the Comet Lake-H series (4th generation of Skylake architecture). The processor clocks at between 2.5 and 4.5 GHz (up to 4.2 with 4 cores) and can execute up to eight threads simultaneously thanks to Hyper-Threading. According to Intel, the CPU is manufactured in 14nm (14nm++) process. Compared to the predecessor, the Core i5-9300H from 2019, the 10300H is clocked slightly higher (+100 MHz Base, +400 MHz Boost) and supports faster DDR4-2933 RAM.
The Comet Lake architecture is similar to Coffee Lake and offers the same features and is produced in the same 14nm process. Other than the improved clock rates, the memory controller now also supports faster DDR4-2933 RAM. More information on Comet Lake and all the models and articles on it can be found here.
The Core i5-10300H supports no vPro, TXT or SIPP. These business features are available in the faster Core i5-10400H (2.6 - 4.6 GHz) that was released at a later date.
Performance
A well cooled Intel Core i5-10300H can reach the average performance of an old Core i7-8750H (6 cores, but lower clock speeds). Multi-threaded tests that can use all cores however are clearly slower. Compared to the older Core i5-9300H, the 10300H is clearly faster thanks to the higher clock speed of the CPU cores. In general, the CPU is well suited for multi-tasking and demanding workloads. Very fast mobile graphics cards however will be limited by the Core i5-10300H.
Graphics
The integrated Intel UHD Graphics 630 iGPU is supposed to offer a similar performance as the UHD630 in the Core i5-9300H. As a low-end solution it will probably only run current games smoothly at reduced details - if at all.
Power Consumption
Intel specifies the TDP with 45 watts and therefore the i5 is only suited for big laptops with good cooling solutions. Using cTDP-down, the CPU can also be configured to 35 Watt resulting in a reduced performance.
| | | | |
| --- | --- | --- | --- |
| Model | Apple M1 | Intel Core i7-10750H | Intel Core i5-10300H |
| Series | Apple Apple M-Series | Intel Comet Lake | Intel Comet Lake |
| Series: Comet Lake Comet Lake-H | | | |
| Clock | 2064 - 3200 MHz | 2600 - 5000 MHz | 2500 - 4500 MHz |
| L1 Cache | 2 MB | 384 KB | 256 KB |
| L2 Cache | 16 MB | 1.5 MB | 1 MB |
| L3 Cache | 16 MB | 12 MB | 8 MB |
| Cores / Threads | 8 / 8 | 6 / 12 | 4 / 8 |
| Transistors | 16000 Million | | |
| Technology | 5 nm | 14 nm | 14 nm |
| Features | ARMv8 Instruction Set | Dual-Channel DDR4-2933 Memory Controller, HyperThreading, AVX, AVX2, Quick Sync, Virtualization, AES-NI | Dual-Channel DDR4 Memory Controller, HyperThreading, AVX, AVX2, Quick Sync, Virtualization, AES-NI |
| iGPU | Apple M1 8-Core GPU | Intel UHD Graphics 630 (350 - 1150 MHz) | Intel UHD Graphics 630 (350 - 1050 MHz) |
| | | | |
| Architecture | ARM | x86 | x86 |
| Announced | | | |
| | | | |
| Codename | | Comet Lake-H | Comet Lake-H |
| TDP | | 45 Watt | 45 Watt |
| max. Temp. | | 100 °C | 100 °C |
| Socket | | BGA1440 | FCBGA1440 |
| | | $395 U.S. | |
| Manufacturer | | Intel Comet Lake i7-10750H | |
Benchmarks
Performance Rating
- CB R15 + R20 + 7-Zip + X265 + Blender + 3DM11 CPU
- i7-10750H