Intel HD Graphics (Cherry Trail) vs Intel HD Graphics 5300 vs Intel HD Graphics 4200
Intel HD Graphics (Cherry Trail)
► remove from comparison

The Intel HD Graphics (Cherry Trail) is an integrated graphics card in the Cherry-Trail SoCs (e.g. Atom x7-Z8700). Based on a Broadwell GPU (Intel Gen8) and supports DirectX 11.2. Depending on the SoC offers 12 or 16 EUs.
Atom x7-Z8700: 16 EUs @ 200 - 600 MHz, dual-channel memory
Atom x5-Z8500: 12 EUs @ 200 - 600 MHz, dual-channel memory
Atom x5-Z8300: 12 EUs @ 200 - 500 MHz, single-channel memory
In Windows, gaming is limited to less demanding or quite old games. Using Android, even high end 3D games should run fluently. For example Team Fortress 2 was running on the Surface 3 (x7-Z8700) only in lowest settings and 1280x720 fluently (11 - 69 fps range).
The integrated video decoder is able to display even 4K videos (H.264 tested) fluently.
The Intel HD Graphics GPU in our review sample of the MS Surface 3 (Atom x7-Z8700) only supported DisplayPort 1.1 as it seems, as 4K (3840x2160) with 30 Hz was the maximum Refresh Rate we could achieve (no 60 Hz selectable with the pre-installed drivers).
Intel HD Graphics 5300
► remove from comparison
The Intel HD Graphics 5300 (GT2) is an integrated Broadwell graphics card revealed in late 2014. It can be found in Core M ULV SoCs such as the Core M-5Y70. While the GPU shines with its extremely low power consumption, raw performance is quite low and barely sufficient for modern games.
Architecture and Features
Broadwell features a GPU based on the Intel Gen8 architecture, which has been optimized in various aspects compared to the previous Gen7.5 (Haswell). Inter alia, the shader arrays called "subslice" have been reorganized and now offer 8 Execution Units (EUs) each. Three subslices form a "slice" for a total of 24 EUs. Combined with other improvements such as larger L1 caches and an optimized frontend, the integrated GPU has become faster and more efficient than its predecessor.
The HD Graphics 5300 represents the mid-range version of the Broadwell GPU family and consists of one slice with 24 EUs. Beyond that, there is also a low-end variant (GT1, 12 EUs) as well as higher-end models (GT3/GT3e + eDRAM, 48 EUs).
All Broadwell GPUs support OpenCL 2.0 and DirectX 11.2. The video engine can now decode H.265 using both fixed function hardware as well as available GPU shaders. Up to three displays can be connected via DP 1.2/eDP 1.3 (max. 3840 x 2160 @ 60 Hz) or HDMI 1.4a (max. 3840 x 2160 @ 24 Hz). HDMI 2.0, however, is not supported.
Performance
Depending on the specific CPU, the maximum GPU frequency varies between 800 and 900 MHz. Due to the very low TDP, however, the average clock in 3D applications will be significantly lower. Therefore, the HD 5300 just barely outperforms the old HD 4000 or HD 4200, but requires much less energy for the same performance.
Only a few games as of 2014/2015 will run fluently at low settings, e.g. Dota 2 or Sims 4.
Power Consumption
Thanks to a new 14 nm process, the entire Core M chip is specified at just 4.5 W TDP and is suited for passively cooled tablets. The TDP is flexible and can be reduced or increased, which has a significant impact on performance.
Intel HD Graphics 4200
► remove from comparison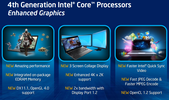 The Intel HD Graphics 4200 (GT2) is a processor graphics card that is included in some of the ULV Haswell processors of 2013 (4th generation core). The relatively low base clock can be automatically overclocked using Turbo Boost technology.
In comparison to the HD 4000, the graphics core has been modified in several details. The GPU supports DirectX 11.1, OpenCL 1.2 und OpenGL 4.0. It also features an improved decoder for 4K videos and the fast Quick Sync encoder.
The performance of the HD Graphics 4200 is clearly below the HD 4600 and HD 4400, since the GPU is designed for ULV models of the Y-series (11.5 W). Therefore, the clock rates are relatively low. Compared to a similar clocked HD 4000, the HD 4200 is somewhat faster due to architectural improvements and an increased number of execution units: The GT2 version integrates 20 EUs, compared to 16 EUs for the old HD 4000.
In simple games like Anno 2070 or Counter Strike: Global Offensive, the performance is sufficient to handle low settings and 1024 x 768 pixels. Many current titles like Battlefield 4, however, are not playable even at minimum graphic quality. Detailed benchmarks can be found below.
Due to the 22nm 3D Tri-Gate production process, the power consumption is relatively low and suitable even for tablets. In addition to the TDP of 11.5 watts, the Y-series CPUs are rated at an SDP (average power consumption) of 4.5 or 6 watts (depending on the model).
| | | | |
| --- | --- | --- | --- |
| | Intel HD Graphics (Cherry Trail) | Intel HD Graphics 5300 | Intel HD Graphics 4200 |
| HD Graphics Series | | | |
| Codename | Cherry Trail | Broadwell GT2 | Haswell GT2 |
| Architecture | Gen. 8 | Gen. 8 Broadwell | Gen. 7.5 Haswell |
| Pipelines | 16 - unified | 24 - unified | 20 - unified |
| Core Speed | 200 - 600 (Boost) MHz | 100 - 900 (Boost) MHz | 200 - 850 (Boost) MHz |
| Memory Bus Width | 64/128 Bit | 64/128 Bit | 64/128 Bit |
| Shared Memory | yes | yes | yes |
| API | DirectX 12 (FL 11_1), Shader 5.0, OpenGL 4.3 | DirectX 12 (FL 11_1), OpenGL 4.3 | DirectX 11.1, Shader 5.0, OpenGL 4.0 |
| technology | 14 nm | 14 nm | 22 nm |
| Date of Announcement | 02.03.2015 | 05.09.2014 | 05.06.2013 |
| Transistors | | 1.3 Billion | |
| Features | | QuickSync | QuickSync |
Benchmarks
Performance Rating
- 3DMark 11 + Fire Strike + Time Spy
- HD Graphics (Cherry Trail)