Intel HD Graphics (Bay Trail) vs Intel HD Graphics 4000 vs Intel HD Graphics 4200
Intel HD Graphics (Bay Trail)
► remove from comparison

The Intel HD Graphics (Bay Trail) is a low-end integrated Bay Trail graphics card found in certain Atom models (Z3770), nettops (J2850) and notebook SoCs (N3510). It supports DirectX 11 and is based on the Ivy Bridge GPU. Clock rates and shader cores, however, are considerably lower.
Compared to Ivy Bridge, which offers either 6 or 16 Execution Units, the HD Graphics (Bay Trail) comes with only 4 EUs. The core clock is significantly lower as well. Depending on the specific model, the maximum Turbo Boost is 896 MHz or less and the memory controller can support DDR3(L), DDR3L-RS or LPDDR3 in single- or dual-channel operation.
The fastest notebook models equipped with this GPU nearly match the performance of the HD Graphics (Sandy Bridge) and the AMD Radeon HD 6310. Therefore, older and less demanding Windows games like World of Warcraft or Half-Life 2 can be played fluently in very low settings. Performance is not sufficient for most modern titles.
Compared to competing ARM SoCs, Bay Trail outperforms the Adreno 320 (which can be found in different Qualcomm SoCs like the Snapdragon 600) and offers a performance similar to the Tegra 4 GPU. That is enough power to run even the most demanding Android games smoothly in very high resolutions as of 2013.
The integrated video decoder supports all popular codecs such as MPEG2, H.264, VC1, VP8 and MVC and is suitable for resolutions up to 4K up to 100 Mbit/s. The user can connect up to two displays via HDMI 1.4 (max. 1920 x 1080) or DisplayPort 1.2 (max. 2560 x 1600). Another new feature is the support for Wireless Display and Quick Sync, Intel's fast and power efficient H-264 hardware encoder. Some of these features are not available on all models.
Depending on the model, the power consumption of the entire SoC is somewhere between 2 and 10 W. The most efficient versions are therefore suitable for passively cooled tablets, whereas faster variants are used in larger subnotebooks with active cooling.
Intel HD Graphics 4000
► remove from comparison

The Intel HD Graphics 4000 (GT2) is a processor graphics card that is included in the Ivy Bridge processors of 2012 (3rd generation of core, e.g. Core i7-3770). The base clock can be automatically overclocked using Turbo Boost technology. Depending on the processor model, the base and turbo clock rate may differ greatly resulting in different graphics performance of ULV parts compared to high-end desktop and laptop quad-core parts.
Compared to the Intel HD Graphics 3000 in Sandy Bridge CPUs, the HD 4000 card was completely redesigned and offers improved DirectX 11 capable shaders, Hardware Tessellation, a dedicated level 3 cache (before the Last Level Cache LLC of the CPU) and DirectCompute support. The IPC (instructions per clock) can therefore be even 2x as fast as with Sandy Bridge and overall up to 60% more performance (3DMark Vantage) should be possible.
First benchmarks position the HD Graphics 4000 (in a fast quad core desktop CPU) on a level with a dedicated Nvidia GeForce GT 330M and therefore above the AMD processor graphics Radeon HD 6620G. In our extensive tests with games the HD Graphics 4000 was able to beat the HD 6620G in a fast Core i7-3820QM by about 15%. In the slower i7-3610QM and a dual core i5 it was on a similar level as the 6620G. Therefore, casual gamers that wont mind reducing the quality settings in high end games, may be happy with the performance of the HD Graphics 4000. Beware, that the HD Graphics 4000 is used with different clock speeds depending on the CPU model. The ULV CPUs (Core ix-3xx7U) for example feature lower clock speeds and cant maintain the Turbo frequency as good as the 35 - 55 Watt models. Therefore, the ULV version is about 30% slower on average.
A speciality of the Ivy Bridge GPUs is that 4x MSAA is supported in hardware now. However, 2x is only supported through software. The algorithm to support 2x is going through the 4x pipeline with a software algorithm, so performance is similar to 4x MSAA.
The integrated video decoder called Multi Format Codec Engine (MFX) was also improved and should allow even simultaneus 4K video decoding. DXVAChecker lists MPEG2, VC1, WMV9, and H264 as supported codecs. QuickSync for fast transcoding of videos was also optimized for higher performance and better image quality.
Another new feature is the support for up to 3 independent displays (depends on how the HD 4000 is used in the laptop - maybe only with a DisplayPort / eDP) as AMD offers with theirs Eyefinity support (up to 6 displays). DisplayPort 1.1 (max 2560x1600) and HDMI 1.4 (max 1920x1080 without hacks) are supported by the chip according to Intel.
Due to the 22nm 3D Tri-Gate production process, the power consumption should be relatively low (the development was focused on performance per Watt). The TDP of the whole package (including processor and memory controller) varies between 18 Watt (ULV) up to 45 Watt (mobile quad core) for the consumer laptop CPUs.
Intel HD Graphics 4200
► remove from comparison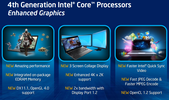 The Intel HD Graphics 4200 (GT2) is a processor graphics card that is included in some of the ULV Haswell processors of 2013 (4th generation core). The relatively low base clock can be automatically overclocked using Turbo Boost technology.
In comparison to the HD 4000, the graphics core has been modified in several details. The GPU supports DirectX 11.1, OpenCL 1.2 und OpenGL 4.0. It also features an improved decoder for 4K videos and the fast Quick Sync encoder.
The performance of the HD Graphics 4200 is clearly below the HD 4600 and HD 4400, since the GPU is designed for ULV models of the Y-series (11.5 W). Therefore, the clock rates are relatively low. Compared to a similar clocked HD 4000, the HD 4200 is somewhat faster due to architectural improvements and an increased number of execution units: The GT2 version integrates 20 EUs, compared to 16 EUs for the old HD 4000.
In simple games like Anno 2070 or Counter Strike: Global Offensive, the performance is sufficient to handle low settings and 1024 x 768 pixels. Many current titles like Battlefield 4, however, are not playable even at minimum graphic quality. Detailed benchmarks can be found below.
Due to the 22nm 3D Tri-Gate production process, the power consumption is relatively low and suitable even for tablets. In addition to the TDP of 11.5 watts, the Y-series CPUs are rated at an SDP (average power consumption) of 4.5 or 6 watts (depending on the model).
| | | | |
| --- | --- | --- | --- |
| | Intel HD Graphics (Bay Trail) | Intel HD Graphics 4000 | Intel HD Graphics 4200 |
| HD Graphics Series | | | |
| Codename | Bay Trail | Ivy Bridge | Haswell GT2 |
| Architecture | Gen. 7 Ivy Bridge | Gen. 7 Ivy Bridge | Gen. 7.5 Haswell |
| Pipelines | 4 - unified | 16 - unified | 20 - unified |
| Core Speed | 311 - 896 (Boost) MHz | 350 - 1350 (Boost) MHz | 200 - 850 (Boost) MHz |
| Memory Bus Width | 32/64/128 Bit | 64/128 Bit | 64/128 Bit |
| Shared Memory | yes | yes | yes |
| API | DirectX 11, Shader 5.0, OpenGL 4.0, ES 3.0 | DirectX 11, Shader 5.0, OpenGL 3.1 | DirectX 11.1, Shader 5.0, OpenGL 4.0 |
| technology | 22 nm | 22 nm | 22 nm |
| Date of Announcement | 11.09.2013 | 23.03.2011 | 05.06.2013 |
| Features | | QuickSync | QuickSync |
Benchmarks
Performance Rating
- 3DMark 11 + Fire Strike + Time Spy
- HD Graphics (Bay Trail)