Intel HD Graphics 4000 vs Intel HD Graphics 3000 vs Intel HD Graphics (Skylake)
Intel HD Graphics 4000
► remove from comparison

The Intel HD Graphics 4000 (GT2) is a processor graphics card that is included in the Ivy Bridge processors of 2012 (3rd generation of core, e.g. Core i7-3770). The base clock can be automatically overclocked using Turbo Boost technology. Depending on the processor model, the base and turbo clock rate may differ greatly resulting in different graphics performance of ULV parts compared to high-end desktop and laptop quad-core parts.
Compared to the Intel HD Graphics 3000 in Sandy Bridge CPUs, the HD 4000 card was completely redesigned and offers improved DirectX 11 capable shaders, Hardware Tessellation, a dedicated level 3 cache (before the Last Level Cache LLC of the CPU) and DirectCompute support. The IPC (instructions per clock) can therefore be even 2x as fast as with Sandy Bridge and overall up to 60% more performance (3DMark Vantage) should be possible.
First benchmarks position the HD Graphics 4000 (in a fast quad core desktop CPU) on a level with a dedicated Nvidia GeForce GT 330M and therefore above the AMD processor graphics Radeon HD 6620G. In our extensive tests with games the HD Graphics 4000 was able to beat the HD 6620G in a fast Core i7-3820QM by about 15%. In the slower i7-3610QM and a dual core i5 it was on a similar level as the 6620G. Therefore, casual gamers that wont mind reducing the quality settings in high end games, may be happy with the performance of the HD Graphics 4000. Beware, that the HD Graphics 4000 is used with different clock speeds depending on the CPU model. The ULV CPUs (Core ix-3xx7U) for example feature lower clock speeds and cant maintain the Turbo frequency as good as the 35 - 55 Watt models. Therefore, the ULV version is about 30% slower on average.
A speciality of the Ivy Bridge GPUs is that 4x MSAA is supported in hardware now. However, 2x is only supported through software. The algorithm to support 2x is going through the 4x pipeline with a software algorithm, so performance is similar to 4x MSAA.
The integrated video decoder called Multi Format Codec Engine (MFX) was also improved and should allow even simultaneus 4K video decoding. DXVAChecker lists MPEG2, VC1, WMV9, and H264 as supported codecs. QuickSync for fast transcoding of videos was also optimized for higher performance and better image quality.
Another new feature is the support for up to 3 independent displays (depends on how the HD 4000 is used in the laptop - maybe only with a DisplayPort / eDP) as AMD offers with theirs Eyefinity support (up to 6 displays). DisplayPort 1.1 (max 2560x1600) and HDMI 1.4 (max 1920x1080 without hacks) are supported by the chip according to Intel.
Due to the 22nm 3D Tri-Gate production process, the power consumption should be relatively low (the development was focused on performance per Watt). The TDP of the whole package (including processor and memory controller) varies between 18 Watt (ULV) up to 45 Watt (mobile quad core) for the consumer laptop CPUs.
Intel HD Graphics 3000
► remove from comparison

The Intel HD Graphics 3000 (or Intel Graphics Media Accelerator HD 3000, GMA HD 3000, Intel HD Graphics 200) is an integrated graphics card in the Sandy Bridge codenamed processors. The HD Graphics 3000 has no dedicated memory but shares the Level 3 / LLC Cache with the CPU cores and also part of the main memory. Due to TurboBoost, the GPU can be overclocked depending on the current CPU load and power consumption. The base speed and the turbo boost speed of the HD Graphics 3000 depend on the processor:
ULV processors Core ix-2xx7 (base 350MHz, Turbo 900-1000MHz)
LV processors Core ix-2xx5 (base 500MHz, Turbo 1000MHz)
Mainstream and high-end Dual und Quad-Core Core ix-2xx0 (base 650MHz, Turbo 1100-1300MHz)
Desktop K processors (base 850, Turbo 1100-1350MHz)
The HD 3000 offers 12 Execution Units (EUs) like the old Intel GMA HD but due to architectural changes each EU is now faster. The slower HD Graphics 2000 uses only 6 Execution Units. The EUs can be accessed using DirectX 10.1, OpenGL 3.0 and DirectCompute 4.1. OpenCL is not supported (the media SDK only uses the CPU).
Our performance tests with the high clocked mainstream version of the HD Graphics 3000 in quad-core processors showed a performance level on par with older entry level generations from NVIDIA (e.g. GeForce 310M) and AMD (HD 5450). In comparison with AMD's APU models, the HD 3000 can only compete against the C-and E-series, but not the faster Llano and Trinity models. The quality of the Intel drivers has been improved over the years, so most games are flawlessly playable (if the minimum requirements are fullfilled).
We could measure smooth frame rates in games like Dead Space 3, World of Tanks, Fifa 13, Torchlight 2, Counter-Strike: GO reach, Diablo 3, and many older games, though usually only in minimal detail settings. For accurate performance analysis and gaming benchmarks, read our article "Intel HD Graphics 3000" or scroll down in this article.
Altought 2x Antialiasing (AA) is supported, the chip is as fast as when rendering 4x AA. In the Unigine Valley benchmark a i7-2637M for example reached the same score with 2x AA and 4x AA.
In addition to the GPU, the chip also houses some dedicated units for decoding and encoding HD videos. On the IDF Intel demonstrated the encoding of a 3 minute long 1080p video to an iPhone compatible format in 640x360 in only 14s. Another novelty of the Sandy Bridge GPU is the embedded DisplayPort eDP to connect internal Displays.
Due to the integration in the 32nm built CPU, the power consumption of the GPU should be quite low.
Intel HD Graphics (Skylake)
► remove from comparison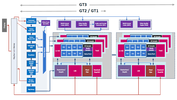 The Intel HD Graphics (Skylake) (GT1) is an integrated graphics unit, which can be found in low-end ULV (Ultra Low Voltage) processors of the Skylake generation. In most CPUs, this GPU was named Intel HD Graphics 510 or Intel HD Graphics 515 (see both pages for benchmarks and information).
This "GT1" version of the Skylake GPU offers 12 Execution Units (EUs) clocked at up to 800 MHz (depending on the CPU model). Due to its lack of dedicated graphics memory or eDRAM cache, the HD Graphics has to access the main memory (2x 64bit DDR3L-1600 / DDR4-2133).
Performance
Depending on various factors like memory configuration, the HD Graphics should perform similar to the older HD Graphics 4200 and will handle only some older and less demanding games in lowest settings.
Features
The revised video engine now decodes H.265/HEVC completely in hardware and thereby much more efficiently than before. Displays can be connected via DP 1.2 / eDP 1.3 (max. 3840 x 2160 @ 60 Hz), whereas HDMI is limited to the older version 1.4a (max. 3840 x 2160 @ 30 Hz). However, HDMI 2.0 can be added using a DisplayPort converter. Up to three displays can be controlled simultaneously.
Power Consumption
The HD Graphics (Skylake) can be found in mobile processors specified at 6 W TDP and is therefore suited for passively cooled 2-in-1 laptops and tablets.
| | | | |
| --- | --- | --- | --- |
| | Intel HD Graphics 4000 | Intel HD Graphics 3000 | Intel HD Graphics (Skylake) |
| HD Graphics Series | | | |
| Codename | Ivy Bridge | Sandy Bridge | Skylake GT1 |
| Architecture | Gen. 7 Ivy Bridge | Gen. 6 Sandy Bridge | Gen. 9 Skylake |
| Pipelines | 16 - unified | 12 - unified | 12 - unified |
| Core Speed | 350 - 1350 (Boost) MHz | 350 - 1350 (Boost) MHz | 300 - 800 (Boost) MHz |
| Memory Bus Width | 64/128 Bit | 64/128 Bit | 64/128 Bit |
| Shared Memory | yes | yes | yes |
| API | DirectX 11, Shader 5.0, OpenGL 3.1 | DirectX 10.1, Shader 4.1, OpenGL 3.0 | DirectX 12_1, OpenGL 4.4 |
| technology | 22 nm | 32 nm | 14 nm |
| Features | QuickSync | | QuickSync |
| Date of Announcement | 23.03.2011 | 01.02.2011 | 01.09.2015 |
| Memory Type | | | DDR3L/LPDDR3 |
Benchmarks
Performance Rating
- 3DMark 11 + Fire Strike + Time Spy
- HD Graphics 4000