NVIDIA GeForce RTX 3070 Laptop GPU vs NVIDIA GeForce RTX 3050 vs NVIDIA GeForce RTX 3080 Ti
NVIDIA GeForce RTX 3070 Laptop GPU
► remove from comparison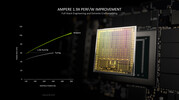 The Nvidia GeForce RTX 3070 Mobile (for laptops, GN20-E5, Max-P, ID 249c / 249d) is the second fastest Ampere graphics card for notebooks in early 2021. It is based on the GA104-770-A1 Ampere chip and offers 8 GB GDDR6 graphics memory with a 256 Bit memory bus. It supports PCIe 4.0 and will be available in two different variants from 80 to 125 Watt (TGP). As package the notebook graphic card uses GB5-256 and the chip size is 40x40mm. The GPU supports eDP 1.4b to connect the internal monitor.
There is no more Max-Q variant (formerly used for the low power variants) but every OEM can choose to implement Max-Q technologies (Dynamic Boost, Whispermode).
The performance depends on the TGP setting and cooling of the laptop. On average it should be similar to the old RTX 2080 Super Mobile and therefore best suited for QHD - 4k gaming. The similar named RTX 3070 desktop card is significantly faster.
The GA104 chip offers 6,144 FP32 ALUs of which half can also execute INT32 instructions (i.e. 3,072 INT32 ALUs). The RTX 3070 however wont use all ALUs on the chip. With Turing all shaders could still execute FP32 or INT32 instructions. The raytracing and tensor cores on the chip were also improved according to Nvidia. The RTX 3070 mobile series uses 5,120 of the 6,144 cores. The Ampere chips also include an improved 5th generation video encoder (NVENC for H.264 and H.265) and a 7th generation decoder (for various formats now including AV1).
The GA104 chip is manufactured by Samsung in 8nm (8N), which is not quite able to keep up with the 7nm node at TSMC (e.g. used by AMD and also for the professional GA100 Ampere chip).
NVIDIA GeForce RTX 3050
► remove from comparison
Die Nvidia GeForce RTX 3050 ist eine Mid-Range Desktop Grafikkarte mit 8 GB Videospeicher. Im Januar wurde diese Grafikkarte präsentiert, wenngleich die Verfügbarkeit nur bedingt befriedigt werden konnte. Die GeForce RTX 3050 ist aktuell die kleinste Version der aktuellen RTX 3000 Serie, die mit der Ampere-Architektur Turing komplett abgelöst hat. Die GPU verfügt über 2.560 Shadereinheiten / Kerne und basiert auf dem GA106-Chip. Der VRAM ist mit 8-GB-GDDR6-Speicher ausreichend.
Features
Der GA106-Chip wird in 8 nm gefertigt und bietet weiterhin die bekannten Features, wie DLSS (Deep Learning Super Sampling) und Real Time Ray Tracing. Allerdings hat Nvidia hier stark nachgebessert um die Leistung bei Nutzung dieser Features nochmals deutlich zu steigern. Zudem ist der Grafikchip baugleich mit dem der auf der Nvidia GeForce RTX 3060 zum Einsatz kommt.
Performance
Die Performance der GeForce RTX 3050 liegt etwas unter dem Niveau einer Nvidia GeForce RTX 2060. Damit ordnet sich die RTX 3050 im guten Mittelfeld ein und kann die meisten Spiele der Jahre 2020 und 2021 in hohen Einstellungen und in 1.080p flüssig darstellen.
Leistungsaufnahme
Die Leistungsaufnahme der GeForce RTX 3050 wird vom Hersteller mit 130 Watt beziffert und ist damit etwas sparsamer als eine Nvidia GeForce RTX 2060 (160 Watt).
NVIDIA GeForce RTX 3080 Ti
► remove from comparison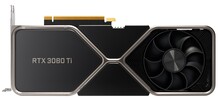 The Nvidia GeForce RTX 3080 Ti is high-end desktop graphics card based on the Ampere generation. It uses the big GA102 chip and offers 10,210 shaders and 12 GB GDDR6X graphics memory. The main difference to the expensive RTX 3090 is the reduced VRAM (12 vs. 24 GB and a slight reduction in the shader count (-256 shaders).
Therefore, the gaming performance is quite similar to the RTX 3090 and best suited for 4K gaming with maximum detail settings.
As the RTX 3090, the RTX 3080 Ti is specified with a 350 Watt TDP and therefore quite power hungry (750 Watt power supply recommended).
| | | | |
| --- | --- | --- | --- |
| | NVIDIA GeForce RTX 3070 Laptop GPU | NVIDIA GeForce RTX 3050 | NVIDIA GeForce RTX 3080 Ti |
| GeForce RTX 3000 Series | | | |
| Codename | GN20-E5 GA104 | Ampere GA106 | Ampere GA102 |
| Architecture | Ampere | Ampere | Ampere |
| Pipelines | 5120 - unified | 2560 - unified | 10240 - unified |
| TMUs | 160 | | |
| ROPs | 96 | | |
| Raytracing Cores | 40 | | |
| Tensor / AI Cores | 160 | | |
| Core Speed | 780 - 1100 - 1290 - 1620 (Boost) MHz | 1552 - 1777 (Boost) MHz | 1370 - 1667 (Boost) MHz |
| Memory Speed | 14000 effective = 1750 MHz | 1750 MHz | 19000 MHz |
| Memory Bus Width | 256 Bit | 128 Bit Bit | 384 Bit |
| Memory Type | GDDR6 | GDDR6 | GDDR6X |
| Max. Amount of Memory | 8 GB | 8 GB | 12 GB |
| Shared Memory | no | no | no |
| Memory Bandwidth | 448 GB/s | | |
| API | DirectX 12_2, Shader 7.0, OpenGL 4.6 | DirectX 12_2, Shader 6.6, OpenGL 4.6 | DirectX 12_2, Shader 7.0, OpenGL 4.6 |
| Power Consumption | 125 Watt (80 - 125 Watt TGP) | 130 Watt | 350 Watt |
| technology | 8 nm | 8 nm | 8 nm |
| PCIe | 4.0 | | |
| Displays | HDMI 2.1, DisplayPort 1.4a | | |
| Features | NVIDIA DLSS, NVIDIA Reflex, Resizable BAR, NVIDIA Broadcast, NVIDIA Ansel, NVIDIA ShadowPlay®, NVIDIA G-SYNC®, Advanced Optimus, Nvidia Max-Q, Dynamic Boost | | |
| Notebook Size | large | | |
| Date of Announcement | 04.01.2021 | 04.01.2022 | 24.09.2020 |
| Transistors | | 12 Billion | 28 Billion |
| Link to Manufacturer Page | | | https://www.nvidia.com/en-us/geforce/gra... |
Benchmarks
Performance Rating
- 3DMark 11 + Fire Strike + Time Spy
- GeForce RTX 3070 Laptop GPU