NVIDIA GeForce GTX 960M vs NVIDIA GeForce GTX 1070 Ti (Desktop) vs NVIDIA GeForce GTX 1060 Max-Q
NVIDIA GeForce GTX 960M
► remove

The NVIDIA GeForce GTX 960M is an upper mid-range, DirectX 11-compatible graphics card for laptops unveiled in March 2015. It is based on Nvidia's Maxwell architecture (GM107 chip) and manufactured in 28 nm. The GTX 960M offers 640 shader units clocked at 1097 - 1202 MHz (Boost) as well as fast GDDR5 memory (128 bit, 5000 MHz effective, 80 GB/s).
Compared to the previous and technically very similar GTX 860M, the GTX 960M is clocked slightly higher.
Architecture
Compared to Kepler, Maxwell has been optimized in several details to increase power efficiency. Smaller Streaming Multiprocessors (SMM) with only 128 ALUs (Kepler: 192) and an optimized scheduler should lead to better utilization of the shaders. Nvidia promises that a Maxwell SMM with 128 ALUs can offer 90 percent of the performance of a Kepler SMX with 192 ALUs. GM107 features 5 SMMs and thus 640 shader cores, 40 TMUs and 16 ROPs (128-bit interface).
Another optimization is the massively enlarged L2 cache (GM107: 2 MB). The increased size can handle some of the memory traffic to allow for a relatively narrow memory interface without significantly reducing the performance.
GM107 supports DirectX 12 with feature level 11_0 only.
Performance
Although the GTX 960M has the same memory bandwidth as the previous GTX 860M, its higher core clock leads to a slightly better performance. Overall, the 960M is almost 10 percent faster and similar to the desktop GTX 750 Ti.
Many games of 2014/2015 can be played fluently in FullHD resolution and high detail settings. However, very demanding games such as Assassin's Creed Unity will require lower resolutions and/or details.
Features
GM107 integrates the sixth generation of the PureVideo HD video engine (VP6), offering a better decoding performance for H.264 and MPEG-2 videos. Of course, VP6 supports all features of previous generations (4K support, PIP, video encoding via NVENC API). Unfortunately, HDMI 2.0 is still not supported.
Power Consumption
The power consumption of the GeForce GTX 960M should be similar to the old GTX 860M (about 60 watts). Therefore, the GPU is best suited for 15-inch laptops or larger. The 900M series also supports Optimus to automatically switch between an integrated graphics card and the Nvidia GPU.
NVIDIA GeForce GTX 1070 Ti (Desktop)
► remove

The Nvidia GeForce GTX 1070 Ti is the second fastest Pascal based graphics card in November 2017. It is a high-end desktop graphics card based on a cut down GP104 chip as the GTX 1080 and manufactured in 16 nm FinFET at TSMC. Compared to the GTX 1080, it uses the more available GDDR5 graphics memory, and compared to the GTX 1070 it offers more shaders (2432 versus 1920). More details on the Pascal architecture including all features and comparisons to Maxwell, can be found here.
The performance of the GTX 1070 Ti was in our tests right between the GTX 1070 and GTX 1080. However, the powerefficiency was worse than the GTX 1070 and near the GTX 1080. Nvidia also specifies the 1070 Ti and 1080 at 180W.
NVIDIA GeForce GTX 1060 Max-Q
► remove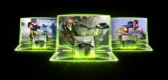 The Nvidia GeForce GTX 1060 with the Max-Q design is a mobile high-end GPU from the Pascal series. It is designed for thin and light laptops and about 10-15% slower than a regular GTX 1060 for laptops based on the cooling capabilities. The base frequency (1063-1265 MHz) is also much lower than on the regular GTX 1060 (1506 MHz, at least -16%) and the Boost (1341-1480 MHz) is also much lower compared to 1708 MHz (at least -13%) for the regular GTX 1060. The memory clock, however, is identical.
The clock is not the only difference compared to the regular GTX 1060 though. The drivers for the Max-Q version were optimized for efficiency (and not performance; only for Max-Q models), there are optimized voltage converters for 1V operation, high-end cooling methods, and a 40 dB limit for the fan noise (with clock adjustments to ensure this at all times).
Features
The GP106 chip is produced in 16nm FinFET at TSMC and offers a range of new features, like DisplayPort 1.4 (ready), HDMI 2.0b, HDR, Simultaneous Multi-Projection (SMP) and improved H.265 video de- and encoding (PlayReady 3.0). A list of improvements and features can be found in our article on the Pascal architecture.
The power consumption of the Max-Q design is notably lower than the normal GTX 1060 for laptops and ranges between 60 and 70 Watt (TGP) according to Nvidia.
NVIDIA GeForce GTX 960M

NVIDIA GeForce GTX 1070 Ti (Desktop)

NVIDIA GeForce GTX 1060 Max-Q

Manufacturer
NVIDIA
NVIDIA
NVIDIA
GeForce GTX 1000 Series
Codename
N16P-GX
Pascal GP104
N17P-G1 Max-Q
Architecture
Maxwell
Pascal
Pascal
640 -
2432 -
1280 -
Core
1096 - 1202 (Boost) MHz
1607 - 1683 (Boost) MHz
1063 - 1265 - 1341 - 1480 (Boost) MHz
Memory
5000 MHz
8000 MHz
8000 MHz
Bus
128 Bit
256 Bit
192 Bit
Memory
GDDR5
GDDR5
GDDR5
Max. Memory
4096 MB
8192 MB
6.144 MB
no
no
no
DirectX
DirectX 12 (FL 11_0), 5.0
DirectX 12_1
DirectX 12_1
Transistors
1870 Million
7200 Million
4400 Million
Technology
28 nm
16 nm
16 nm
Features
Battery Boost, GameStream, ShadowPlay, GPU Boost 2.0, Optimus, PhysX, CUDA, SLI, GeForce Experience, GameWorks, Adaptive VSync, DSR, Ansel
Multi-Projection, VR Ready, G-SYNC, Vulkan, Multi Monitor
Multi-Projection, VR Ready, G-SYNC, Vulkan, Multi Monitor
Size
Introduced
12.03.2015
02.11.2017
30.05.2017
Manufacturer
http://www.geforce.com/hardware/notebook...
https://www.nvidia.at/graphics-cards/gef...
3DMark - Time Spy Score 2560x1440

min: 1198 avg: 1202 median:
1202 (9%)
max: 1206 Points