NVIDIA GeForce GTX 1080 SLI (Laptop) vs NVIDIA GeForce GTX 1070 Max-Q
NVIDIA GeForce GTX 1080 SLI (Laptop)
► remove
The Nvidia GeForce GTX 1080 SLI for laptops is a combination of two GTX 1080 graphics cards in SLI mode. Each card renders one frame at a time (AFR mode) but depends for most games on a good profile in the driver. Therefore, the performance can range from no gains over a single GTX 1080 to up to 90% faster performance. Sometimes, the combination may also suffer from micro-stuttering. The technical details of the card are identical to a single GTX 1080 (see for more information) and the power consumption is doubled. Therefore, the 1080 SLI combination is only found in huge clunky laptops.
NVIDIA GeForce GTX 1070 Max-Q
► remove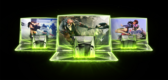 The Nvidia GeForce GTX 1070 with the Max-Q design is a mobile high-end GPU from the Pascal series. It is designed for thin and light laptops and about 10-15% slower than a regular GTX 1070 for laptops based on the cooling capabilities. The base frequency (1101-1215 MHz) is also much lower than on the regular GTX 1070 (1433 MHz, at least -10%) and the Boost (1265-1379 MHz) is also much lower compared to 1645 MHz (at least -6%) for the regular GTX 1070. The memory clock, however, is identical.
The clock is not the only difference compared to the regular GTX 1070 though. The drivers for the Max-Q version were optimized for efficiency (and not performance; only for Max-Q models), there are optimized voltage converters for 1V operation, high-end cooling methods, and a 40 dB limit for the fan noise (with clock adjustments to ensure this at all times).
Features
The GP104 chip is manufactured in 16nm FinFET process at TSMC and offers a range of new features. DisplayPort 1.4 (ready), HDMI 2.0b, HDR, Simultaneous Multi-Projection (SMP), improved H.265 video en- and decoders (for PlayReady 3.0) are only some of the improvements. See our detailed Pascal architecture article for more details.
The power consumption of the Max-Q design is notably lower than the normal GTX 1070 for laptops and ranges between 80 and 90 Watt (TGP) according to Nvidia.
NVIDIA GeForce GTX 1080 SLI (Laptop)

NVIDIA GeForce GTX 1070 Max-Q

Manufacturer
NVIDIA
NVIDIA
GeForce GTX 1000 Series
Codename
Pascal GP104 SLI
N17E-G2 Max-Q
Architecture
Pascal
Pascal
5120 -
2048 -
Core
1556 - 1733 (Boost) MHz
1101 - 1215 - 1265 - 1379 (Boost) MHz
Memory
10000 MHz
8000 MHz
Bus
256 Bit
256 Bit
Memory
GDDR5
GDDR5
Max. Memory
2x 8192 MB
8192 MB
no
no
DirectX
DirectX 12_1
DirectX 12_1
Transistors
14400 Million
7200 Million
Technology
16 nm
16 nm
Features
Multi-Projection, VR Ready, G-SYNC, Vulkan, Multi Monitor, CUDA, 3D Vision, PhysX, GeForce Experience, Surround, GameStream, GPU Boost 2.0, Adaptive Vertical Sync, SLI
Multi-Projection, VR Ready, G-SYNC, Vulkan, Multi Monitor
Size
Introduced
16.08.2016
30.05.2017
Manufacturer
http://www.geforce.com/hardware/10series...
Performance Rating
- 3DMark 11 + Fire Strike + Time Spy