NVIDIA GeForce GTX 1080 (Desktop) vs NVIDIA GeForce GTX 1060 Max-Q vs NVIDIA GeForce GT 1030 (Desktop)
NVIDIA GeForce GTX 1080 (Desktop)
► remove from comparison
Die Nvidia GeForce GTX 1080 ist nach dem Topmodell Titan X die zweitschnellste Pascal-Grafikkarte für Desktop-PCs und wurde im Mai 2016 vorgestellt. Die GPU verfügt über die vollen 2.560 Shadereinheiten des zugrundeliegenden GP104-Chips sowie 8 GB GDDR5X-Speicher an einem 256-Bit-Interface (10 GHz, 320 GB/s).
Features
Der GP104-Chip wird in einem 16nm-FinFET-Prozess bei TSMC gefertigt und bietet eine Reihe neuer Features, unter anderem Support für DisplayPort 1.4 (ready), HDMI 2.0b, HDR, Simultaneous Multi-Projection (SMP) sowie verbessertes H.265 Video De- und Encoding (PlayReady 3.0). Eine genaue Auflistung der Verbesserungen und Features der neuen Pascal Desktop-GPUs finden Sie in unserem Pascal-Architektur-Artikel.
Performance
Die Performance der GeForce GTX 1080 liegt etwa 65 Prozent über dem Vorgänger GTX 980 sowie 30 Prozent oberhalb der GTX 980 TI und Titan X (Maxwell). Damit ordnet sich die GTX 1080 im absoluten High-End-Segment ein und kann die meisten Spiele des Jahres 2016 in hohen Einstellungen und 4K-Auflösung flüssig darstellen.
Leistungsaufnahme
Die Leistungsaufnahme der GeForce GTX 1080 wird vom Hersteller mit 180 Watt beziffert und liegt damit nur leicht über dem Vorgänger GTX 980 (165 Watt).
NVIDIA GeForce GTX 1060 Max-Q
► remove from comparison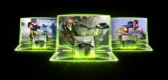 The Nvidia GeForce GTX 1060 with the Max-Q design is a mobile high-end GPU from the Pascal series. It is designed for thin and light laptops and about 10-15% slower than a regular GTX 1060 for laptops based on the cooling capabilities. The base frequency (1063-1265 MHz) is also much lower than on the regular GTX 1060 (1506 MHz, at least -16%) and the Boost (1341-1480 MHz) is also much lower compared to 1708 MHz (at least -13%) for the regular GTX 1060. The memory clock, however, is identical.
The clock is not the only difference compared to the regular GTX 1060 though. The drivers for the Max-Q version were optimized for efficiency (and not performance; only for Max-Q models), there are optimized voltage converters for 1V operation, high-end cooling methods, and a 40 dB limit for the fan noise (with clock adjustments to ensure this at all times).
Features
The GP106 chip is produced in 16nm FinFET at TSMC and offers a range of new features, like DisplayPort 1.4 (ready), HDMI 2.0b, HDR, Simultaneous Multi-Projection (SMP) and improved H.265 video de- and encoding (PlayReady 3.0). A list of improvements and features can be found in our article on the Pascal architecture.
The power consumption of the Max-Q design is notably lower than the normal GTX 1060 for laptops and ranges between 60 and 70 Watt (TGP) according to Nvidia.
NVIDIA GeForce GT 1030 (Desktop)
► remove from comparison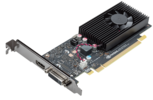 The Nvidia GeForce GT 1030 (sometime GTX 1030 called) is an entry level dedicated graphics card for desktops. It is based on the GP108 chip using the Pascal architecture in 14nm FinFET. It features three streaming multiprocessors (SMs) and therefore 384 shader cores, 24 texture units and 16 ROPs. The 2 GB GDDR5 memory are connected with two 32 Bit memory controller (48 GBit/s). The shaders are identical to other Pascal cards like the GTX 1050 and therefore also the support for DirectX 12 FL 12_1.
The performance is slightly below the Radeon RX 550 from AMD and therefore only suited for low to medium detail settings of modern games like Battlefield 1.
The TDP of the GT1030 is specified as 30 Watt.
| | | | |
| --- | --- | --- | --- |
| | NVIDIA GeForce GTX 1080 (Desktop) | NVIDIA GeForce GTX 1060 Max-Q | NVIDIA GeForce GT 1030 (Desktop) |
| Manufacturer | NVIDIA | NVIDIA | NVIDIA |
| GeForce GTX 1000 Series | | | |
| Codename | Pascal GP104 | N17P-G1 Max-Q | N17P-G1 |
| Architecture | Pascal | Pascal | Pascal |
| Pipelines | 2560 - unified | 1280 - unified | 384 - unified |
| Core Speed | 1607 - 1733 (Boost) MHz | 1063 - 1265 - 1341 - 1480 (Boost) MHz | 1228 - 1670 (Boost) MHz |
| Memory Speed | 10000 MHz | 8000 MHz | 6000 MHz |
| Memory Bus Width | 256 Bit | 192 Bit | 64 Bit |
| Memory Type | GDDR5X | GDDR5 | GDDR5 |
| Max. Amount of Memory | 8192 MB | 6.144 MB | 2048 MB |
| Shared Memory | no | no | no |
| DirectX | DirectX 12_1 | DirectX 12_1 | DirectX 12_1 |
| Transistors | 7200 Million | 4400 Million | |
| technology | 16 nm | 16 nm | 14 nm |
| Features | Multi-Projection, VR Ready, G-SYNC, Vulkan, Multi Monitor, 500-Watt system power recommended | Multi-Projection, VR Ready, G-SYNC, Vulkan, Multi Monitor | Multi-Projection, VR Ready, G-SYNC, Vulkan, Multi Monitor |
| Date of Announcement | 06.05.2016 | 30.05.2017 | 16.05.2017 |
| Notebook Size | | large | |
| Link to Manufacturer Page | | | http://www.geforce.com/hardware/desktop-... |
Benchmarks
Performance Rating
- 3DMark 11 + Fire Strike + Time Spy