NVIDIA GeForce GT 1030 (Desktop) vs NVIDIA GeForce GTX 1070 SLI (Desktop) vs NVIDIA GeForce GTX 1050 Ti (Desktop)
NVIDIA GeForce GT 1030 (Desktop)
► remove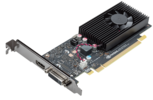 The Nvidia GeForce GT 1030 (sometime GTX 1030 called) is an entry level dedicated graphics card for desktops. It is based on the GP108 chip using the Pascal architecture in 14nm FinFET. It features three streaming multiprocessors (SMs) and therefore 384 shader cores, 24 texture units and 16 ROPs. The 2 GB GDDR5 memory are connected with two 32 Bit memory controller (48 GBit/s). The shaders are identical to other Pascal cards like the GTX 1050 and therefore also the support for DirectX 12 FL 12_1.
The performance is slightly below the Radeon RX 550 from AMD and therefore only suited for low to medium detail settings of modern games like Battlefield 1.
The TDP of the GT1030 is specified as 30 Watt.
NVIDIA GeForce GTX 1070 SLI (Desktop)
► remove
The Nvidia GeForce GTX 1070 SLI for desktops is a combination of two GTX 1070 graphics cards in SLI mode. Each card renders one frame at a time (AFR mode) but depends for most games on a good profile in the driver. Therefore, the performance can range from no gains over a single GTX 1070 to up to 90% faster performance. In most games with SLI support, the GTX 1070 SLI is therefore faster than a single GTX 1080. However, sometimes the combination also suffers from micro-stuttering.
The technical details of the card are identical to a single GTX 1070 (see for more information) and the power consumption is doubled (2x 150 = 300 Watt).
NVIDIA GeForce GTX 1050 Ti (Desktop)
► remove
The Nvidia GeForce GTX 1050 Ti (N17P-G1) for desktops is an entry level gaming graphics card that was announced late 2016. It is based on the GP107 chip using the Pascal architecture and manufactured in 14nm FinFET at Samsung (the bigger Pascal chips are manufactured in 16nm at TSMC). Usually it is equipped with 4 GB GDDR5 memory with a 7 Gbps data rate. The mobile GTX 1050 Ti version should be announced later (beginning of 2017) and feature similar specs.
The performance of the GTX 1050 lies between the Radeon RX 460 and the RX 470 on a similar level of the old GeForce GTX 960 (or 970M). Therefore, the card is most suited for 1080p gaming at high detail settings (but not maximum settings).
See our extensive review of the MSI GeForce GTX 1050 Ti for more information on power consumption, benchmarks and noise level.
NVIDIA GeForce GT 1030 (Desktop)

NVIDIA GeForce GTX 1070 SLI (Desktop)

NVIDIA GeForce GTX 1050 Ti (Desktop)

Manufacturer
NVIDIA
NVIDIA
NVIDIA
GeForce GTX 1000 Series
Codename
N17P-G1
Pascal GP104 SLI
N17P-G1
Architecture
Pascal
Pascal
Pascal
384 -
3840 -
768 -
Core
1228 - 1670 (Boost) MHz
1506 - 1683 (Boost) MHz
1290 - 1392 (Boost) MHz
Memory
6000 MHz
8000 MHz
7008 MHz
Bus
64 Bit
256 Bit
128 Bit
Memory
GDDR5
GDDR5
GDDR5
Max. Memory
2048 MB
2x 8192 MB
4096 MB
no
no
no
DirectX
DirectX 12_1
DirectX 12_1
DirectX 12_1
Technology
14 nm
16 nm
16 nm
Features
Multi-Projection, VR Ready, G-SYNC, Vulkan, Multi Monitor
Multi-Projection, VR Ready, G-SYNC, Vulkan, Multi Monitor, CUDA, 3D Vision, PhysX, GeForce Experience, Surround, GameStream, GPU Boost 2.0, Adaptive Vertical Sync, SLI
Multi-Projection, VR Ready, G-SYNC, Vulkan, Multi Monitor
Introduced
16.05.2017
16.08.2016
25.10.2016
Manufacturer
http://www.geforce.com/hardware/desktop-...
Transistors
14400 Million
Performance Rating
- 3DMark 11 + Fire Strike + Time Spy