NVIDIA GeForce 910M vs NVIDIA GeForce 945M
NVIDIA GeForce 910M
► remove from comparison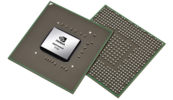 The NVIDIA GeForce 910M is an entry-level DirectX 12 compatible graphics card announced in late 2015. Its core is based on the 28nm GF117 chip (Fermi architecture) and is equipped with 64-bit DDR3 memory. The 910M is a renamed GeForce 820M, which already was based on the the old GT 620M, GT 720M and GeForce 710M.
Architecture
The GF117 is based on the optimized GF108 Fermi chip (GeForce GT 540M) and offers 96 shaders, 16 TMUs and 4 ROPs. Each shader core is clocked twice as fast as the rest of the graphics chip, a technique known as hot clocking. More detailed information on Fermi can be found on the GT 435M GPU page.
It should be noted that the GF117 does not offer dedicated graphic ports and can therefore only be used in conjunction with Optimus.
The 820M supports GPU Boost 2.0, which can automatically overclock the card if the laptop cooling system allows it.
The shader cores (also called CUDA cores) can be used for general calculations with APIs such as CUDA, DirectCompute 2.1 and OpenCL. PhysX is theoretically possible, but the 910M is too slow to handle both PhysX and 3D rendering in modern games. 3D Vision is not supported according to Nvidia.
Power consumption
The power consumption of the Geforce 910M should be similar to the old 820M and GT 720M. As a result, the GPU is best suited for notebooks 13 inches in size or greater. The efficiency however cant be compared to a modern Maxwell based GPU like the GeForce 920MX.
NVIDIA GeForce 945M
► remove from comparison
The NVIDIA GeForce 945M is a mid-range, DirectX 12-compatible graphics card for laptops unveiled in March 2015. It is based on Nvidia's Maxwell architecture (GM107 chip) and manufactured in 28 nm. The 945M offers 512 shaders (compared to the 640 of the GTX 950M) clocked at 928 MHz. The dedicated DDR3 graphics memory is connected with a 128 Bit bus clocked at 1000 MHz (effective 2000, 32 GB/s).
Architecture
Compared to Kepler, Maxwell has been optimized in several details to increase power efficiency. Smaller Streaming Multiprocessors (SMM) with only 128 ALUs (Kepler: 192) and an optimized scheduler should lead to better utilization of the shaders. Nvidia promises that a Maxwell SMM with 128 ALUs can offer 90 percent of the performance of a Kepler SMX with 192 ALUs. GM107 features 5 SMMs and thus 640 shader cores, 40 TMUs and 16 ROPs (128-bit interface).
Another optimization is the massively enlarged L2 cache (GM107: 2 MB). The increased size can handle some of the memory traffic to allow for a relatively narrow memory interface without significantly reducing the performance.
GM107 supports DirectX 12 with feature level 11_0 only.
Performance
The performance of the 945M is slightly worse than the GTX 950M but clearly faster than the 940M. The DDR3 variant of the GTX 950M is about 10 percent faster for example. Therefore, it is most suited for medium details of demanding games in 2015 (see below for benchmarks).
Features
GM107 integrates the sixth generation of the PureVideo HD video engine (VP6), offering a better decoding performance for H.264 and MPEG-2 videos. Of course, VP6 supports all features of previous generations (4K support, PIP, video encoding via NVENC API). Unfortunately, HDMI 2.0 is still not supported.
Power Consumption
The power consumption of the GeForce 945M should be somewhere around 40 Watt. Therefore it is most suited for bigger laptops from 14-inch and up.
| | | |
| --- | --- | --- |
| | NVIDIA GeForce 910M | NVIDIA GeForce 945M |
| Manufacturer | NVIDIA | NVIDIA |
| GeForce 900M Series | | |
| Codename | N15V-GM | |
| Architecture | Kepler | Maxwell |
| Pipelines | 384 - unified | 512 - unified |
| Core Speed | 641 MHz | 928 - 1045 (Boost) MHz |
| Memory Speed | 2000 MHz | 2000 MHz |
| Memory Bus Width | 64 Bit | 128 Bit |
| Memory Type | DDR3 | DDR3 |
| Max. Amount of Memory | 2048 MB | 4096 MB |
| Shared Memory | no | no |
| DirectX | DirectX 12 (FL 11_0), Shader 5.0 | DirectX 12 (FL 11_0), Shader 5.0 |
| Transistors | 900 Million | 1870 Million |
| technology | 28 nm | 28 nm |
| Features | PhysX, Verde Drivers, CUDA, Play, Optimus, GPU Boost 2.0 | GPU Boost 2.0, Optimus, PhysX, CUDA, GeForce Experience |
| Date of Announcement | 01.09.2015 | 12.03.2015 |
| Notebook Size | | medium sized |
Benchmarks
Performance Rating
- 3DMark 11 + Fire Strike + Time Spy
- GeForce 910M