AT&T Debuts new 4G Connections - USB and Hotspot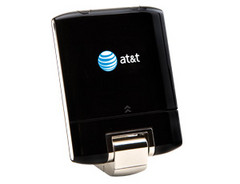 AT&T will step up its attempt to earn more dollars from mobile warriors this summer. With the intended release of two 4G products that will access AT&T's LTE network, the company will offer high-speed alternatives in areas that support the new protocol.
People living in Atlanta, Chicago, Dallas, Houston, and San Antonio will be most interested in the pair of new devices announced yesterday by AT&T. That's because the AT&T USBConnect Momentum 4G and AT&T Mobile Hotspot Elevate 4G will both be able to access AT&T's LTE network, which is set for initial deployment in the aforementioned five cities.
Both devices will feature microSD card slots that support memory sizes of up to 32GB. The Elevate 4G also features an LCD that reports pertinent data such as signal strength and current monthly data usage; which might be seen as advantageous in this era of capped data plans and overage charges.
The devices will access LTE, but will fall back to HSPA+ when an LTE signal is not available. Both of these standards are marketed as being "4G", but LTE offers a higher maximum throughput and can transmit over multiple frequencies. HSPA+ can only communicate over the 5MHz spectrum. The tech specs on both items indicate that they can also communicate over 3G and 2G bands when neither LTE nor HSPA+ is available.
AT&T reports that the devices will support data on their home US networks and will also support data roaming globally in 200 countries. Those who subscribe to post-paid plans will also have access to all AT&T Wi-Fi network access points for no additional fee.
The USBConnect Momentum will supposedly also auto-install the AT&T Communication Manager application on Windows machines for plug-and-play setup. For even less setup effort, users will be able to connect to the Elevate 4G just like they would any other WAP or hotspot. Although prudent owners will want to go in and change security settings, like renaming the SSID and changing the default access password, with no software to install, the Elevate might make an enticing option.
The AT&T USBConnect Momentum 4G will retail for $49.99 with a two-year contract after a $50 mail-in-rebate. On the other hand, the Elevate 4G will go for $69.99 with two-year contract and after a $50 mail-in rebate. Sadly, the press release only narrows the sales date down to "this summer", so we will have to keep our eyes peeled for exactly when these devices can be purchased.
+ Show Press Release