A new leak points to second-generation TWS Google Pixel Buds on the way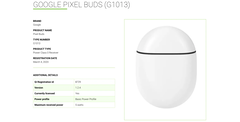 Taiwan's NCC regulator has reportedly cleared a new set of TWS devices from Google. This suggests that the Pixel Buds debuted last year will see successors in 2020. However, it is difficult to guess from their new putative leak how the 2 generations might differ.
One may be less than inclined to think "Google Pixel Buds" when they think of popular TWS accessories. Despite features such as deep Assistant integration and Instant Translation, they seem not to have made much of a dent in their applicable market. Nevertheless, it now appears that the Mountain View company is persisting with a new generation of these accessories in 2020.
Evidence of this has allegedly come from the NCC's database, which shows new listings for wireless Google products that are likely to match a product called Pixel Buds 2. In addition, an image and certification for their charging case has also reportedly been generated by the Wireless Power Consortium (WPC), although it may now no longer be available.
The new NCC leak is for 3 new Google model numbers: G1007, G1008, and G1013. The latter apparently refers to a wireless charging case, which means the others may correspond to different variations - or possibly individual buds. Their predecessors did have independent operability, so the latter may be the case.
These tips combined do not offer much in the way of new Pixel Bud specs or features, however - with the exception of a 5 watt (W) wireless charging rate for their case. This may be sufficient in this case, but is admittedly a little low at this point. Furthermore, with Google I/O's cancellation, these new devices may find themselves with an extensive wait for a launch event.