AMD Ryzen 7 1700 vs AMD Ryzen 7 PRO 2700U
AMD Ryzen 7 1700
► remove

The AMD Ryzen 7 1700 is a fast desktop processor with 8 cores and SMT (16 threads) that was introduced in early 2017. It is based on the new Zen architecture and it is the slowest model at the time of announcement. With 65 Watt it is also less power hungry than the Ryzen 1700X.
The CPU cores clock from 3 base speed up to 3.75 GHz (XFR). The 2-core Turbo is specified at 3.7 GHz and using all 8 cores, the CPU can reach up to 3.2 GHz. The clock rate and TDP rating is the only difference to the faster Ryzen 7 models.
The performance in applications that can make use of all 8 cores is very competitive to high end Intel CPUs at a very good price point. However, non optimized apps like many games can't make full use of the new architecture.
A detailed look at the new Ryzen 7 1800X, 1700X and 1700 can be found in our review.
AMD Ryzen 7 PRO 2700U
► remove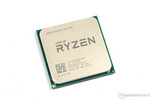 The AMD Ryzen 7 PRO 2700U is a mobile SoC that was announced in October 2017. Compared to the consumer Ryzen 7 2700U, the PRO versions offer additional security features. It combines four Zen cores (8 threads) clocked at 2.2 - 3.8 GHz with a Radeon RX Vega 10 graphics card with 10 CUs (640 Shaders) clocked at up to 1300 MHz. The TDP can be configured by the laptop manufacturer between 12 to 25 Watt (15 Watt nominal) and therefore the APU is also suited for thin and light laptops. The integrated dual-channel memory controller supports up to DDR4-2400 memory. More information on Raven Ridge can be found in our launch article.
The performance of the Zen CPU cores should be better than a high end Kaby-Lake-Refresh Quad-Core CPU (e.g. the Core i7-8650U) according to AMD. Therefore, the Ryzen 7 PRO 2700U is suited for all applications.
AMD Ryzen 7 1700
AMD Ryzen 7 PRO 2700U
AMD Ryzen 7
AMD Ryzen 7
Zen
Zen
: Ryzen 7 Zen
3000 - 3700 MHz
2200 - 3800 MHz
4 MB
2 MB
16 MB
4 MB
8 / 16
4 / 8
65
15
4800
4500
14
14
AM4
AM4
XFR, FMA3, SSE 4.2, AVX2, SMT
XFR, FMA3, SSE 4.2, AVX2, SMT
$329 U.S.
384 KB
iGPU
AMD Radeon RX Vega 10 ( - 1300 MHz)
AMD Ryzen 7 PRO 2700U
Cinebench R15 - CPU Multi 64Bit

min: 1408 avg: 1414.9 median:
1413 (32%)
max: 1424 Points
Cinebench R15 - CPU Single 64Bit