Review ATI FirePro V3700 Graphics Card vs. Mobile Solutions
Entry-Level FirePro. As the cost of mobile workstations quickly surpass a thousand Euros, cheaper alternatives are in demand. We compared AMD's entry-level FirePro V3700 to mobile solutions.
Şu aralar Fujitsu tarafından üretilen Celcius H710 modeli piyasadaki en ucuz iş istasyonu olarak karışımıza çıkıyor. Full HD ekran, 4GB Ram ve Nvidia Quadro 1000 ile Core i5-2450 işlemciyi 1500 Euro civarında edinmeniz mümkün. Ancak, fiyatlar daha güçlü donanım seçmenizle birdenbire çok yükselebiliyor. İkinci el istasnyonlarla çalışmak da zor olduğu için, bir çok müşteri eski ve ucuz iş istanyonlarından kaçınıyor.
Giriş
Aslına bakılacak olursa bir masaüstü modelini almak hem daha güvenli hem daha ucuz olacaktır. Profesyoneller için masaüstü grafik kartları 70 Euro civarından başlayıp, mevcut bir masaüstünü çalışma istasyonuna çevirebilmekte. Böylece başka ek cihazlar alabilmek için daha fazla paranız kalabilir. Biz AMD FirePro V3700'ü test edip, giriş seviyesi olan kartın performansını görmek istedik. Kullandığımız masaüstü donanımının da ayrıca giriş seviyesi donanıma sahip olduğunu belirtmek isteriz.
Test Sistemi
Test modelimizde profesyonel kullanıcılar için eski jenerasyonlardan bir grafik kartı kullanıyoruz. RV620 çipi tabanlı grafik kartı tüketici odaklı HD 3470 ile benzer. 40 akım işlemcisi, 64 bit bellek kontrolörü ve 256 MB GDDR3 bellek ile giriş seviyesi profesyonel grafik kartları sınıfında.

Test Sistemi:
ASROCK 880G Pro3 , Radeon HD 4250 (driver versiyonu 8.871.0.0)
AMD FirePro V3700

(driver versiyonu 8.85.7.1)
GPU 800 MHz
Memory 950 MHz
40 stream processors
64 bit memory bus
256 MB GDDR3
Athlon II X2 240
2 x 1 GB DDR 3 RAM
2 x 2 GB DDR 3 RAM
Toshiba MK3256GSY 320 GB 2.5" 5400 rpm
Sistem sesi / Güç tüketimi
Bilgisayarı açar açmaz farkedilen ilk şey, sistem sesi. Sistem sesi AMD FirePro V3700 ile 35.4db(A) dan 37.1 db(A) seviyesine yükseldi. Bu birçok laptopa kıyasla yüksek bir ses. Ancak, masaüstü bilgisayarların masa altlarında daha çok kullanıldığı düşünülürse bu pek önemli değil. Ancak ses her daim bu seviyelerde kalmakta.
Güç tüketimi de tabi ki artmakta. 49.8 Wattan 62.7 Watta yükselmekte. Kullandığımız tüm uygulamalar esnasında ölçtüğümüz genel fark ortalama da 13 Watt.
Performans
DX10 benchmark sonuçları çok hayal kırıcı. Genel olarak giriş seviyesi laptoplardan açık ara daha kötü. 3D Mark 06 da ancak 2626 puan alabilirken, 3D Mark Vantage da 559 puan alıyor. Open GL rendering testi ise 3.4 fps ile çok daha kötü. Acı gerçek bir yana, FirePro ile profesyonel uygulamalar için optimize edilmiş sürücüler kullanılırken bilgisayar oyunları çok limitli bir şekilde oynanabilmekte.
Test sistemi gücünü nihayet SPECviewperf 10 ile gösterebilmekte ve birçok son sistem iş istasyonunun ulaştığı sonuçlara ulaşmakta. Zayıf donanıma karşın, optimize edilmiş sürücüleri ile FirePro tüketici grafik kartlarına kıyasla profesyonel uygulamalarda daha iyi bir performans sunmakta.
3dsmax ve AutoCAD ile sonuçlar daha iyi.
Sonuç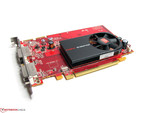 AMD FirePro V3700, CAD için optimize edilmiş bir çözüm. Bu tür bir kullanım için daha pahalı çalışma istasyonlarına kıyasla çok daha yüksek bir performans gerekmedikçe ucuz bir alternatif olarak düşünülebilir.
Ancak performans güncel değil. Yani 3D performansı günümüz dahili ekran kartları ile kıyaslanamaz. Buna ek olarak bu çözüm ile mobiliteyi de kaybedeceğinizi göz önüne almak gerek.