< New Asus W90 with ATI Mobility Radeon HD 4870
21.02.2009 06:35 Age: 4 yrs
Category: new notebook models
By: Pallab Jyotee Hazarika

New Dell Studio 15 will now get ATI graphics card
Dell Studio 15 to ship with the new ATI HD 4570 GPU.
---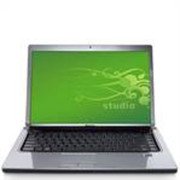 A new product leaked from Dell's own website comes with the new ATI Mobility Radeon HD 4570 GPU. How did I know that? Well, Dell's posted a new Studio 1555 where there's a "download driver" option for the HD 4570. It's not often that you see an official site leaking information about a new product.
Along with the 1555, the existing Studio 15 is also listed, which comes with an Intel 4500MHD card. That makes the 1555 a faster machine.
The Dell Studio 15 is a 15.4-inch multimedia laptop offered in multiple colors and configurations. The Studio 15 can be equipped with an Intel Core 2 Duo and dedicated ATI graphics. It comes with a slot-loading DVD drive, backlit keyboard, sleek drop-hinge design, widescreen glossy display and touch sensitive buttons. Software wise the Dell Studio 15 includes a unique Apple Mac OS X launch dock.
AMD announced the ATI Mobility Radeon HD 4000 series in last month's CES in Las Vegas. The new wave of hardware is based on the same core architecture as the desktop 4000 series and in many cases are much faster for the power used than earlier generations; AMD estimates that performance is as much as twice as fast on a given part versus its 3000 series ancestor. Much of the gain comes from both a cooler 55 nanometer process as well as an increased number of stream (graphics) units, with the top-end Mobility Radeon HD 4870 and 4850 carrying 800 of the effects generators versus just 320 on the 3870 – as reported by Electronista.
You can read extensively about HD 4570 in our Graphics card comparison page.
---