< World's first 4G network launched in Sweden and Norway
15.12.2009 17:04 Age: 3 yrs
Category: new notebook models
By: Deepika Gwalani

Brand-new Clevo M81P netbook pops up in FCC
This 10" netbook has nothing new
---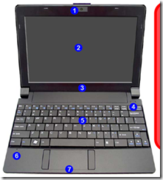 Clevo, a Taiwanese PC manufacturer, recently submitted a new netbook for approval at FCC. The M81P is slim – and that's about it. The specifications are usual - 10.1-inch 1024×600 LCD screen, 1.6 GHz Atom N270, , card reader, built-in webcam and 3G option. The dimension is 10.7" x 7.4" x .77" which makes this device quite slim in its class. It will come with pre-installed Windows 7.
The interior of the system is black with matte-finish. The keyboard looks big and comfortable for a 10" system and stretched to the side boundaries on both sides. The trackpad is situated below the keyboard, with the mouse-buttons on either side of the trackpad. MIC and Headphone ports are situated on the front side, along with a card-reader slot. The left side has two USB ports, one LAN cable line-in, one external monitor port and the DC power jack. Te fan, hardrive bay and lock are on the right side of the system. The storage system will include one changeable 2.5" 9.5 mm SATA Disk Drive.
For connectivity it has 10Mb/100Mb Base-T Ethernet LAN, UMTS/HSPDA-based 3.75G/HSPA, Quad-band GSM/GPRS and UMTS WCDMA FDD (2100 MHz).
Availability and price are not known yet.
---
Related News:

Clevo introduces new 10-inch netbook, first in its portfolio - 18.04.2009 00:17
Clevo brings new notebook - 11.12.2008 12:35
CLEVO 'TN71M' vs Gigabyte 'M912' - 03.06.2008 12:14
Links:

https://fjallfoss.fcc.gov/prod/oet/forms/blobs/retrieve.cgi?attachment_id=1212180&native_or_pdf=pdf