< New Dell Studio 15 will now get ATI graphics card
23.02.2009 18:40 Age: 4 yrs
Category: other notebook news
By: Pallab Jyotee Hazarika

Asus to remove the 8.9-inch netbook line
Asus plans to phase out its 8.9-inch netbook line completely.
---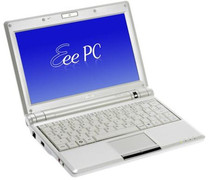 Just recently we heard rumors about Asus planning to trim down its product line in order to reduce operating cost. This also aims at reducing consumers' confusion about numerous almost-similar variants that are different only marginally. This might be the first blow – It's speculated that the Taiwanese company plans to phase out its 8.9-inch netbook line completely by later this year.
Asus Asia-Pacific president Benson Lin said that 10-inch models are becoming the "mainstream specification" – as reported by Tom's hardware. He's probably true in saying so, as the same thing is happening with Acer also, who reacted by started shipping the new Aspire One 10-inch netbook, and stopped manufacturing the 8.9-inch Aspire One model completely.
The 10-inch models will account for 95 percent of Eee PC shipments with the remaining 5 percent being 7-inch models for telecom service operators.
Although there's not much different between 8.9-inch and a 10-inch machine – you might ask – but a 10-inch machine gives a much better grip of comfort on the keyboard. Many of the users I've asked found the 8.9-inch keyboard a little too small. But then there are those who would want to sacrifice the comfort of the keyboard for that extra mobility.
---