< Seagate introduces its first SSD
09.12.2009 18:10 Age: 3 yrs
Category: new notebook models
By: Ivan Zhekov

Archos 5 Internet Tablet is now available on Radio Shack
This small tablet device makes it first appearance since its introduction earlier this year
---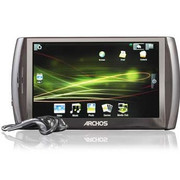 After it was officially launched back in September this year, the ARCHOS 5 Internet Tablet is now available to customers for purchase. The MID mini-device has appeared on Radio Shack web site and is priced at US $249.99.
What do consumers get for their money?
The ARCHOS 5 Internet Tablet is an extension of the ARCHOS 5, a mobile device created by French consumer electronics company ARCHOS. Established in 1988 by Henri Crohas, it now manufactures portable media players and portable storage devices.
"With the steady growth of mobile Internet adoption, easier ways to access the Internet and digital media, and an increasing need for device customization, ARCHOS brings it all together by integrating GPS, HD and the Android platform. Android offers to the consumer unlimited ways to customize the tablet with thousands of apps, all easily available on the device or through the AppsLib Store." said Crohas earlier this year.
The small IMT is reportedly compatible with all Android applications and users can download various paid and free ones from the dedicated AppsLib store. ARCHOS 5 IMT comes with a 4.8-inch 800-by-480 pixels TFT LCD display is allegedly all about multimedia and entertainment.
Customers may take advantage of the many features of this product. It houses 8GB of internal memory, which could be extended by adding a memory card. The IMT has a built-in 3D GPS navigation system, plays HD videos (up to 720p) and connects to the Internet wirelessly. Customers can view their photos and listen to music on the ARCHOS 5 Internet Tablet.
The mini device has a USB 2.0 interface (for PC connection) and is equipped with a lithium polymer battery. According to Radio Shack, the IMT can also be employed for watching digital TV.
Measuring 3.1-x0.4-x5.6-inches the ARCHOS 5 Internet Tablet has a weight of 1 pound (≈0.45kg).
---