< Netbooks account for 30% of all consumer notebook sales
19.02.2009 20:00 Age: 4 yrs
Category: other notebook news
By: Pallab Jyotee Hazarika

HP's notebook revenue down by 13%
HP reports 13% drop in their notebook revenue, with only marginal overall revenue growth.
---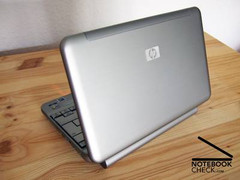 It's been reported in recent times that the computer market is not affected by the Economic recession. We saw a big proof in case of Apple last quarter, who reported their record one-quarter profit. They had 9% unit growth in macs and revenue generated was almost $10 billion. But that's probably the exception, because elsewhere the mass PC producers are reporting significant loses, and World's biggest vendor HP is right among the top losers.
HP's fiscal Q109 financial results indicate declining revenue in the majority of its corporate divisions. The company saw a drop in revenue of 25% for desktop PCs, while notebook revenue was down 13%. Sales of printers, enterprise products and software followed a similar path. Overall net revenue showed a modest increase of 1 percent over last year, although net earnings dropped by 13%.
This loss may be attributed largely to the insanely growing netbook market. Last year since Asus brought out the Eee PC as affordable, miniature, less powerful mobile computers, the market scenario changed like anything. Today netbooks constitute 30% of the total notebooks sale. Here comes HP's problem. Although it is a market leader, HP comes in distant 3rd in terms of netbook market share behind Acer and Asus with only 7%. Acer, who is overall the 3rd largest company in the world, took the market by storm with its only model Aspire One, and now stands tall at a very healthy 30.3% of the netbook market share.
HP offers netbooks in two categories – the budget category is to compete with the low-cost models from Acer and Asus. The prominent model is this category is the HP Mini 1000, and the shortly available Mini 1100. Then there's Mini 2140 which is placed in the premium netbook category. The question is why Acer is so successful with its only model, far ahead of HP and Asus, which has over 20 models to offer? The answer lies in the affordability, as the original purpose of inventing netbooks was to keep it for budget-conscious people. Also Asus has one new model for almost each specification, unlike Acer who has one model but let the customers customize it according to his preferences.
Elsewhere, a Gartner report claimed that PC shipment growth was the worst ever for the PC industry during the last quarter of 2008. The analysis suggested unit growth of just 1.1 percent from the fourth quarter of 2007, while falling average selling prices contributed to significant revenue cuts for many manufacturers.
---